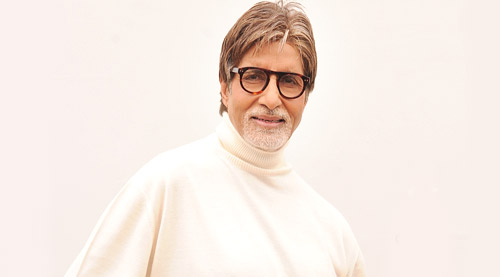 Shamitabh has released and yet again, Mr. Bachchan has managed to amaze one and all with his act which oscillates from being dramatic to witty to sarcastic to being filled with pathos. While he refuses to accept the film as a tribute to his real self, the fact remains that director Balki has yet again (after Cheeni Kum and Paa) narrated a tale that brings to fore Big B in an avtar hitherto unseen.


How does Shamitabh ensure that the thin line between tribute and homage vis-Ã -vis the true content in the story has been taken care of? After all a slip at a wrong moment and a tribute risks turning into something that was not a part of the plan.

I think the word 'tribute' has been incorrectly attributed to me in my personal and real capacity. The 'tribute' is in the context of the story in the film Shamitabh. It is not something personal that the director or any other is trying to convey. In the film the 'voice' given to Dhanush, is the 'tribute' to the voice of Amitabh Sinha, the character that I play in the film. It is not to convey in any manner, a tribute to Amitabh Bachchan's voice!


Did you actually give Balki a free hand over the entire exercise or was there a time, especially during the writing stage, where you had to intervene and suggest if something was going overboard or alternatively too subtle?

The director to me is the master and commander of the ship. He directs and his word is the last word as far as I am concerned as a professional. Any discussion or debate is conducted prior to getting on set. Once there, there is no space for suggestion or intervention - at least as far as I am concerned. The writing the direction is entirely Balki's.


As a film, Shamitabh is indeed looking as different as it gets. In the process of ensuring that the film is indeed different, how has the balance been kept intact to make sure that it is not truly niche and indeed caters to a larger set of audience?

This is a question that should be directed to Balki. When we take on an assignment we do not think of what the box office quotient shall be or whether it shall be commercially viable or not, primarily because no one in the entire world of cinema since its inception has been able to predict the substance that box office generates. I think all of us work to make a good creative effort and leave the rest for the audience to decide.


In this unconventional affair when Dhanush steps in, how does that entirely add on to the dynamics of the film? Is it this offbeat pairing that actually adds further weight to the proceedings?

Castings are done with due consideration to the character that needs portrayal with regard to the script. Balki felt that Dhanush would be apt to play this role, and so there he is. Whether he is of beat or not is not in our realm when choices are before us. We go with suitability. Dhanush is an exceptional talent, recognized and lauded in both the regions of Southern India and in Hindi cinema as well.


Your voice being heard for another actor - Now did that really surprise you cinematically?

When Balki comes up with an idea you are prepared that it shall be something different fresh and unusual. That reduces the surprise factor.


Coming to the music of the film, you indeed appear to be really fascinated by what Ilayaraja. How did you collaborate with him on the music?

Illayaraja is an institution. I do not have the audacity to collaborate with him. Balki does all that. I was asked to sing a song for the film and I did that without Raja sir's presence. I asked him to send me a pilot track; I sat in Aadesh Srivastava's studio, a place of my comfort here in Mumbai, sang and sent it back to Raja Sir to decide what he wanted to do with it.


So how do you pick up R. Balki out of a dozen odd other capable filmmakers who reach out to you for green lighting a project? Is there something beyond the script that enables you to take the final call?

I did not reach out to Balki, he did. I had worked with him on endorsements, with him as an advertising head. He expressed a desire to direct film and asked me if I would be interested. He brought an idea and I agreed. And continue to agree. Once a comfort level is achieved, it becomes easier to make decisions. Or so I would imagine.


And where did Abhishek fit into the entire creative exercise (script, characterization etc.) other than (obviously) being a producer looking after the making, promotion, marketing and release?

Abhishek does sit in on all creative discussions prior and after the making. We all collaborate.
BOLLYWOOD NEWS
Catch us for latest Bollywood News, New Bollywood Movies update, Box office collection, New Movies Release , Bollywood News Hindi, Entertainment News, Bollywood News Today & upcoming movies 2020 and stay updated with latest hindi movies only on Bollywood Hungama.