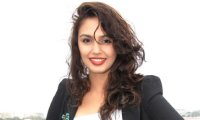 The name Huma Qureshi may not ring a bell instantly but you surely would have seen this pretty face in the promos of Anurag Kashyap's Gangs Of
Wasseypur. Even before her first film has released, Huma has already two big projects in the pipeline and is set to make inroads into B-town. Bollywood Hungama's
Nikhil Ramsubramaniam met up with Huma and chatted about how she bagged a dream debut in an Anurag Kashyap film, her experience with co-star Nawazuddin and why she
feels the world of Wasseypur is incomplete without women. Read on…
Gangs of Wasseypur (GOW) is your debut film. Tell us a bit about your background and how you ended up bagging this film?
I am a Delhi girl and have a theatre background. I come from a middle-class family with no real Bollywood connection so to speak. I did theatre throughout school and college. As
far as bagging this film is concerned, I had done an ad for Samsung Guru Mobile Phones with Aamir Khan which was directed by Anurag Kashyap. It was in fact Anurag's first
ever ad so I joke with him that you have made your ad debut with me and now I am making my film debut with you. During the ad shoot itself, Anurag told me, 'I will cast you in
one of my films'. At that point, I didn't really take him seriously but was happy when he actually kept his word and called me to be a part of GOW.
What is your role in the film?
I play a small town girl called Mohsina. She is ditzy and not really educated. Her whole world revolves around cinema and Bollywood actresses. She thinks she is the prettiest girl
in the town and ends up falling in love with a man (Nawazuddin Siddique) who thinks he is the Amitabh Bachchan of the town. It's a very filmy sort of romance between Nawaz and
my character and what is endearing is the fact that both these characters are not really intelligent, have a typical small town mentality and yet there is a lot of innocence in their
love story. For Mohsina, her entire life rests on her lover boy. She doesn't care what he does for a living, whether he is a gangster or a politician etc. She is just too much in love
with him.
You said you are romantically paired opposite Nawazuddin in the film. Nawaz has been really impressive recently in films like Paan Singh Tomar and Kahaani.
How was it working with a talented actor like him?
You know it's sad that many a times in our country people take years to appreciate genuine good talent. Nawaz is so talented that it's not funny. I have worked with him in close
quarters so I can vouch for him. He is in another level altogether and brings so much to his character that it's unbelievable. Initially I was apprehensive when Anurag said that I
would be paired opposite Nawaz since it's not a conventional pairing and he is even shorter than me. But now when I see the film, I am really happy that I went with Anurag's
vision. People who have seen the film have loved our romantic track.
Are you seen in GOW Part 1 or Part 2?
In GOW- Part 1, Nawaz and my characters are only introduced towards the end of the film. So you see very little of us in Part 1. But we are there pre-dominantly in Part 2
which should be out in a couple of months.
Considering GOW is a violent film, do women have much to do in the film?
Of course. In an Anurag Kashyap film, I don't think anyone is wasted. He is not the kind of director who would cast you and then waste you. So although the women in the film are
not firing bullets from guns or throwing bombs, they do have a lot to do in the film. There are some very strong performances from the women in the film and I can't imagine
Wasseypur without women.
How was it working with Anurag Kashyap?
What can I say? It's a dream come true for any newcomer. I still remember I had gone to watch Black Friday with my college friends in Delhi and was blown away by the
film. I couldn't believe that the film had been made by an Indian director. Then and there he was on my wish-list of directors to work with so I am glad that I first got an
opportunity to work in an ad with him and now happier that he cast me in his film. He is a fantastic director and a great mentor. He is not much into spoon-feeding his actors, he
allows you to make your mistakes and learn from that.
How was the whole Cannes experience?
My big moment was watching the whole film on the big screen with an international audience who couldn't really understand the language and yet enjoyed the film and sat through
it patiently. We showed both the parts back to back with a short break in between and yet not even a single person walked out and stayed throughout for almost 5 hrs 30 minutes.
It was a different high seeing people clap and enjoy the film and respond rightly to all the key moments.
Your first film has not even released and yet you seem to have some interesting projects like Luv Shuv Tey Chicken Khurana and Ek Thi Daayan in your kitty.
Tell us more about these films and your role in them…
Luv Shuv Tey Chicken Khurana is a co-production between Anurag Kashyap and UTV. Sameer Sharma (the director) had seen bits of GOW and liked my work so
in a way I didn't really audition for Luv Shuv… It's a mad film, a very Indian film about food, family and this guy's (Kunal Kapoor) coming of age story. It's a film full of
masti and mazaa. Its set in small town called Lalton near Ludhiana and I am playing a girl called Harman who is a first generation doctor in her family. She is
someone who a lot of girls will identify with because she has to figure out and balance her work life, her family and the guy she is in love with. It's also India's first food film so
food plays a very important element in the film. Like the title suggests, it's about a recipe.
And what about Ek Thi Daayan? How did you bag that film?
I went for an audition and they screen-tested me for a whole day and made me read different scenes. Few days later they called me and said I am on. I couldn't believe myself
that I am a part of a Vishal Bhardwaj production. It's an honour to share screen space with fabulous actors like Emraan, Konkona and Kalki. We've finished 2 schedules. It's a
supernatural thriller. I am playing a very modern girl. That character is probably the closest to how I am in real life.
Finally any actors and directors that you wish to work with?
I am the greediest actor. I would like to work with everyone and anyone. I love watching romantic comedies, action, and horror. If I can watch every genre, as an actor I would
love to work in every possible genre as well.