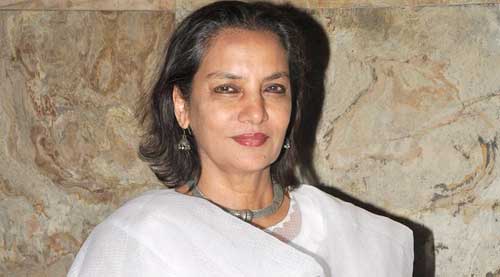 Shabana Azmi never ceases to surprise. Throughout her super-illustrious career as an actress and activist she has re-invented herself, invested her energies into creating a new cinema and civilization. This year she has already been seen in one film and will be seen in another very shortly. In Ram Madhavani's Neerja Shabana plays a mother to her friend Boney Kapoor's niece. In a freewheeling interview with Subhash K Jha she discusses what it means to be…well, Shabana Azmi a metaphor for the endless quest of excellence.



The year has opened with two films starring you. What was it like shooting for Chalk N Duster and Neerja? Are you happy with your roles?

Yes, why wouldn't I be? Both roles are substantial and I'm lucky to keep getting parts that are significant. The directors of both films come from entirely different schools and it's challenging for the actor to keep adjusting according to the director's vision. Jayant Gilatar of Chalk N Duster takes many small shots because his editing pattern is more mainstream. If Ram Madhvani of Neerja could help it he would do the entire movie in one take! He likes simultaneity of action and inchoate stuff that is unpredictably going on.



Sounds tricky?

You need to have first-rate actors with great experience to do this so initially I was a bit skeptical about it. To Ram's credit that he was able to achieve what he wanted from actors who ranged from very experienced to completely very new.



Neerja gives you a chance to play mom to Sonam whose family you've been closely associated with. Tell us about your rapport with Sonam and her family?

Anil Kapoor and Sunita are long-standing friends. I love the fact that our kids are working with each other and also inter - generationally! That's how the film industry grows even closer together as a family. When as a teenager Sonam expressed her interest in acting Anil was very concerned and sent her to me to give her a reality check and encourage her to go abroad for further studies. Instead I asked her to pursue her dream and do what she wanted!!



Do you think more stories like Neerja need to be told?

Neerja's story is very inspiring. We need many positive images of women in our films that can encourage young women to rise to their potential and more.



There is a heated debate in the country about growing intolerance. Do you think it is right for actors to comment on the issue?

In a democracy every citizen has the right to comment on everything. Intolerance has always existed and will continue to do so. Socrates was forced to drink hemlock; Galileo had to take back his words. I find it curious that if someone remarks there is growing intolerance the person is branded as anti- national!! Kyun bhai? I love my country but can I not say that Dharavi is the largest slum in Asia? When the PM says that we must work for Swatch Bharat is he anti-national for implying that our insensitivity to uncleanliness and filth needs to change?!!



You've worked towards building a Swatch Bharat for most of your adult life. How much of the convictions and issues that you have stood up for all your life has actualized in our society?

I'm an optimist and I always see the glass as half full. India is a country that lives in several centuries simultaneously and is full of contradictions. So although a lot has improved on position of women and slum dwellers there is a lot more to be done. Abba (father Kaifi Azmi) had told me, "When you are working for change you need to build into that expectation the possibility that change might not occur within your lifetime but if you carry on working sincerely and with dedication change will happen even if it does so after you are gone". That is my mantra for working towards change. Transformation is a very slow process and one must keep at it without expecting instant gratification


Farhan Akhtar recently announced his separation from his wife. How far has this affected your friendship with his wife?

I've always had an independent healthy relationship with Adhuna and it will always remain so.


Why do you think there are so many marriages falling apart in the film industry?

Not only in the film industry but also in many sections of society. The expectations from marriage are changing. When I asked Zoya this question she said, 'Because today women can, they have a choice and they exercise it. Marriage is not a one-way street. Both partners have to adjust to each other. The concept of made in heaven is defunct.


Your future plans?

I want to do more of the same thing. Work in movies theatre and TV, continue to address universities like Harvard, Columbia, Wharton, Princeton etc. which I've been doing for a decade now, carry my NGO Mijwan to greater heights and work on affordable housing.
BOLLYWOOD NEWS
Catch us for latest Bollywood News, New Bollywood Movies update, Box office collection, New Movies Release , Bollywood News Hindi, Entertainment News, Bollywood News Today & upcoming movies 2020 and stay updated with latest hindi movies only on Bollywood Hungama.