"We are hoping that you won't need Paani Foundation in 5 years," said Aamir Khan at the press conference to create awareness about Mahashramdaan at Symbiosis College in Pune yesterday April 20. Aamir Khan backed Paani Foundation is the brainchild of the Satyameva Jayate team helmed by Satyajit Bhatkal. The good leader that Aamir is, he was generous in admitting that Paani Foundation was the idea of Satyajit and most of the groundwork, research is done by him.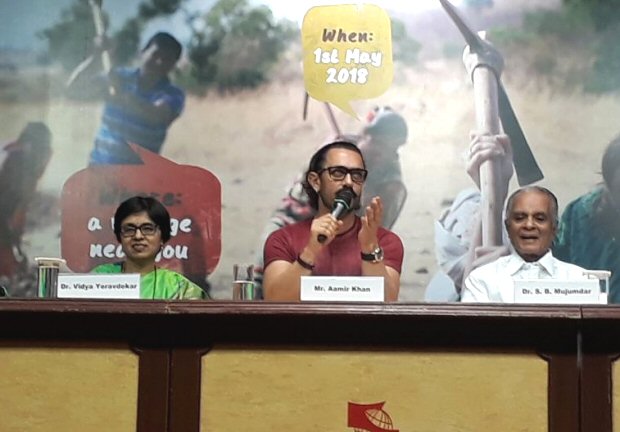 Aamir Khan urged the students of Symbiosis College, Pune to participate in the Mahashramdaan on May 1. It will be a four hour activity but it can do wonders for the morale of drought hit villagers. "It is often said that India is a youthful country. Kahaan hai vo youth? Facebook par? Please come to the villages on May 1 and participate in the Mahashramdaan," urged Girish Kulkarni, a well known Marathi actor who was also seen in Dangal and Anurag Kashyap's Ugly.
Aamir tagged several colleagues from the film industry, Journalists along with Sachin Tendulkar on Twitter yesterday hoping that they'd create awareness about Mahashramdaan. One lakh volunteers have already committed to their participation in Mahashramdaan. The last date for registration is April 25. Aamir is hoping that at least 5 lakh volunteers will take part. He said that he will be present in one of the villages as well (though he didn't disclose the name). "We shall indulge in some singing and celebration once we are done with the day's work on May 1," he said.
Several students of Symbiosis College asked some really pertinent questions and Aamir answered all their queries patiently. Knowing the perfectionist streak in Aamir it wasn't surprising that he knew tremendous in-depth details about the water woes in rural Maharashtra. While interacting with senior editors later in the afternoon, Aamir responded with minutest of details on issues surrounding water problems. Most of the editors had a detailed understanding of water issues in Maharashtra (a few of them being activists too). One of the editors told Aamir at the end of the interaction that Aamir is a "Water Expert".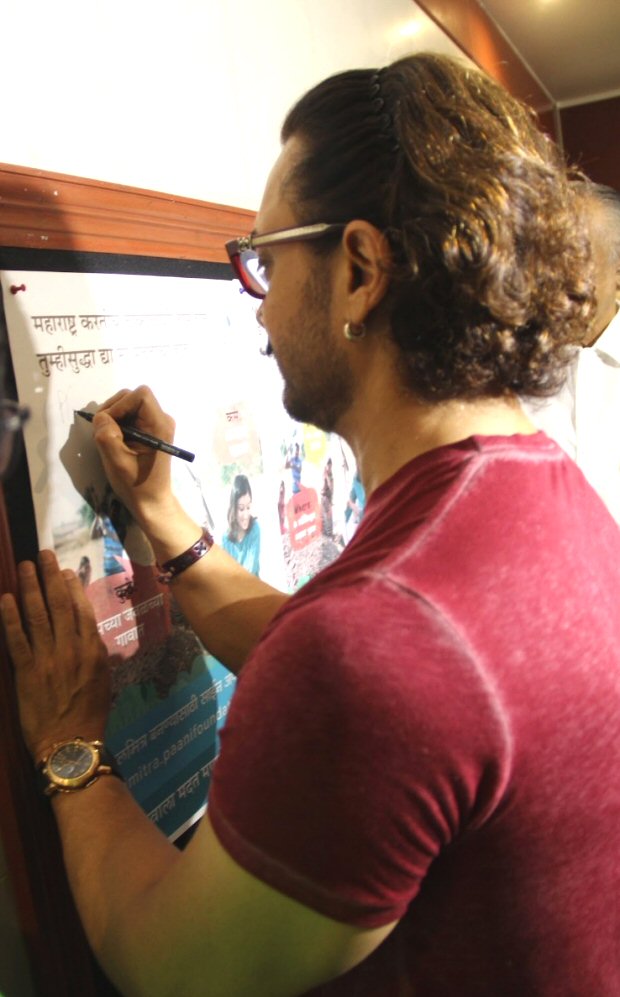 A couple of editors repeatedly asked about the possible political interference that Aamir and the Paani Foundation may have faced considering there's a big sugarcane lobby (sugarcane crops require lots of water). Aamir calmly responded that he and his team are having an 'inclusive approach' and that they have tried to involve everyone including the politicians of all parties to participate in this important initiative. He clarified that they have not sought any financial assistance from the Government but yes they've been assisted in tackling logistical issues which has been a big help.
A student, who happened to be from rural Maharashtra, made a long statement on how the water problem affects the villagers. He wasn't comfortable in English. The fellow students started clapping while he was talking so that he can cut his long (but passionate) monologue. Aamir heard him out, asked his name and then addressed him as Anand ji making the boy completely at ease. He assured him that he and his team shall take note of his suggestions.
Paani Foundation has spread their work in 75 Talukas in Maharashtra this year. They are hoping that they shall cover a bigger chunk of land next year. Maharashtra is a big state (bigger than Germany in size) with a sizeable population.  Aamir said that he's hoping that once people have understood the 'Science of Paan Load' and it becomes a part of their system, Maharashtra shall become water-sufficient. When he says that he's hoping that he won't be needed in the next 5 years then he means it. Obviously there are more social issues to be addressed and the fans of his movies want him to keep highlighting Thugs of Hindostan muscles and that 'Vivo' smile.
Also Read: Aamir Khan urges students to join Shramdaan for Paani Foundation
BOLLYWOOD NEWS