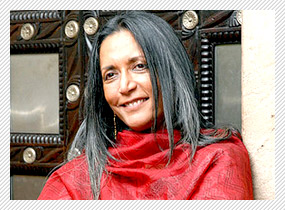 The moral police in India is constantly out to get you and Salman Rushdie. Do you foresee trouble in releasing Midnight's Children (MC) in India?
Over time and with experience, I now ignore the supposed controversy and focus on the work itself. In the worse -case scenario, the work won't have a chance to release
in India. But fingers crossed.
Have you found a distributor for the film in India?
We are currently working on that. The film is releasing on October 26th.
Would there be a separate Hindi version of MC for the Hindi speaking audience?
I hope so, eventually, yes.
Midnight's Children is unarguably your most ambitious project. How did you cope with the numerous locational changes and other practical problems?

I became a regular devotee of my local gym before we went to production. I knew that I needed the muscle, literally and figuratively, before we went into production, as it
required a tonne of stamina, physically, mentally and emotionally. With any film shoot, it invariably took a few detours from our original map, but despite it all, we got
there, arms and legs (I think!) intact. Isn't the road less travelled supposed to be the more interesting one, anyway?
I believe the shooting was constantly throwing forward new levels of excitement?
There was always something going on, whether it be elephants, a room full of screaming babies, torrential rains, cobras, you name it. It really felt like a marathon at times.
We shot in sixty locations in a very short time. How we pulled that off, I'm still in not sure, but the producer David Hamilton and production designer, Dilip Mehta were
absolutely instrumental in that aspect.
David, your life partner, walked quite a tightrope trying to get all the period details right?
Ha, David does that literally. A little known fact is that David is able to walk a tightrope .It is a physical skill whose mental equivalent was quite necessary to make this
film!
Dolly Ahluwalia who is currently a craze as the zany mom in Vicky Donor has done costumes for over 600 characters?
Dolly Ahluwalia did an outstanding job, as did Ritu Kumar who designed the wedding attire. I had a very specific colour palette, peacock feathers with white being a
predominant color and splashes of red throughout the film. Between the costumes and the locations, the movie really looks so rich and vivid. I am hopeful that the
audience will feel that they have been taking on a journey by the time they leave the theatre.
You've chosen a veritable treasure house of actors. Which are your favourite performances in MC?
I am so proud of the cast. All of them put in 110% and were ready to roll with the punches, work hard and step up to the challenge. Before we went to shoot, I did
workshops with the actors, led by the incredible theatre director Neelam Mansingh, which were based on the Natya Sastra. Not once on set did an actor ask me what their
motivation in a scene was because they already understood their character with a sense of depth and complexity. Everyone in their own way exceeded my expectations.
And the young actors too were outstanding. Darsheel, Purav and the simply delightful Anamika.
Have the actors all lived up to your expectations specially the celluloid Salim? Is the young actor what you expected him to be?
I had a huge list of expectations for Satya Bhabha, the actor we cast as Saleem Sinai. He's such an iconic and beloved literary character. It is a performance that
simultaneously requires innocence, optimism, sadness, hope, imagination and naiveté. Even though Saleem is an idealist by nature, there is a certain degree of humble
strength and presence that is required, and Satya brought both. Satya was extremely hard -working and was so involved in the role. He is a thoughtful, cerebral actor.
When he taps into his emotional core though… wow! He is quite something. Darsheel Safary, who plays the young Saleem, was in Satya's words," a tough act to follow"!
Darsheel is a natural but also very disciplined for one so young.
You've shot dazzling scenes of holocaust and battle including the Bangladesh massacre. You are no stranger to massacre scenes (Earth had them). How difficult was it
for you to shoot scenes of such unimaginable brutality?
It can be very emotionally draining. However, those types of scenes often require a huge level of focus and orchestration to pull off, so often, while I'm concentrating my
energy on creating such a scene, when I walk away or get a rare moment of quiet, I emotionally process the implications of what we just shot. While it may not be real life
on a film set, to know that at some point in time, certain events were real, with real people is quite powerful and humbling to say the least.
Tell me about your next project in some detail.
The next project is a film called Masterpiece, a story about the French artiste Henri Matisse and his nurse, model and muse, Monique Bourgeois that we will be
shooting in France. It's all very exciting and I very much look forward to shooting it. But after some rest when Midnight's Children releases.
BOLLYWOOD NEWS
Catch us for latest Bollywood News, New Bollywood Movies update, Box office collection, New Movies Release , Bollywood News Hindi, Entertainment News, Bollywood News Today & upcoming movies 2020 and stay updated with latest hindi movies only on Bollywood Hungama.