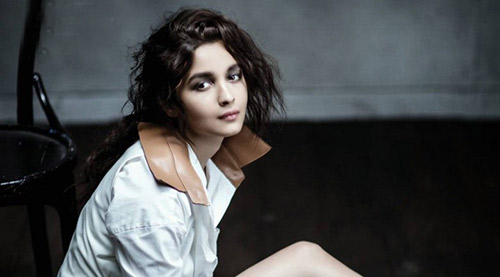 The gorgeous Alia Bhatt is the representative of the brand 'Gen-Next'. Having parental linage of the talented Mahesh Bhatt as her father and the gorgeous Soni Razdan as her mother, Alia Bhatt has all the makings of not just a star, but a 'superstar'! Right from her debut film (Student Of The Year) in Bollywood till today, her career graph has shown only one projection: upwards. This week will see the 'Bollywood fairy' named Alia Bhatt in a fairy tale romance called Shaandar, a film that promises to be yet another sensational performance of her career.


Satish Sundaresan of Bollywood Hungama met up with this 'bubbly-cious' talented girl for an interview. Here are the excerpts:


Alia, to start with, ever since the time you debuted with Student Of The Year to your latest release Shaandar, you have become a name to reckon with in such a short time. With so much going in your life, do you feel that 'Alia Bhatt has finally arrived'!

(Thinks for a while). Hmmm… I don't think so. I really don't know what 'to arrive' really means. I know that it really takes a lot of time to make a name for oneself in Bollywood. The audience has a certain amount of trust and faith in you and your films. In my case, I think that it will require some more films and a longer chain of good work to be called as 'finally arrived' (smiles).


"I feel 30 – 32 years of age is a good time to get married" – Alia Bhatt
To work with Ranbir Kapoor was always on your bucket list. How was it when you heard that Shahid Kapoor will be your co-star?

I have always admired Shahid's work in Bollywood and I have always been honest about it. I have seen his work ever since his Ishq Vishq days and he has an unusual magic about himself.


What was your immediate reaction when Shaandar was offered to you?

I, very instantly, knew that I am going to do this film. I must have never been so convinced (about any film). Shaandar is a mad, quirky, crazy world that got connected with me instantly.


Does that mean that you are impulsive?

I am not impulsive. I am instinctive. I go with my guts. I do not take hasty decisions. I make thoughtful decisions, but with gut.


What is Shaandaar all about?

As I said, Shaandaar is a mad, fun quirky journey of a couple of characters. Of course, it has a world of romance and fairy tale in it. The film will instantly connect with your emotional side. The audience will get connected with every angle of the film. All of us have a mad side to us, which we do not share it with the world. Shaandaar is just that mad side.


What is your role in the film?

There is a wedding that's happening in the film. I play the bride's sister and the name of my character is Alia.


The locations of the film looks like a fairy tale. What were the locations in which the film has been shot in?

We shot in UK, Leeds, outside of Yorkshire, Poland.


Shaandaar is based on destination wedding. Now that you have got a first-hand experience of the concept of destination wedding, how would you like your real life wedding to be?

I know it's (the wedding) very far away. But, I am open to the idea of 'destination wedding'. Maybe, somewhere in Greece or likes (smiles).


You even wore a moustache for the by-now famous 'Gulaabo' track. Whose idea was it to do that?

It was the director Vikas Bahl's idea.


You also wore a bikini in the film. Were you comfortable wearing that or you were reluctant about it?

I really worked hard on that scene. Once it looked good, I was comfortable.


How was it to have your co-star Shahid Kapoor's real life father (Pankaj Kapoor) play your reel life father in the film?

Simply put, the experience was totally fabulous! Pankaj (Kapoor) sir and I got along really very well. He would take a lot of care of me.


Is it true that you recently wished to be a dance teacher?

Arre... I do not want to be a dance teacher. What had happened was, recently, somebody just asked me 'If not an actress, what would you like to do?' I just said "dance". That's how it got started. I don't even think that I am such a good dancer.


How did it feel when the legendary Amitabh Bachchan said that he wanted to learn dance lessons from you?

He is really very sweet and warm and I am extremely fond of him. It was such a great thing.


Your film Highway's co-star Randeep Hooda has a hard hitting biopic named Main Aur Charles coming up. Are you excited to watch the film?

I have seen the trailer and felt that it is really very intriguing. We all know about how superb an actor Randeep Hooda is. I wish him best of luck and am dying to see the film.


Speaking of biopics, is there anyone in particular, in whose biopic you want to star in?

Yes. It is Nazia, the Pakistani singer.


Is it true that, you consider the ideal age for anyone to get married is 32 years?

I feel that between 30- 32 years of age, is the good time to get married and get settled down with your family. Till the age of 30 years, one can really work had and then settle down without any worries.


Is it true that you are toying with the idea of doing a show titled Keeping Up With The Bhatts', which will be on the lines of Kim Kardashian's 'Keeping Up With The Kardashians'?

(Absolutely stunned) Who told this to you! Arreee... It's a conversation that had come up within the family, on the occasion of my Dad's birthday. We just spoke about it. There are no plans as such. But, I really love that you have done your research.


What's next in your plate Alia?

I have Udta Punjab, Kapoor & Sons, and Gauri Shinde's next.


That means, you are not doing Raabta?

No. I am not.


Ok Alia…. Please answer whether the following things are true or false:

You make paintings with charcoal to relax in your free time?

Yes


That you are a 'pro' at handball?

I used to be.


That you are very fond of eating French fries?

Yes. But, it's a thing of the past now.


During your childhood, you used to try and emulate Aishwarya Rai, Kareena Kapoor and even Shah Rukh Khan?

Yes, and Govinda as well (laughs)


That you have named your pet cat as 'Pikkachu' after the children's show Pokemon?

No! That's a huge misconception. It's actually my sister who named our pet cat as 'Pikkachu'.


Your all-time favourite cartoon show is 'Tom and Jerry'?

(Thinks for a while)... You can say that!


That you love peanuts with green tea…

(Stunned again!) Oh My God! Where did you get all this information from! Yes, it is a fact that I simply looove peanuts with green tea...!


Lastly, in what way has your fitness trainer Yasmin Karachiwala 'shaped' up your career?

She has shaped up my body definitely (laughs). And that really adds to my career. She has really changed my perspective towards workouts. Earlier, for me work out was a burden. Now, I just can't wait to work out.
BOLLYWOOD NEWS - LIVE UPDATES
Catch us for latest Bollywood News, New Bollywood Movies update, Box office collection, New Movies Release , Bollywood News Hindi, Entertainment News, Bollywood Live News Today & Upcoming Movies 2023 and stay updated with latest hindi movies only on Bollywood Hungama.