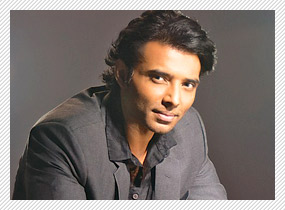 He started his career as an actor but now, Uday Chopra is in a much happy space as a producer.
Yash Raj Films has taken yet another step at an international level and launched a Hollywood Wing of the company
with Uday Chopra taking charge of this global venture. Inspired by the real life story of Grace Kelly, the first
venture of this new production house is the Nicole Kidman starrer Grace of Monaco that recently premiered
at Cannes. With the debut film releasing in India, Bollywood Hungama got into a tete-a-tete with Uday
Chopra as he reveals the experience of turning producer, his learning from his first solo production, his future
plans for acting and a lot more.
What was the idea behind taking up Yash Raj Films at an international level?
It was kind of a personal decision. It was never a strategic decision. We weren't thinking about YRF the company
while opening an arm in Hollywood. It was personal as in we required someone who can head the company and take the
process forward. So my brother (Aditya) and I were discussing this idea and he wanted me to pursue it because he
thought it would be interesting. I, on the other hand, wasn't sure how I would do it but I was surely excited
about it. In 2011, during summer, I took forward the process, visited the country to figure out how I would go
about the process. It has worked well so far and we have a rather well structured plan with films already in the
pipeline after Grace of Monaco.
How is the experience of heading a new production house that will be producing films at a global level and how
has that changed you?
Yes, it is completely different from what I was doing before! I was an actor in Hindi films and now I am a
producer of English films for a western audience. They are worlds apart! I wanted to do something new. Acting at
some point had stopped challenging me and that's when I decided to shift careers. Production gave me an
opportunity to establish myself in the competitive film industry, to see whether I get a foothold or will I be
thrown out of the door. Now, it seems like I have got a space there and it is time for me to take it forward.
How did you feel to have a Cannes Premiere for Yash Raj's first Hollywood venture?
It feels great to be a part of this movie especially to have my company's name on the big screen while it is
premiering for an international audience. Feels wonderful!
How was the response?
We do not know the exact response as yet. The film has been released in certain territories where at some places
it is doing well and the others are ok. For a film of this level, I think it is performing in a way we expected it
to. As far as I know, the box office says that it collected $10 million as of now but the film is yet to release
in many other territories. During the Cannes premiere, we got a standing ovation so I presume that they have liked
the film.
Why did you choose the life of Grace Kelly for your first film?
When I got the script, I reacted to it. This is not an arty movie, it is a complete commercial film, rather, a
fairy tale. It's a feel good film about a big Hollywood star who marries the Prince of Monaco. It's something that
all women especially married women can identify with. The husband or rather the Prince fears the attack of his
enemy and is constantly striving to protect his kingdom. With such responsibility on his shoulders, the marriage
has reached a stage where the relation is souring and Grace can feel the romance getting lost. This beautiful
story weaves around the rekindling of romance between a husband and a wife, how they stand united to fight against
odds. I chose this story because I think it will do very well since the film is very fast paced too.
The official statement of the Royal Family said that this film cannot be classified as biopic of Grace Kelly,
what is your take on that as a producer?
Actually, we have never said that this is true to life historic movie. We have always maintained that we have
taken liberties and we are making a dramatized version of these events. We never said this is a biopic. It was not
supposed to be historically accurate as it was done only for entertainment. Even in a film like Inglourious
Basterds, Quentin Tarantino used only certain aspects of history. We only take a slice of history but the
events may not have happened in the exact same way. While we tried to retain certain facts, we did play around a
bit to add that entertainment quotient.
So did the Royal Family finally agree to see the film?
No. For some reason, they did not want to subscribe to the film. They said that they are not happy with it. It's
unfortunate but I understand their point of view since it is about theirs and their parents' life. It is a touchy
subject for them. However, in the initial stages they had given us their blessings and in fact, we have shot all
over the palace. It was only later on, that there was a miscommunication that I wasn't informed about. We tried
hard to solve it and we are still trying our level best to sort it out.
How do you think Nicole Kidman has done justice to Grace's role?
Nicole has portrayed it so gracefully. The way she speaks, she carries herself, she changed everything about her.
It's a brilliant performance. Actually we wanted to complete the film in November since we wanted it to release
before the Oscars but it got delayed. However, it still remains to be one of Nicole's best acts till date. Even
other performers were equally good. The surprise package was Tim Roth who plays Prince Rainier. He comes across as
a very strong character.
To recreate a different era of the American culture would have been difficult… how did you
manage?
That was the creative team's efforts … the one who did the art and other production, it's all their efforts! I
came in at a very later stage when everything was ready to go on floors. So there was nothing much that I did but
it was more about many people coming together for a beautiful movie. I am just proud to be a part of it.
What are the distribution plans for this ambitious Yash Raj venture?
It's opening at different centres at different times. We are opening in India today and the rest of the world in
another two-three months. Every country has its own plan and it will be releasing in the U.S. last. As far as U.S.
is concerned, they want to re-cut the film and hence we are not sure about the release dates there.
Now that you have taken up Hollywood production completely under your wings, is acting in Bollywood going to
take a backseat?
I don't think of myself as an actor anymore. I feel I did that in my past life. As a head of a company, I will be
looking forward to creating a legacy of my own. My focus is actually in Hollywood since it has just started and
requires a lot more of attention right now. It still needs to grow and I will be looking at the future projects
for it. But I will always be connected to India. As far as acting is concerned, though I will not do it as a
career if something interesting, like a small role that requires about 8-10 days of shooting is offered to me,
then I might surely do it just for fun.
Are you planning any international film with the Indian actors in lead roles?
At the moment, we do not have any such plans. For now, we want to be known as a company who hires talent from
there. If we start getting Indian actors there, people in America will get confused about my company and that's
not my agenda. This should be solely known as a Hollywood company. Yes, if something fits organically like if
there is any kind of India connect in the film or you need an Indian character in the script, then of course I
will consider this option.
Since your friend Nargis Fakhri too is an international star, will we get to see her in this film or may be in
your future projects?
I can't comment on that and I don't know. In the future, if there is any role
for her I will surely approach her but at the moment there is nothing.
What are the future projects of the Hollywood wing?
I have got two films in development. One is the adaptation of the
novel - Seducing Ingrid Bergman, it is based on her love affair with the war photographer Robert Capa during the
end of World War II, when the Allied Forces won against the Nazis. Elements of communism will also be seen in this
romantic film. The script is complete and we will soon be approaching directors for the same in LA. The other film
is a female based action thriller set in India. So the cast and crew from the US will be in India shooting for the
film. It will be a mainstream U S movie but since it is based in India they will have a few Indian actors but
again, the lead characters will be from Hollywood.
BOLLYWOOD NEWS
Catch us for latest Bollywood News, New Bollywood Movies update, Box office collection, New Movies Release , Bollywood News Hindi, Entertainment News, Bollywood News Today & upcoming movies 2020 and stay updated with latest hindi movies only on Bollywood Hungama.