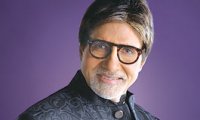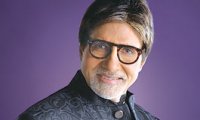 Amitabh Bachchan talks about his granddaughter and his upcoming films.


Nanhi Pari (aka Beti B) is now a month old…what is it like being a Dadaji? Do you spend more time at home now just to be near her?

Yes, being with the little one is a delight. The entire day is spent around her and our daily schedules revolve around what would suit her best. Even otherwise, I was spending more time at home, but now more so.


There is a worldwide curiosity and clamour to see the little angel's face. Apparently, astronomical sums of money are being offered by publications for a picture. Your opinion on this?

I cannot understand the clamour about seeing the baby's face. It is a personal matter and I would appreciate people respecting that fact. On the matter of money being offered by publications, it is sheer gossip and figments of imagination by some very creative minds. We have not come across any such preposterous propositions and even if, heaven forbid, they were to come, they shall never be entertained. There was similar talk at the time of Abhishek's wedding and they were untrue and false. Perhaps this is a prevalent practice in the West with their celebrities, but we do not and shall not entertain them.


The baby's name too is a matter of national curiosity and debate. Has the family zeroed in on the possible names?

We are working on the name and should have finality on it soon. There have been hundreds of suggestions not just from the family and relatives but also from the people, voluntarily. For this, I would like to extend my gratitude.


How much of Abhishek and Aishwarya do you see in the baby?

A bit of both.




Moving away to your career, you have just signed your first film this year. Why this long gap? And what made you choose Shirish Kunder's film above the others?

No this is not the first film I have signed this year. Technically, I am still to sign on the dotted line. But I had agreed on several even before Shirish's, it's just that his got mention on the social network which then got attention. Ashutosh Gowarikar, Prakash Jha, Balki, Amit Sharma, Shoojit Sarkar, Rakeysh Mehra, RGV, Nikhil Advani and Sudhir Mishra and a few others were all being discussed and finalised throughout. Ashutosh was to start in December 2011, but shifted to summer of 2012 due to location unavailability. Others needed more time on pre-production. Shirish says he can begin in March and that suited my schedule, so we shall hopefully begin then.


How far is Common Man inspired by the contestants you encountered on KBC, particularly Sushil Kumar?

None at all. Common Man you must know is a working title and can be identified with any vocation.


The year is almost done. Your thoughts on 2011.

Ek aur saal beet gaya!


What do you see yourself doing in 2012 that you haven't already done?

Be a devoted Dadaji.