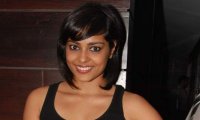 I can never erase the scintillating performance of Shahana Goswami from Rock On. I mean... I could actually smell fish sitting in the theatre watching her beat the s*** out of her onscreen husband Arjun Rampal. Rock On is past, Game is the present. But before I could talk to her about her next murder mystery movie, I questioned myself, 'Why can't we get to see such extraordinary talent often on screen?' And the actress who is obsessed about her favourite thriller movie Psycho tells me, "I am doing fewer films because I am quite picky. The producers who put money want to recover money by casting well known faces." Well honey, we need well known talents too, right? Game is her first thriller movie, Shahana is all excited for the release of her film and more than that, she shares a lot of that excitement with me when I chat with her on a hot Monday afternoon. UK's Harrow Observer columnist and Bollywood Hungama's London correspondent brings you one of India's precious gems when it comes to acting: the unpredictably uncanny, Shahana Goswami.
"I am doing fewer films because I am quite picky"
I don't know why I am doing fewer films and having said that, no actor in this industry wants to do fewer films. I think one has to consider the commercial aspect of a movie too. Unless I continue to do smaller parts, the transition to a protagonist can only happen when there is some kind of a brand value. The producers who put the money need to recover the money by selling their movie through well known established faces. So it's a bit of combination of all these things. I am offered many films but I am pickier, and anybody will be, as we move ahead in our career. To maintain a certain kind of growth, it usually takes some time and that's what is happening with me.
"Abhinay was very keen to have me on board"
Right from the beginning, Abhinay Deo got in touch with me for the part in Game. I met him and he was keen to have me on board. When I heard my part, I liked it, and not just my part, I liked the whole film. I was very happy to be a part of a thriller murder mystery. I am a key suspect and that was fun. From there on, things fell in place.
"One needs to be original in a murder mystery"
Thriller is a more specialised medium. It's a much more elaborate screenplay with a well sorted out narrative. One needs to be original in a murder mystery in terms of intent and how it's done. There's lot out there when it comes to murder mysteries. A lot of movies have been made. So to do something different in that genre is more challenging as a director and a writer. It's a medium where you have a lot of characters too.
"Abhishek is very charming and a lot of fun to have around you"
Abhishek is quite a fascinating man. He is very charming and sweet and is a lot of fun to have around you. He is someone who is, for all the stardust he has and the family he comes from, very down to earth and has no star tantrums. He treats everyone with complete equality and literally at face value. He will interact as normally with the crew as he would with the cast of the film.

"My character has a slight emotional context to it and that's why it's more challenging"
To play the suspect is really challenging. A lot of it had to also do with the screenplay and the positioning of the characters in the film. There is enough reason in the narrative for audiences to know that you are a suspect. But in my case, which is, slightly different, there is a slight emotional context to it. So I think it makes it trickier and more interesting. I can't give away too much or say too much about myself as of now.
"The only person I didn't share any screen space with was Sara Jane Dias"
On the first day of the shoot I had to face Abhishek, Boman, Jimmy and Anupam Kher. All of them have something individualistic about them. Everyone helped out each other. There were some light moments and fun moments shared off and on the sets. But when it came to work, it was serious. The only person I didn't share any screen space with was Sara Jane Dias but I've known her since quite some time. She is gorgeous and there was no reason why she couldn't her part with élan.
"Irony is that Abhinay's first movie, Delhi Belly, is releasing after Game"
Abhinay is a very celebrated director in the advertising world. It's a prelude to him. If you see a lot of art directors, they've started with advertising. There is a certain baggage you bring along when you come from the advertising world. The fact is that Abhinay made Delhi Belly first and then jumped on to Game. But the irony is that Game is releasing first and Delhi Belly later.
"Hitchcock is the master of suspense"
My favourite thriller is Psycho because it has the mystery element; it has psychological element and some great acting prowess. Hitchcock is a king of mystery movies and the master of suspense. I'm sure every thriller movie maker considers him their pin-up.
BOLLYWOOD NEWS
Catch us for latest Bollywood News, New Bollywood Movies update, Box office collection, New Movies Release , Bollywood News Hindi, Entertainment News, Bollywood News Today & upcoming movies 2020 and stay updated with latest hindi movies only on Bollywood Hungama.