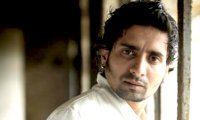 If you've liked watching The Simpsons, Family Guy, Beavis and Butthead....you'll love watching the 'Joint Family'. I mean, it isn't an English sitcom or some animated characters running naked and cracking dirty jokes. I am talking about Chandan Roy Sanyal and his small family that includes his brother and a few creatively distorted friends. Imagine a wild bunch; laughing and rolling together. But this time I was going to make up for my last time miss. So what do I do when the door is opened by Chandu (As he is fondly known)? I open the fridge kept in his open hallway and grab my beer bottle. The 'pop' sound and we cheers before indulging ourselves into the various gossips and facts from the big bad world of Bollywood. The room in which I am to interview Sanyal is dark, green, and claustrophobic, with a poster of Radiohead and Led Zeppelin framed to perfection. It's like being stuck in a small furniture shop and about as far from a convivial environment as you could imagine. Yet it proves to be peculiarly appropriate, a suitable setting for Sanyal himself. And the ambience grew on me with each question. I felt disconnected from the world and then I take a sip and it again reminded me that I was right there, right there in front of one of the four F.A.L.T.U. Jackky, Angad and Puja can wait. I'll come to you guys later. One of our industries finest actors around, Chandan Roy Sanyal is a rare diamond who cannot be overlooked. You need to own it and only then it will shine. As I say, neighbours envy, owners (Vishal Bhardwaj, Remo D'Souza, Deepa Mehta) pride. The actor has plenty of reasons to be cheerful. To have one successful start (Kaminey) in Hindi films might be considered fortunate, but to have the second one (F.A.L.T.U) on the verge of a grand release is either an anomaly or sheer genius. We think it's the latter. UK's Harrow Observer columnist and Bollywood Hungama's London correspondent meets the flamboyant, friendly, factual F.A.L.T.U. Ever heard of one? No? Here he is then! Presenting F.A.L.T.U #1 Chandan Roy Sanyal.


F.A.L.T.U remo


F.A.L.T.U happened because Remo saw Kaminey. I knew him before Kaminey though. He liked it and he also knew back then that I was some potential actor about to explode. He had that intuition. He saw the film and realized that he got his character called Vishnu for F.A.L.T.U.


F.A.L.T.U role


I don't exactly play a geek in F.A.L.T.U. He has a very high I.Q and scores 95%. Vishnu wants to follow his dreams of becoming an actor and how he goes against his father. He starts drinking alcohol and changes how he thinks, dresses and looks and finally proves it to his father. Vishnu's role had gone to many actors but Remo was sure that I could pull the role off. This was the only role in my life I haven't auditioned for.



F.A.L.T.U guru


I owe whatever I've done in my film career to Vishal Bhardwaj. I think he is my Guru. I really love that man. I recall going to him when I got F.A.L.T.U and I asked him whether or not I should do the film. I was very confused whether or not people would accept me in a genre like this after doing Kaminey. But Vishal said that I have got something in me as an actor to do any kind of role. Now when I look back after filming F.A.L.T.U, I think my hard work has paid off and people are looking forward to watch F.A.L.T.U.


F.A.L.T.U friends


All three of them, Jackky Bhagnani, Angad Bedi and Puja Gupta have started out in acting. Though Jackky comes from the film family, so he has more experience than many of us and I have done more roles in films and theatre than all three. But more importantly, I made it a point that I had to assimilate and mix with them and completely be like them as a new comer and not making them realize it. Like a layman, I mixed with them without discussing any of my previous acting skills. I was helping them out in some scenes and improvise. I was doing a bit of exercise with them in terms of how to modulate their voices, how to use the space, especially Angad and Puja.


F.A.L.T.U sensibilities


You have seen Kaminey and you adored the film. You feel that I am worth something. Similarly, my director Remo too thought that I was worth something. The same conviction I had for Remo too. Remo had some sensibilities in him as a director and that's why I wanted to be a part of F.A.L.T.U and of course, the role of Vishnu was very different from what I've ever done in my acting career. I have this gut feel that Remo will make some interesting films in the years to come.


F.A.L.T.U producer


I haven't had any interactions with Vashuji. I guess he was looking into the business side of things for F.A.L.T.U but at the same time he was overlooking the creative side as and when he got a chance to. I know for sure that he has liked and appreciated my work. He told me that he was impressed with my acting.



F.A.L.T.U gaane


The songs of F.A.L.T.U are really catching up. The entire credit goes to Sachin -Jigar, the music directors. F.A.L.T.U is completely on the other end of the spectrum of Dil Chahta Hai because our film has an entire new cast whereas Dil Chahta Hai had well known faces. But a good film speaks for itself irrespective of its cast. It's spooky but the truth is that I left Delhi to come to Mumbai after watching Dil Chahta Hai in 2001. My first step in the industry was laid after watching Dil Chahta Hai.


F.A.L.T.U impression


What I got impressed with is that Jackky works really hard. He puts in that extra effort and makes it look cool. Angad's inquisitiveness impresses me a lot along with his shakiness and Puja's unawareness is something that I was hooked on to. I mean, she doesn't know sometimes what she is doing but that's what is helping her without her knowledge.


F.A.L.T.U prediction


My first prediction came true on the music launch of F.A.L.T.U when I told the journalists and a lot of other people that the music of F.A.L.T.U is going to be the music of the year. So I hope F.A.L.T.U - the wild horse wins the remaining race and I'm sure it'll come home victorious. That's my second prediction.
BOLLYWOOD NEWS
Catch us for latest Bollywood News, New Bollywood Movies update, Box office collection, New Movies Release , Bollywood News Hindi, Entertainment News, Bollywood News Today & upcoming movies 2020 and stay updated with latest hindi movies only on Bollywood Hungama.