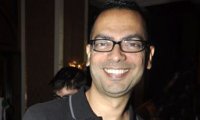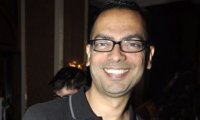 Akshat Verma is an articulate man and so are the characters he writes. A one film old writer, he has bagged two awards already under the Best Story and Best
Screenplay category for Delhi Belly at the recently held Screen Awards. Impressed! The man's got two cherries on one cake. Akshat is one of those rare
writers in our industry who believes that we should be focused more on storytelling than marketing to make our movies work at the box office. He is of the
opinion that Indian movies should have legs that stand the test of time. But the two things actually missing are the heart and the soul. Yes, not that Akshat
has anything against commercial movie making. The writer who'll soon turn director with UTV backing him as the studio is in a calm state of mind - not
excited, not hyper but sounding like any collegian that is almost done with his dissertation. All he awaits is the results and not worry about them too much.
He also has Yash Raj Films next written by him. I've interviewed quite a lot of writers but this one's special, actually not; it's a rather unusual
interview. As I was stirring my black coffee and was about to sip, a call comes. I pick up, I try to get up, I fumble, I try to keep balance, my coffee
spills, I slide the door, the voice cracks on the other end, there's a lot of chaos, a man shouts for tea, and a child is, for no reason whatsoever,
hyperactive because all this is happening inside a moving train from Ahmedabad to Mumbai. Oh wait, a woman waits for her turn in the washroom as I start
talking. Wonder if she's got the Delhi Belly?


Many congratulations on your first award on your first movie Delhi Belly. First time lucky with two awards in the Best Story and Best Screenplay.
This is impressive!

Thank you so much. Awards are like the cherry on the cake. Yes, I wish I was there to receive my first award for Delhi Belly. I am half way across the
world right now in the U.S. But yea, I really appreciate that you are stressing on the importance of storytelling. But it's not just Delhi Belly that
proves that great story telling works. It's been there since ages in Bollywood. The characters have become more fascinating I guess. To make films that work,
one needs to concentrate on storytelling but somehow we spend up more time and money on marketing. Producers want to insert an item song to boost the box
office figures. Producers should know that it's not the packaging that sells; it's the product that will deliver those results.


You've always mentioned the strong emphasis on storytelling. Tell us which storytellers inspire you.

I don't want to be pigeon holed. I want to tell a story I feel strongly about. The people who impress me are the ones who take risks. Thus I admire the Coen
Brothers, Quentin Tarantino, Woody Allen, etc. There is so much in all these men and the wide range of films they've made over the years. It's no point
treading the same path. Look at Ang Lee's body of work. It's astounding. Then there are many who I admire for their work like Alfred Hitchcock, Jim Jarmusch,
Alexander Payne, Sai Paranjpe, Hrishikesh Mukherjee and Akira Kurosawa. The films these men have made say it all. That's how you keep it interesting for
yourself. If you are repeating the same genres in your writing and direction then something's wrong. I want to try different genres in my writing and that's
how I'm keeping it interesting for myself.


If given a chance, what's that one thing you'd like to change about Delhi Belly now?

If given a chance now, I wouldn't like to go back and change anything in Delhi Belly. That's done and dusted. It doesn't matter what we think now.
It's the audience who'll take the call. I have to write other interesting characters and their stories and it's time I move on and I have.


How is your YRF movie shaping up?
I am
not allowed to divulge much about the Yash Raj movie I'm currently scripting. But yes, it's shaping up really well. I'm excited. It's an idea that came from
Adi Chopra and I am currently finishing the screenplay for it.


And what about your UTV movie that you are supposed to direct?
I am writing and directing UTV
Motion Pictures next movie for their 2013 line up. For me, my trait in directing comes from my writing. I love writing my characters. I can put them on the
page and make them talk and the words that come out from their mouth tell me the entire story. Yes, I am prepared for my debut direction. I hope I am. I can
only prepare for it. All I need to do is go for the war (laughs).


You love writing your characters, so give me your list of the most weird and interesting mix of characters from movies you'll watch again and again.

Over the years, I am so fascinated with characters in movies, be it Bollywood or Hollywood.
I'd like to list down some of my most memorable characters from these unforgettable gems. I've loved Utpal Dutt's role of Bhavani Shankar from
Golmaal, Steve Buschemi's character called Carl Showalter. Who can forget Jai and Veeru from Sholay? Awesome Mr. Bachchan and Dharmendra were
in that film. I loved 'The Dude' from The Big Lebowski played by Jeff Bridges, Thelma and Lousie played by Susan Sarandon and Geena Davis. From
Election, Jim McAlister and Tracy Flick played by Mathew Broderick and Reese Witherspoon, I was impressed with Woody Allen and Diane Keaton's
performance in Annie Hall too. Then it's Forest Whitaker's role as Jody from The Crying Game, Forest Whitaker again from Ghost Dog. I have to
add some Hindi ones too. Kishore Kumar and Madhubala from Chalti Ka Naam Gaadi, Ravi Vaswani and Naseeruddin Shah as Sudhir and Vinod from Jaane
Bhi Do Yaaro.


What did you think of Ricky Gervais this time at the Golden Globes 2012?

I guess this time Ricky Gervais was a little subdued considering what happened last year at the Golden Globes. He's amazing. Everyone felt this year he
wasn't in his true element. But when he is in full flow, he is superb. Ricky Gervais humour isn't any randomness; he actually makes you think sometimes. His
humour doesn't drop down to the lowest common denominator. Not many people get it and that's the catch. The best comics do that. Eddie Murphy, Richard Pryor,
Sacha Cohen Baron, etc are some of them. You'll be sitting with your mouth open and wonder what they're doing sometimes. They all have so many layers to
their humour.


And finally he got the recognition. Your take on George Clooney winning the Best Actor at the Golden Globes?

I think George Clooney winning the Best Actor for The Descendants was quite
a surprise. I think Clooney has done stronger performances than this one. But I guess it was due (laughs). I thought Michael Fassbender for Shame was
superb. But all this is very subjective. I would never want to be a judge at an awards show. I'd rather be judged for my work. But why should I choose from
the best line up of actors. Everyone is amazing in their own way.