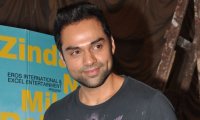 Abhay Deol isn't a cliché. There is something that sets him apart - and it's not the fact that he is one of the many Deols we have in our industry. Abhay has cultivated-whether consciously or not - one of the most idiosyncratic careers in recent memory. In fact, 'remarkable' and 'complicated' are good ways to describe Abhay's body of work thus far. Clichés though, are defined by their predictability, and Abhay, now in his mid thirties, remains as inscrutable as ever. That's why you get a Manorama Six Feet Under, Dev D, Oye Lucky, Lucky Oye, Road Movie, etc and amongst all these, he still makes way for his forthcoming road trip movie Zindagi Na Milegi Dobara. Seated in his denims and black tee, Abhay looked rugged sporting a beard. He had just finished a television interview when I entered and immediately uttered, 'Gosh I need some lunch. I am starving. But let's finish the interview quickly.' Now that's where you can never trust Abhay because he is a talker, seriously a good one. Once he talks, he talks sense and it prevails. But the more you observe him, the more you feel that he bears an uncanny resemblance to Johnny Depp. For starters, both the actors don't watch their films once released. Both aren't method actors and both have fascination for weird roles. No wonder this Deol has made a career out of playing the unlikely hero of Bollywood films. UK's Harrow Observer columnist and Bollywood Hungama's London correspondent met the quirkiest actor of our generation and found out that it is that eccentricity off screen that transcends into exhilarating performances on screen.


"ZNMD is quite good on content"

ZNMD serves both purposes. You want to get into a bigger space. I hate to use the word 'commercial' but let's just say 'mainstream' space. But there is a conscious decision. My mainstream films will support my off-mainstream films. It's more a matter of perception too. Besides having all what it takes to make it big at the box office, ZNMD is quite good on content. I will do a film only if it appeals to my sensibilities. I don't want to keep on doing big films too. But I don't want to treat audiences as fools too.


"What is mainstream and what isn't, is tough to tell today"

ZNMD is Kalki's mainstream film too. If you go to see, Dev D was a mainstream film. The perception of Dev D was offbeat because I was doing it and Anurag was directing it. The reason I came up with the idea of today's Dev D was because I knew that it's the perfect way to a commercial platform without compromising on your original integrity. But when it came out, everyone saw it. So the question I ask again is - What is mainstream and what isn't? It's dangerous to put things in a box today because you never know what film becomes a box office hit. There is no formula to success.


"Farhan can do stand up comedy really well"

Farhan Akhtar should also pursue stand up comedy. He is awesome at it. He is doing his directing, acting, singing, producing, writing but he is a stand up comic guy. He can keep a room full of people in splits. I don't know whether he wants to pursue that but since you are asking, I am telling you that this man can do the stand up really well (laughs).


"Hrithik prepares for his role and I don't prepare"

Hrithik and I have two diametrically opposite approaches when it comes to acting. But it's all towards the same goal. He also tends to work off the co-actor. He will not be in a scene doing his own thing. He will feed off the other actor. Hrithik prepares for his role and I don't prepare.


"Films is a business medium first and then a creative one"

I do not watch my films after release. I don't know what Johnny Depp does (laughs). Of course I watch it once but I thank God that Hindi films have now got the sync sound in place. I've got an opportunity to do a lot of sync sound. But it's the dubbing that kills it for you. After dubbing my films, I don't want to watch them because you go over and over again. The sad state of affairs the world over, and not just in India, is the fact that movie making has become a business. It was but now it's a business first and a creative medium second.


"Katrina Kaif isn't lucky. She was destined to be one"

I personally don't believe in luck. I do believe in destiny. I think we are destined for something and nothing like luck can take you forward or bad luck can get you back. With Katrina, she has worked really hard on her Hindi. Having tasted success more than failures, Katrina is trying to push herself forward. She wants to be recognised for her craft, she wants to be comfortable with the language. She tries and she doesn't fool herself or the others. Katrina Kaif isn't lucky. She was destined to be one.


"All our audiences expect out of us is an 'escapist' fare. Hollywood is growing but what about our industry?"

I see my audience as supremely intelligent. I can't think of them as dumb people who leave their brains at home and come to watch a film. Expectations from a foreign film is way different from expectation from an Indian film. Hollywood is growing in India year by year because Indian audiences are loving and accepting their films. But when it comes to our films, I don't know whether it's a chicken or an egg situation. All our audiences expect out of us is an 'escapist' fare. I mean, I like Dabangg but it doesn't take much to get it. It doesn't involve me. I love watching Salman and I go and have fun. That's it. So today, you go to a studio head, he wants to make another Dabangg because it worked… that's what I don't like. What they don't realise is that Dabangg is a hit because Salman was in it. You take out Salman from it and it flops. You have to recognise the audience. If we keep replicating cinema then we are termed craftsmen and not an art form.


"Zoya has a great understanding for human behaviour"

Fair can be lovely but dark is sexy (laughs). I love Zoya (laughs). I had high expectations from Zoya before I started to shoot for ZNMD. I wasn't disappointed but I was surprised. She read in between the lines. She doesn't care what the lines are but cares more about the emotions in that scene. Zoya likes subtleties. She has a great understanding of human behaviour. In fact I got scared after a while because I realised that you cannot play games with this woman as she reads people so well (laughs). I mean, imagine how she would read her characters in her film.


"I have studio heads telling me - We know what works so just do that. It's sad!"

This industry isn't about being an individual; it's about being a conformist. You may have a Zoya, Anurag, Dibakar as all these people have to struggle to keep their individuality and originality intact. No one will support you when you want to do it your way. I have studio heads telling me - We know what works so just do that. It's sad.
BOLLYWOOD NEWS
Catch us for latest Bollywood News, New Bollywood Movies update, Box office collection, New Movies Release , Bollywood News Hindi, Entertainment News, Bollywood News Today & upcoming movies 2020 and stay updated with latest hindi movies only on Bollywood Hungama.