Shah Rukh Khan and Gauri Khan's daughter Suhana Khan is a star in her own way. The teenager, who is currently studying abroad, has a great social media following. With her Internet stardom, the star kid is going places and one see that starting with her debut magazine cover shoot. Suhana Khan has finally made her debut on Vogue India cover and looks beautiful on it. While many have begun the debate on the nepotism and how she got a cover without having worked in films yet, her superstar Shah Rukh Khan promises that she will prove her worth.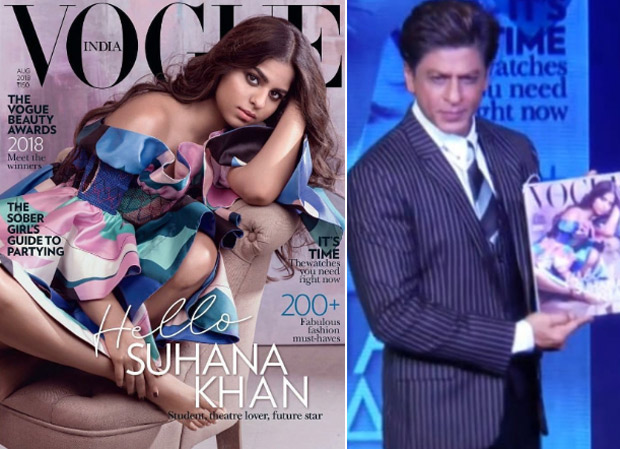 Shah Rukh Khan, on July 31, unveiled the magazine cover at the Vogue Beauty Awards 2018. Like a proud father, he was super pumped of his daughter. When receiving an award for Man of the Decade, he talked about how star kids are perceived. He said, "I think star kids have their own personal issues, of course they're entitled and in today's world with social media it's nice that you're recognised, but where I come from, a middle class background, where someone has worked with some of the most beautiful and loveliest of people like Katrina [Kaif], and all the other people here present, I got this opportunity, and things went well for me. But kids are kids; children are children, changing the world. And sometimes, you need assistance of friends to give them a little more confidence, self-belief and self-worth. So I want to thank Vogue for taking my little daughter and putting her on the cover of Vogue. I'm extremely thankful."
During his speech, SRK mentioned that he hopes that Suhana's cover is not taken in a wrong way. "I hope it's not taken as 'entitled' just because she happens to be Shah Rukh Khan's daughter. I just hope it's taken as a responsibility that she has if she's being given a platform like this, a solo cover for Vogue, which I incidentally have never gotten (I'm just going to keep pointing that out, I just have to look at [model's] knees and say 'Oh I'm so sexy!' [In reference to his own shoot in Vogue India]). I just want to say thank you very much for putting her in a place where the responsibility you've put on her is going to remove some of the entitlement she has because she happens to be my daughter. And Inshallah she'll work hard towards that," he added.
He further said, "I'm very proud of women who work, like I mentioned, all the ladies here, and I hope it doesn't sound patronising. I'm inspired by women who work… all the ladies that I've worked with in the films that I've done. 53 years of age, from mother to sister to wife to daughter, and all the girls who've worked with me, it's an inspiration how hard they work, how selflessly they work and how many conditions, which perhaps are not the best for women in the world, not only in this country, how wonderfully happy they are. I never see them lose their smile, I never see them lose their temper, I never see them lose their professionalism. I think I've been gifted to be in the company of so many fantastic women. And I hope my daughter can join and be one of them. I'll be proud of her when she's proud of herself with the job she does so Inshallah she'll do well. I feel very honoured to be here, this is strange!"
On the work front, Shah Rukh Khan is looking forward for his next release Zero. The film is slated to release on December 22, 2018.
Also Read: Suhana Khan makes a STUNNING DEBUT on Vogue cover
BOLLYWOOD NEWS