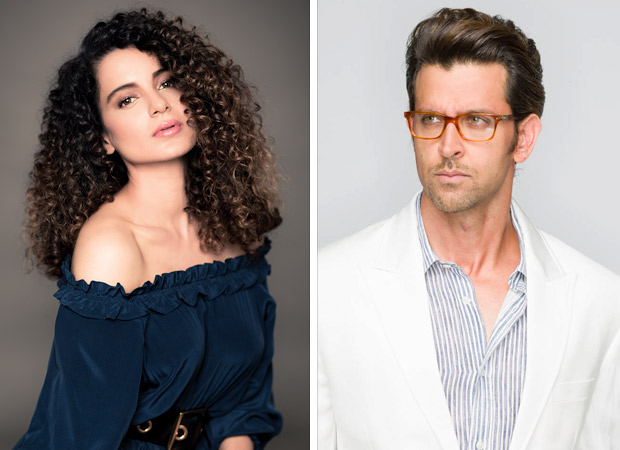 Kangana Ranaut definitely doesn't seem to be among the people who let the bygones be bygones. The year 2016 saw a huge drama in her life when Kangana Ranaut's one statement about calling Hrithik Roshan her silly ex-turned into a huge public legal battle. Both of them slapped each other with legal notices which had become the biggest controversy and was the only talk of the nation, at the time. The cyber crime cell of the Mumbai Police filed a final NIL report in the case stating that were unable to find anything over the leaked emails and were closing it.
While it seemed like the story had died down, Kangana Ranaut has re-opened the can of worms about her feud with Hrithik Roshan in an explosive interview on Rajat Sharma's Aap Ki Adalat on India TV. In one and half hour long interview, Kangana revealed some crucial details about her relationship with Hrithik Roshan, how he promised to marry her but didn't, how they tried to prove she was mentally unstable, the legal battle and more.
Rajat Sharma asked Kangana Ranaut about her legal spat with Hrithik Roshan over 'silly ex' drama that began the whole controversy. To this, Kangana responded, "He made it public in a notice that Kangana should apologize and make it a public with a press conference by saying that 'Hrithik Roshan, I am sorry because you aren't that silly ex that I was talking about.' First of all, why did he think it was about him? The notice also mentioned that if I didn't apologize then he would release some pictures and videos to embarrass me in public."
Kangana Ranaut then talked about her relationship in detail and how it had ended before her hit film, Queen. "In 2014, our relationship was completely over before the release of Queen. Before the film's release, he said 'We should end this relationship. I am already going through a divorce so I can't talk.' After the divorce, he is like 'Who are you?'"
Speaking of the leaked emails, Kangana Ranaut further added, "In 2014, the relationship was over. In 2016, he sends the notice, goes to the cyber crime. In 2014, I was in New York doing some screenwriting course. He was going through the divorce and that time we would exchange emails. I admit there would be 3-4 emails but not all those 1000 emails. If you and your father (Rakesh Roshan) have the money, then expose the imposter who has been conversing in your name with me. But, what happened? Neither they could find the imposter nor did anything about it. Now, they are just quietly sitting and saying our dignity will be over if we talk about this case. He boasts about his father's money. His father publicly said that 'I will expose this girl.' Here, I am one year later waiting to get exposed."
Kangana further said that she went through emotional trauma during that phase. "I have suffered so much of humiliation… it's incalculable. I wept all night. I couldn't sleep. The stress, the trauma, the mental trauma, emotional trauma. You call him here and ask him questions because I had not sent the notice first. There are emails available online in my name. For this disrespectful behaviour, I demand an apology from him."
Furthermore, Kangana Ranaut was asked about the time she had attended Karan Johar's party where she met Hrithik again and thanked him for sending an email praising her work in Queen. In the legal notice, Hrithik had denied sending any such email to her. To this, she said, "In 2015, I called his father (Rakesh Roshan) and told him about what all things he had done. He said that he will do something about it. Later, he said 'Hrithik does not want to meet you.' Before Queen, he broke up with me. After Queen released he came back to me saying, 'I've made a mistake, forgive me.' I said, 'You first make up your mind as to whether you want to marry me or not. 15 days ago, you were asking whether I hadn't disclosed our relationship with anyone.' He said that Queen's success had gone in my head. Then, I saw him at Karan Johar's party so I went to meet him. He said, 'You've changed a lot. You are riding high on your film's success.' I said I was like this before the film. You have changed since the film became a hit."
Speaking of the over 1000 emails sent by Kangana Ranaut to Hrithik Roshan, Kangana clarified saying, "He has sent himself those emails from my account, so he can show everyone that 'I'm missing him, I'm dying, I have some mental illness please take me to a doctor.' Are you Menaka and am I Vishwamitra? You turned into a nymph yourself, and turned me into a person who has no control over themselves. If I have sent you emails, then did you keep receiving these 1000 emails? And then did you remember 2 years later that you received 1000 emails? Does something like this ever happen? And someone who has worked with you for seven years, you can't pick up the phone and call her directly and ask about the emails? No, you collected those emails, made a file of them, hired India's best criminal lawyer."
Kangana Ranaut further added, "On your saying, the girl doesn't contact you, doesn't speak to you, so what do you need to escape? You just need to tell the world that this girl is mentally unstable. So tomorrow, if she says that Hrithik Roshan had promised to marry me then don't believe her. Secondly, if she says she had a relationship with me, then we've already proved she's crazy. Why do you need to hire the country's best criminal lawyer?"
Then, Kangana was asked about claims made during legal battle that she had some mental disorder. She said, "If he (Hrithik Roshan) had so much problem with me then why was he dancing on the floor so happily on my birthday? If I get drunk or have a mental disorder, then would you offer me Krrish 3 after Kites? It is there on record why I had rejected Krrish 3 because I knew something would happen. We did have an affair earlier and he was married, so I knew I should stay away from him. He was behind me for 6 months and made me sign the film (Krrish 3). Firstly, this is your home production and you claim I have mental issues then why do you want me in your film after rejecting so many actresses? I want to know."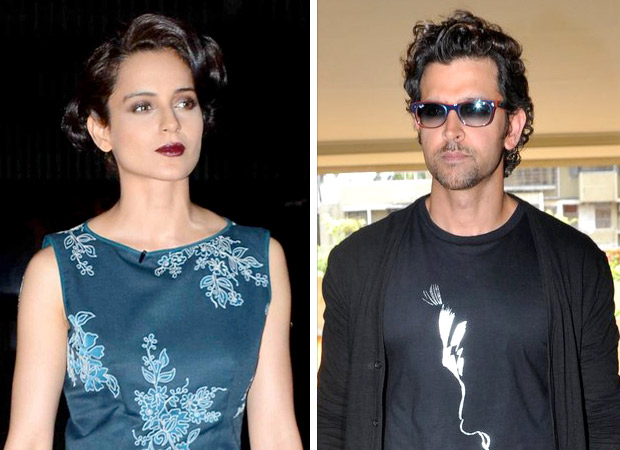 Kangana Ranaut further admitted sending Hrithik Roshan some emails out of immense love for him. She said, "I had really loved this person, I was really upset because the Shayari that I had written to my lover, he posted them in his emails and sent them. He displayed my emotions in front of the whole world. It is like a second death you go through when someone does that to you."
Kangana also revealed she had demanded marriage from Hrithik and did not want to be his mistress anymore. "When I was in a relationship with him, it wasn't like he manipulated me in any way. He had said 'I'm already in a relationship and I would never be able to accept you in a legal way.' Then, he said that 'I don't have any relation with my wife.' He said that my family system is such that he won't be able to leave his wife. Then, his wife filed for divorce and he was also having a surgery. So, at that time, we used to have a conversation. He said 'I can see us together in future now.' Now, this made me wonder how come suddenly his mind had changed. He said that he was getting divorced in 2014 October or November. But, before that, he was shooting Manali when I heard something about his affair with someone. So, I contacted him around Valentine's Day and asked why he had not sent any message to me. He is like 'Why should I send you any message? First tell me, who all did you tell about our relationship? I said 'Now, you are behaving very badly. I have only informed my mom and sister. It's not like I want any kind of publicity from this. This is confidential so why would I tell this to anyone?' Then, he says, 'There's nothing between us anymore.' This was before Queen's release and things suddenly changed after the film that he was proud of me etc."
On the women's commission refusing to help her. Kangana Ranaut revealed how things took a drastic turn when she needed the help. "He made it public in a notice that if I didn't apologize then he would release pictures and videos he had. So my sister Rangoli Chandel called the women's commission. Gurmeet Chaddha, who is the head of the Mumbai office, got very excited at first, saying it's a high profile case, we'll tell Rakeshji that he can't threaten someone like this. We believed that they will look after this matter. After 2 days, we get a call from Rakeshji's office saying that they're good friends and that the matter is going out of hand. What sellouts these people are. I've hated the women's commission since that day, these people are completely fake."
It remains to see whether Hrithik Roshan and Rakesh Roshan will respond to this explosive interview Kangana Ranaut. On the work front, Kangana Ranaut will be seen in Hansal Mehta's Simran which is scheduled to release on September 15.
BOLLYWOOD NEWS
Catch us for latest Bollywood News, New Bollywood Movies update, Box office collection, New Movies Release , Bollywood News Hindi, Entertainment News, Bollywood News Today & upcoming movies 2020 and stay updated with latest hindi movies only on Bollywood Hungama.