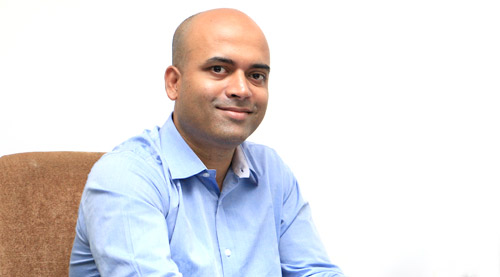 From an expat life working for a major MNC in London to launching one of the most successful TV channels in India today, Ajit Thakur is one man who can proudly claim that he has done it all. However, he is not someone who will fall into the trap of living in his past glory. In fact this man is now charged up to fulfill his biggest dream - making Movies. Teaming up with the one of the most successful film banners, Eros International, Ajit Thakur is spearheading a new content based film production company called Trinity Pictures. Known to be the first of its kind in Bollywood, Trinity will focus on making content based films and exploring untapped genres in the Bollywood market. What's more, this is probably the first ever production house that is inviting writers to come forward and be a part of their creative team. Interesting right?


So here's bring you an exclusive tete-a-tete with Ajit Thakur who discussed his Bollywood plans and more with Bollywood Hungama's Content Head Moses Navgire. Read on.


To start with, what made an IIM graduate working for Unilever (London) wake upto 'Bollywood Calling'?

Bollywood was a big part of me in my growing up years. I would watch most films on day one. During my days at Hindu College I came in touch with some very talented people like Imtiaz Ali and Arnab Goswami, who further fuelled my desire to do something in entertainment. However, being a middle class boy I went on to IIM post my graduation. A good 10 years later when I was in London working for Unilever, I watched Rang De Basanti in 2006 what followed after that film left an even bigger impression on me. That's when the cases like Jessica Lal, Nitish Katara and Priyadarshini Mattoo were reopened and I witnessed the power of entertainment to inspire a whole nation. There was another film Khosla Ka Ghosla which released around the same time and I loved it for similar reasons. By then, I was very clear about what I wanted to do and I did the most obvious thing. I reached out to Ronnie Screwvala, who had produced both Rang De Basanti and Khosla Ka Ghosla. Ronnie used to regularly visit London in those days. Initially he wasn't sure if I was really serious about leaving a comfortable expat life in London for the grind that would follow in Mumbai. The more we discussed how hard the transition was going to be, the more convinced I was - that Mumbai and Entertainment was what I wanted to do. Finally I landed in Mumbai in 2007 and it was all triggered by Rang De Basanti. Since then, it has been a roller coaster ride and I think that I always belonged here.


How did television happen then?
At that stage, Ronnie's film team was already full and he was looking for someone to run UTV's television production unit. For me, given my background producing content was one thing I wanted to learn before anything else so it didn't matter if it was TV or films. I really enjoyed the production stint in UTV, working 14 to 16 hrs a day sometimes that was followed by a stint with another entertainment entrepreneur who I admired a lot, Ekta Kapoor. Between these two stints I understood the basics of creating content for films and television. Post that, the last 6 years I spent in Broadcasting, initially at Sony and then at STAR TV. At STAR TV I launched Life OK and that was another phenomenal training ground to learn almost everything about the business of creating content as well as creating entertainment brands with long lasting value. Between Ronnie, Ekta and later Uday Shankar I was very fortunate to have some of the best people in the business help me learn the ropes in the industry. All along, the the filmi keeda was still there. After 3 & half years at Life OK, by which time the channel has had a fairly successful run it was time to switch to my original passion, which was to make films.


When you were conceiving the thought of Trinity Pictures back then, what was it that you wanted to do in Bollywood that was different from the current existing lot?

The reason for me to do a TV channel that was almost anti-soap and anti-housewife was to differentiate and stand out in the clutter. There were already enough of such channels and one more channel in the same genre would have resulted in another failed launch. For me what I want to do in films also has a similar premise of approaching it with a challenger mindset. If I am coming into a new industry and if I had to compete and do the same things that have been done I am just one more person doing the same, so what's the value that I am bringing in. It would have been easier for me to join any production company and studio and start working on the current slate but that wouldn't have been exciting and wouldn't be me. For me it was always about can I go into a system and do things dramatically differently and more often or not the risk has paid off. And I was pretty clear if I do films then I will be doing it in a particular way. And for that specific idea that I had about the film label I wanted to do, I was meeting various people for almost a year. But it was after a 20 minute meeting with Kishore and Sunil Lulla when I decided that Eros is the place where I wanted to do it. Kishore straight away asked me 20 minutes into the meeting with him 'So what's the name of the label you want to start'. It was very clear that he not only bought into what I wanted to do but it fitted in well with his vision for Eros International. Eros is already the leading film studio in the country and is gearing up for the next level of growth which will make it one of the leading entertainment companies in the world. The current film slate is set to double in the next 3 years. We are also getting into regional cinema, international cinema as well as digital and broadcasting. So my plans for a new label fit right in the ambitious growth plans that Eros has charted out for the next 3 to 5 years.


What exactly is your plan?

We formed Trinity Pictures in February which is a fully own subsidiary of Eros International, focused on developing an in-house slate that works very differently from the ways most other studios do. Trinity will be producing films in-house where right from conceptualization to release everything will be done in-house. The second thing about Trinity is that it will be a writer's studio, wherein the writers (young and old) will be briefed to write from scratch basis the vision for a certain kind of unique films that Trinity wants to do. These writers will be put into various writing rooms along with writing mentors and directors. The biggest USP of Trinity is the kind of films that we want to do. Trinity will focus exclusively on developing franchise films. And when I am saying 'franchise films', what I mean is that, when a film is conceived, it will be conceived as a franchise from the start, wherein we will spend a lot of time thinking through as to how can this character, device or setting be taken to three films, before we start writing the first film. And the kind of genres that we want to do for this market are also going to be very new. We want to do superheroes, spies, detectives, period, mythological dramas, fantasies and many more. These franchises will have one thing in common - Grand Visuals. The franchise thought apart from being unique also has certain other advantages. Firstly, the franchise itself is a great business proposition if executed right. Secondly, the genres that we will be exploring as franchises are relatively untapped genres in India. And lastly, the visual scale will hopefully bring in a whole new set of audience to the theatres.



When we talk on franchise work, how much do you feel will the sequels depend upon the failure or the success of the first film?
Of course a lot will depend on the first one! But the way we are thinking about it is that, even if the first one doesn't work, we will reboot and relaunch the franchise. However if it works we will have several advantages. First, we would have thought through the story arc of the character across at least three films. So in case if the first one works we will be ready to launch the second film much sooner. Second, we will always build the franchise beyond just films. Of course, our confidence to execute franchise films better than others in the market also comes from having David Maisel on our board. David is the ex-founder and CEO of Marvel Studios and was the man behind the Iron Man 1 and 2 and The Avengers franchises.


Will your superheroes / spy stories be westernized when they get conceived, or will they be more Indian?

They will be as Indian as it gets. We have 5000 years of history and many more, if we add our mythology to it. We don't need to look beyond. In fact because we have a global market in mind we want to make our films even more Indian in terms of the inspiration for the story. I am not saying that everything will be period as most of the stories will be set in today's India. But I mean is that the roots will be Indian; the visuals will be big, the special effects and the production value will be international, but the essence of the characters and the story will be as Indian as it can get.


In case you are planning to make an Indian sci-fi film, you cannot put in the amount of money as much as you put in a Hollywood film. At the same time, the Indian audiences expect the visuals to be at par with the Hollywood films. So, how will you manage to merge that by keeping the costs in control and at the same time, making sure that the content and the visuals that people see on screen are not compromised?

Firstly, we already have made significant progress in that department. If you look at films like Dhoom and Krrish, the third installment of both the films were very well made and can compete at international levels. I think we have to be rational and logical about it. Today we have the best talent for VFX in India. And, we just have to find a way to work within the constraints of the Indian movie economy. If our budgets limit us to only 20 minutes of VFX instead of 50 minutes, we will do that but we will do those 20 minutes well. I have no doubt that we will see Bollywood films competing with global standards in the years to come.


How are the Bollywood stars opening up to this new concept of filmmaking?

The only 'stars' whom I have met so far are the writers and directors. And it's high time that we give them their due. I think that Bollywood has some really talented and fantastic writers and directors. Pitching to actors is still some time away.


Last time, you spoke about making films for children. Can you throw some light on that?

It's one of those 5-6 genres with which we want to begin. And when I say 'children', I mean age bracket of 4-14 year olds, wherein we sense a big market.


Talking about the new talent, how do writers and directors approach you?

If you are a passionate Bollywood buff like I was and even if you are not a writer or director but you have an idea the doors will always be open at Trinity.


They can write to me directly at: ajit.thakur@erosintl.com or they can reach out to you guys - the very passionate team at Bollywood Hungama. The only brief for the people who apply is that they should be really passionate about cinema and 'Indianness'. Also, avoid mailing me your story ideas or scripts. Just write to me about your self and why you want to write for Trinity.


You also spoke about releasing a film before the end of this year. Have you locked on the concept?

We have locked five concepts. The process we follow is very elaborate because these are big investments. At present, it's too early to commit which one will be the first to go on the floor but we will make an announcement soon.


Would you consider Trinity to be the major turning point of your career?

For me, I don't think of films as a career. It is my passion and definitely starting Trinity has been a defining moment of my life.
BOLLYWOOD NEWS
Catch us for latest Bollywood News, New Bollywood Movies update, Box office collection, New Movies Release , Bollywood News Hindi, Entertainment News, Bollywood News Today & upcoming movies 2020 and stay updated with latest hindi movies only on Bollywood Hungama.