Two days back, a tweet gave out the information that Indian actor Harish Patel can be seen in the newly released promo of Marvels. The actor can be seen in the role of what seems to be the henchmen. Holding the gun, Harish is seen standing behind Kumail Nanjiani in the much awaited film, Eternals. The tweet went viral as the twitter user reminded people that he's the same actor who played the iconic role of Ibu Hatela in the cult film, Gunda (1998).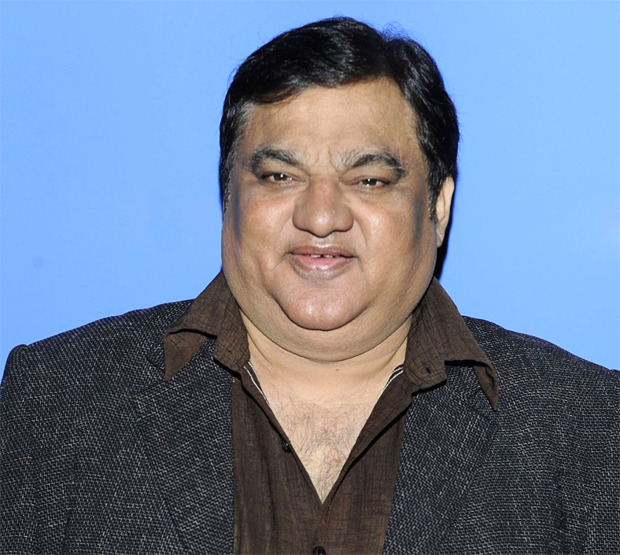 When Bollywood Hungama reached out to Harish Patel for an exclusive chat, Harish Patel made it clear at the very onset that he's not allowed to talk anything about Eternals. But he admitted that he was humbled by the sudden attention he's getting. But he added, "Kya main Ibu Hatela ke naam se jaana jaata hoon kya? I am not upset but maine aur bhi zyada cche kaam kiye hai."
This writer spoke to the 67-year-old actor at a time when he was inundated with calls from the media. But till yesterday, many were still wondering if he's the same person in Eternals. Harish sighed, "I just got a call where the journalist asked me, 'Sir woh aap hi ho kya…aapke fans janna chahte hai'. I'm shocked. Mere fans yahan kahan se paida ho gaye?"
Harish Patel feels it's unfair that very few are aware here of his amazing body of work in the West. He worked under legendary playwright Satyadev Dubey and also dabbled in garment business. He says that it was Malgudi Days director Shankar Nag, his college friend, who got him into films. Till the 90s, he was a seen in numerous films of different genres. But in the same decade, he began to take baby steps towards the western industry. And it happened probably in the year 1993.
just wanted y'all to know that the actor who (among other parts) also played the iconic Ibu Hatella in Gunda (Harish Patel) has a part in Marvel's The Eternals, glimpses of which we saw in the new lineup. Never give up on that dream
???????????????? pic.twitter.com/MkGOoAsd0l

— Ankur Pathak (@aktalkies) May 4, 2021
The Buddha Of Suburbia
He reveals, "One of my first projects in the West was The Buddha Of Suburbia (1993), directed by Roger Michell, who made Notting Hill (1999) later. Its makers had come to Mumbai to find an actor for the part of Changez. A day before their return flight, they came across Govind Nihalani's Tamas (1988) in which they saw me along with a few other actors whom they found interesting. The producers expressed their desire to meet me. But they were told that 'Yeh toh kuch bhi role karta hai'. Basically, they said I was unworthy. Yet, the makers insisted on meeting me. Next day I went to their hotel, The Leela Kempinski. The Indian agents met me at the reception. They were the ones who didn't want me to get cast. So they lied that the producers are auditioning someone else and that I should wait for sometime. After 15 minutes, I called them. They told me that they are actually waiting for me and that they aren't auditioning anyone. They then came down to receive me. We then sat in the room and laughed for 5 minutes over what just happened! Then they told me that The Buddha Of Suburbia is adapted from Hanif Kureishi's book of the same name. I asked if Hanif is Indian. They instantly realized I know nothing about literature (Hanif Kureishi is a British playwright of Pakistani and English descent)! I told them my English is weak but I assured that I can learn my lines well. They asked me to read a passage and then instantly asked me if I can join the team."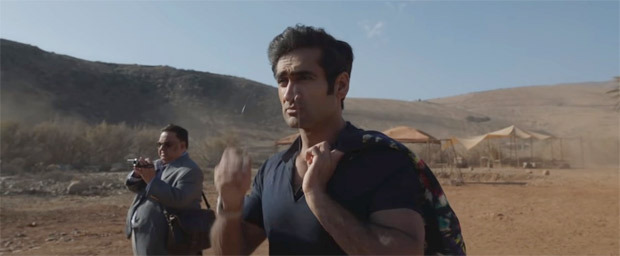 Nevermind Niravana
After this show, he was seen in My Son The Fanatic (1997; also written by Hanif Qureshi and co-starred Om Puri and Rachel Griffiths). This was followed by Chicken Tikka Masala (2005). And then Nevermind Niravana fell in his kitty. He explains, "NBC asked casting director Uma Da Cunha if she can recommend an actor for a part in Nevermind Niravana. She suggested my name. In a way, Uma Da Cunha is responsible for opening doors for me in the West. I auditioned for it and even argued with them. In the script, it was mentioned that my character is an 'Indian Walter Matthau' (Walter Matthau is a famous American actor knowing for his comic timing). I objected to it and insisted that I'll read the lines my way. Thankfully, they liked the way I performed and selected me."
This was a time when Nevermind Niravana was to be directed by David Schwimmer. At this, Harish says, "I had no idea who he was. Later my daughter called me and asked me who the director of the show is. To which I said, 'Someone named David Schwimmer'. She was shocked and she told me excitedly that he's the one who played Ross in Friends. Now I knew Friends was big but I had never seen it. Mujhe yeh sab shows na tab samajte mein aate the, na aaj samaj mein aate hai. Later I got a call from so many people and requested an autograph of David."
At this point, Harish Patel states that the show saw several changes in cast and was reshot multiple times. It later fell in the lap of Fox Studios and the pilot episode shot after that was not shot by David Schwimmer.
Run, Fat Boy, Run and Rafta Rafta
David Schwimmer then cast him in Run, Fat Boy, Run (2007). And this is when he got a life-changing offer in the form of the play called Rafta Rafta. Harish Patel emphasizes, "After Chicken Tikka Masala, I immediately did Run, Fat Boy, Run. My manager there one day told me that National Theatre in UK wants to audition me for a play. Mere paas tab kuch 7-8 ghatiya Hindi filmein thi. My manager told me that the National Theatre play would require me to give my dates for almost 7 months. I reluctantly went there to audition on a day when I was getting bored and had no work. Mujhe woh play karna hi nahi tha. I feared that mere bina Bollywood bandh ho jaayega ya unn filmon ko bahut bada nuksaan ho jaayega!"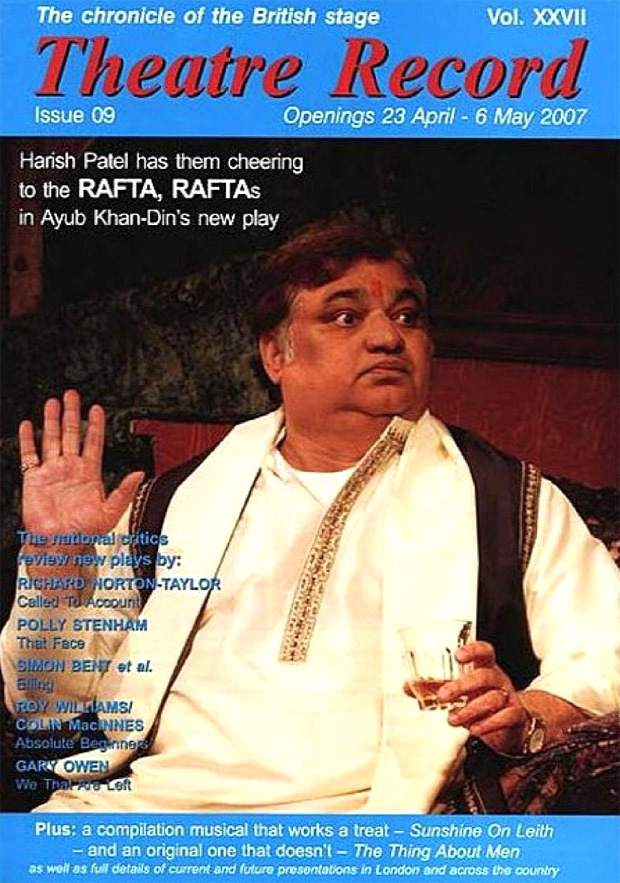 He continues, "Anyway, I told them I'll come at 11 am. I didn't even ask if I can come at 11! I went there and sat like a king. Then Nicholas Hytner entered the room. He's a legendary theatre director but of course, I had no idea. I asked him, 'What do you do?'! I auditioned a dialogue and gave them three different variations. They liked it and 10 minutes after I left from there, I got a call saying that I have been selected. I was not interested to do the play and refused at first. I then told my manager that I can't do the play as I am doing films in Bollywood. She told me, 'To hell with your Bollywood films'! She insisted that I should do this play. I was still not convinced."
He then tells, "Some days later, I was shooting for Run, Fat Boy, Run at Waterloo Bridge. Just next to is National Theatre. Suddenly, it began to rain. So we took refuge in a tent. I was at looking at National Theatre and was lost in thoughts. Later, David Schwimmer asked me if all is well. To which I told him that I have got an offer for a play from National Theatre and that they have selected me. David asked me who is directing the play and I mentioned that 'Some Nicholas Hytner is directing it'. David couldn't believe his ears, more so because I was unsure of doing his drama. David then called actor Simon Pegg and narrated to him the tale. When Simon heard that I am having second thoughts, he kicked my chair! He told me, 'Now I know that the stupid role that you are doing in this film actually suits you'! Soon, David Schwimmer called everyone and everyone was amazed. I realized ki mujhe nahi malum hai ki main kya cheez chod raha hoon. I was at the right place, right time with the right people."
He tells, "Rafta Rafta gave me immense popularity. When I used to go to National Theatre for rehearsals, the doorkeeper used to tell me nonchalantly to sign the entry book. In the first show, we got standing ovation for 5-7 minutes. The doorkeeper staff then began to greet me graciously and would let me inside without signing! Gordon Brown (former Prime Minister of the United Kingdom) saw the play and he had drinks with me." He also found himself featured on the cover of the British Magazine, 'Theatre Record', a first for an Indian actor.
Harish Patel then also worked in the film adaptation of the play, All In Good Time (2012), but it didn't work. His other projects include Jadoo (2013), Today's Special (2009), The Driver (2014), Lies We Tell (2017) and the much loved Four Weddings And A Funeral (2019).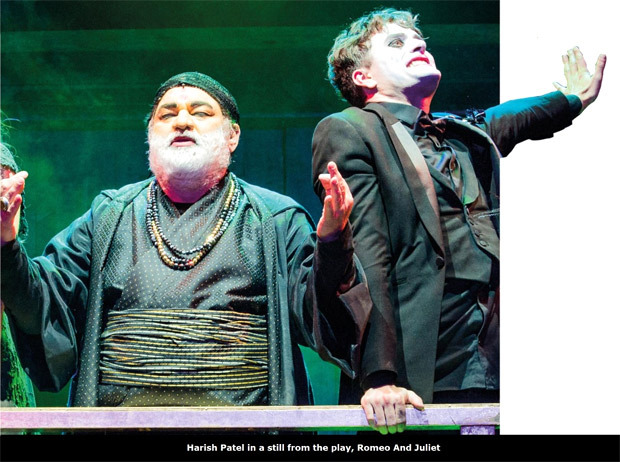 Romeo And Juliet
Harish Patel then speaks about another significant project, "In 2017, I was offered a played called Romeo And Juliet. It was directed by Daniel Kramer, another reputed personality. Daniel told me that ever since he saw Rafta Rafta in 2007, nearly ten years back, since then he wanted to work with me. I told him about my English and that I don't know Shakespeare. However, he insisted that I should play Friar Lawrence's part. I got myself a tutor in Mumbai and did the part."
Despite such filmography, Harish Patel shocked us as he says, "I still don't watch English films. If it's a dubbed Hindi version, then I might watch. Bahut mushkil hoti hai samajne mein. I used to tell David to explain to me slowly. I used to even memorize the dialogues of the other actor. It's when he or she gets silent that I would realize that now it's my turn to mouth the dialogue." The actor studied in a Hindi medium school, Marwari Vidyalaya in Girgaum, Mumbai.
Bollywood Calling?
Despite all these feats, Harish Patel makes it clear that he's not averse to acting in Bollywood. He says, "I have not left Bollywood. And I am ready to work here if I come across a good script. Lekin wahaan kaam karke mujhe do buri aadatein lag gayi hai. Ek, toh paise ki. Aur dusri, izzat ki! If I discuss money matters, people here get offended."
He also has other reservations, "Some assistant would call me to offer the film. The director won't even have the time to speak to me. In logon ko yeh nahi pata ki main kaise kaise directors ke saath kaam kar chuka hoon. I have worked and am working with Oscar winners (Eternals director Chloé Zhao recently won the Academy award for Nomadland). Meanwhile, here I am enticed to sign a film by telling me that it has a star in the lead. In logon ne mujhe itne saal yahaan dekha toh tha nahi. No one even has the basic sense of checking my IMDb profile. They assume that I am sitting at home, jobless!" Harish's last film in Bollywood was Pyaar Mein Twist (2005).
Gunda
A conversation with Harish Patel can't be over without speaking about Gunda and his iconic dialogue 'Khaayega kela'. Here, Harish reveals a mindblowing trivia, "Credit goes to writer Bashir Babar for the dialogues. However, 'Khayega Kela' was my addition. When we were shooting, dialogue mein thodi kami lag rahi thi. So I said it impromptu. If we had planned the dialogue before, I would have kept a banana in my hand." He then rues, "Because of that character, people expected me to be a ghatiya person as well."
But on the other hand, Harish Patel is happy about the love that he gets from the general public. He says, "People in India look at me and smile. And I tell them that I am Harish Patel. Kyunki mujhe malum hai ki inko mera naam nahi malum. The public feel guilty about it." As for his experience in United Kingdom, he reveals, "Even today, if I am walking on the streets of London, at least 3 or 4 people would look back at me. And if I am sitting in a bar, toh at least 3-4 peg toh public ki taraf se hi aa jaate hai!"
BOLLYWOOD NEWS
Catch us for latest Bollywood News, New Bollywood Movies update, Box office collection, New Movies Release , Bollywood News Hindi, Entertainment News, Bollywood News Today & upcoming movies 2020 and stay updated with latest hindi movies only on Bollywood Hungama.