New album, new era, new world tour, new SEVENTEEN! Atleast, that's what the 13-member powerhouse group is aiming for with their new LP FACE THE SUN as they complete seven years in the music industry and are all set to embark on a world tour after two years four months. Ahead of the album release last month, the group had dropped 13 individual trailers depicting their 'Inner Shadows'. Just like the setting sun casts long shadows, the shadows in our lives deepen as well. But, it takes a lot of courage to face the darkness and accept them as part of their lives. SEVENTEEN – S.Coups, Jeonghan, Joshua, Jun, Hoshi, Wonwoo, Woozi, DK, Mingyu, The8, Seungkwan, Vernon, and Dino – are determined to conquer their fears and face them.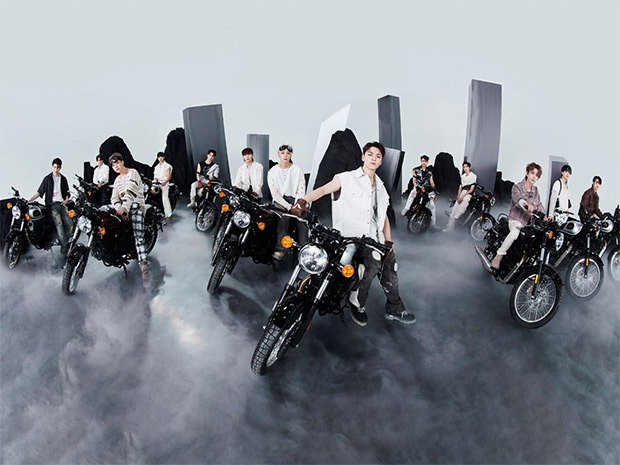 EXCLUSIVE: K-pop powerhouse SEVENTEEN talks about Face The Sun breaking into Billboard 200 top 10, 7-year journey, world tour; hopes to perform in India
Since their debut in 2015, SEVENTEEN as a group has been unstoppable. The determination towards their craft, the creative vision, and the artistic expressions are all visible in their 7-year-long career – a milestone in itself for an idol group. Known as the stage-breakers, the self-produced powerhouse group has often experimented with their sounds but the essence of SEVENTEEN remains the same - to make music and tell stories that resonate with their audience. With the new LP, the group's aspirations to reach newer heights are visible and so is their new artistic journey. The group is unafraid to venture into new territories knowing that each new step comes with its own share of battles. From 'adore u' to 'HOT', they have come a long way, and so is their musical transition. Their experimental music has made its way to the top 10 on Billboard 200 chart with their fourth studio album debuting at No. 7. Additionally, with FACE THE SUN, the thirteen-member group also becomes only the second artist in K-pop history to rack up over 2 million sales in the first week of release.
If one has followed the journey of SEVENTEEN, FACE THE SUN has come at the right. The group is turning a new page in their lives, and their sound is taking an intriguing turn, which is very evident in how diverse FACE THE SUN is. Following the album release, the group is set to return to the stage – the place they rightfully belong to. Their stage presence has always been talked about; choreographies are neat and SEVENTEEN members are a blend of fun and chaos. The group is set to kick off their world tour BE THE SUN this weekend starting with their Seoul concerts followed by 12 North American dates, including cities in Asia, and a Japan Dome Tour from November to December.
Ahead of the Seoul concerts, which are highly anticipated amongst CARAT (fandom name), SEVENTEEN spoke exclusively to
Bollywood Hungama
about the album FACE THE SUN, the creative process of making their LP, and what to expect from the upcoming world tour BE THE SUN.
Congratulations on FACE THE SUN. It seems like with this LP, SEVENTEEN has embarked on a new journey. After seven years of togetherness as a group, what was it like going on a new adventure after 'An Ode'?
S.COUPS: The course of how the album came together wasn't anything new. We've probably matured as individuals since our third LP An Ode, but as a group, we worked together the way we always do. It was just a part of the time we spend together on a daily basis, with WOOZI at the center holding all our thoughts together. It might not have been an entirely new adventure, but the significance this album holds for SEVENTEEN presents a clear change from where we stood then. Over the past 2 years, we had to face a lot of fears we had tried to overlook: the fear of not being able to perform in front of a live audience again, the fear of the 13 of us not being able to stay as a team and more. FACE THE SUN is about our determination to move past these fears.
With the trailers of 'Inner Shadows', what caught the attention was how each member was embracing their fears and accepting them as a part of their lives. There's a song in the LP 'Shadow' which also depicts the tenderness of the dark side. Seven years down the line, have you been able to overcome your fears, or are you on the path to conquering them?
DK: I've overcome some of my fears and I'm on the road to conquer 'new' fears that have arisen. I think everybody has something to be afraid of. One fear I used to have is the fear of not being able to 'do well'. I've come to embrace it little by little after all the challenges I've just had to face head-on since our debut. It's an experience aligned with the story we tried to tell through Face the Sun.
Is it ever easy to face your fears as a public personality, right?
HOSHI: It's definitely not easy, but I believe there is great value in being candid regardless. When people see us, they might think, 'The guys from SEVENTEEN, they always look bright and positive' but when we share our feelings, hopefully, they'll see that everyone—including us—has the same worries, from which they can get comfort.
"HOT" is probably one of the most flamboyant music videos. Was that a particular reason to break through the previous image of the group and embrace this wild side?
WOOZI: As we tried to express through the track "HOT," we are more eager than ever today to reach greater heights. Our feelings behind the track are where a lot of the strong imagery, colors and effects in the music video also stem from.
One of the highlights of the LP is the stunning track that is "Don Quixote". It is an experience in itself and SEVENTEEN seems to go on a wild adventure. What was the idea behind the track and what inspired it because it could easily become a lead track?
DINO: We thought there is a resemblance between our aspirations and the character of Don Quixote. Like Don Quixote, we want to continue our adventures and move forward even if others might see us and think we are not headed the "right" way. The 13 of us grew up together with that mindset. After all these years, we still aspire to be an artist unafraid to step away from the norm to walk our own path.
WOOZI, you continue to excel as a producer apart from being a part of the group and vocalist. I did see your 6-hour vlog [which I enjoyed a lot so thank you for always entertaining]; it also seems like you continue to work in your free time and often come to chat with fans. Since you are so involved in the process of creating an album, does it ever leave you overwhelmed or with any pressure when it comes to the group project?
WOOZI: I am always conscious of the stakes, I think it's an inevitable part of the job. Rather than seeing it in a negative light, I would like to focus on the fact that there is 'anticipation' for what SEVENTEEN can do. I'm grateful that there are fans who look forward to our music, and we also want to reciprocate with music.
Since all 13 members continue to be involved in the process of making an album, how does ideation and conceptualizing an album works, usually? Is there something you have discovered about yourself as an artist?
VERNON: Through the years of working as a team of 13, one thing I've discovered about SEVENTEEN as an artist and just overall, is that everyone is different and the best possible work comes to life when the different characters come together. Just within our group, some members enjoy penning the lyrics, while others work on perfecting the choreography because we each have our strengths. There is beauty in connecting with each other beyond our differences, and SEVENTEEN's performances are also completed by us coming together.
SEVENTEEN recently celebrated its 7-year anniversary; all 13 of you renewed your contracts and will be staying with your massive fandom for a long time. It is a rare moment in a fast-paced industry. Was there an emotional moment about this amongst members?
S.COUPS: There were countless conversations amongst the members along the way, and I'm sure we each had our share of emotional moments. We realized that it's more than just a matter of wanting to stay as a team and that we should never take this team for granted.
THE 8: I'm grateful for what we went through because I believe we all have learned to better appreciate our time together. I've come to cherish that we can work towards the same goal as a single team and that we have one another to share all the difficulties and joy along the way.
An artist belongs on stage. SEVENTEEN are all set to embark on their world tour. It marks the first in-person concerts with fans' presence. What does this world tour mean to you post-pandemic?
MINGYU:
It's almost like a dream. For online concerts, we performed on stage while reading comments from our fans through a live streaming platform. While we're thankful that we could stay connected that way, back then, I actually had dreams about performing in the presence of a live audience and shedding tears of happiness on stage. All the members cried in my dream. Now that we're fully returning to the stage where we belong, we are going to make sure we give it all we have. It'll be worth the wait.
Given the kind of power-packed performances SEVENTEEN does, what would be different about BE THE SUN compared to your previous tours? Are there any performances fans should look forward to?
JUN: The setlist will be a surprise for everyone at the concert! One thing I can say is that we'll be running full force from the moment the show kicks off.
DINO: Given that it'll be the first concert where our fans can actually sing alongside us since the pandemic, I think both the level of energy we put into our performances and the level of energy from our fans will be beyond anything we've previously experienced. I'm confident this tour will truly be one for the books.
What is it about the stage that SEVENTEEN missed the most?
DK: Whenever we prepare for a stage, the goal is to create an experience we can enjoy together with the audience. We ask ourselves questions like 'Do you think they'll dance along to this? Will this get them hyped up?' It was the same for the concerts that were streamed online, but the level of excitement we can reach through an in-person performance is on another level. We missed being immersed in the moments where it feels like the entire hall is pulsating, where the entire stadium is jumping up and down as if we're one.
During the album-making process, do you also create music keeping in mind that those can be performed on tours?
HOSHI: Of course. Performances are one of the key means of communication in the world of K-pop, particularly so for SEVENTEEN. WOOZI is not only a producer but an amazing dancer who understands what is needed for a song that makes you want to dance. So we talk a lot about what the accompanying performance would entail during the songwriting process.
Going down memory lane since the group has completed 7 years and it's the first time in 2 years you will witness fans on the world tour, what was that one moment from touring that continues to stay with you to date?
SEUNGKWAN: When we were touring outside of Korea, there were fans who sang along to every word even when our songs are in a language they do not speak. These memories still make my heart beat, and will always remain unforgettable. I know I shouldn't get ahead of myself, but to be completely honest, I can't help but be excited to feel all that again during the upcoming world tour.
As humans, we often keep ourselves on a pedestal and want to be the best versions of ourselves. As artists, SEVENTEEN members continue to excel in each department. FACE THE SUN has debuted on Billboard 200 at No.7. The group continues to soar higher with each album. Do you ever get satisfied with every milestone and achievement or does that encourage you to grow further?
WONWOO: I think we feel a sense of encouragement, satisfaction, and the desire to soar higher all at once. On the basis of this mixture of feelings, we will keep walking forward together at our own pace.
India continues to see huge growth in fans and many joining the CARAT-LAND. Given the opportunity, would SEVENTEEN like to perform here where the fandom continues to grow with each album? Do you have a message for them?
JOSHUA: Since we weren't able to finish off our world tour 2 years ago due to the pandemic, there are so many CARATs we have not been able to meet in person including the CARATs in India. It's a shame that we've just had to let 2 years pass by, but we're now returning to the stage. We hope you're all looking forward to the day we get to meet because we definitely are.
JEONGHAN: We cannot wait to share our performances with CARATs in India as well, we'll be there the first chance we get!
BOLLYWOOD NEWS - LIVE UPDATES
Catch us for latest Bollywood News, New Bollywood Movies update, Box office collection, New Movies Release , Bollywood News Hindi, Entertainment News, Bollywood Live News Today & upcoming movies 2022 and stay updated with latest hindi movies only on Bollywood Hungama.