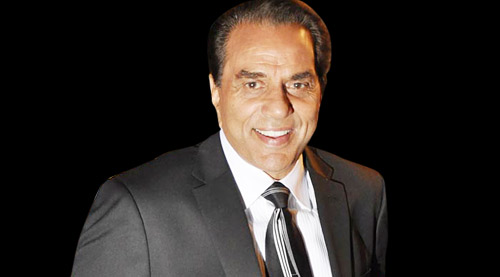 The legendary Dharmendra whose blend of brawn and bonhomie made the ladies swoon all through the 1960s, 70s and 80s is today feeling fit fine and energetic at 80.


The actor who was the first to take of his shirt on screen (for Meena Kumari in Phool Aur Patthar ) gives gyan on how to look fit and fine, "I think it's human nature to try to look your
best and fit at any age. And I am no exception. I've kept going all these years because of the love of the people. That is my strength and my true vitamin. I get very emotional about all the warmth
and affection I still command. Acting is still my passion. That love for the craft has not diminished although I started my career in 1960. I am in love with the camera."


Dharamji flashes back to his childhood. "From a young age I was obsessed about being on screen. God heard me. I was selected in in the Filmfare talent contest. And here I am. My endeavour has
always been to be in front of camera and from there into the heart of the people. That I've succeeded in doing so is just my good fortune."


Known as one of the most decent gentlemen in the film entertainment industry Dharamji says it's his basic nature to be positive in life. "I cannot bear to hurt anyone. If I accidentally hurt
anybody I am not able to sleep in the night. I've an insatiable appetite to love and be loved. My endeavour all my life is to give and get love."


When asked how managed to be so effortless and natural in his best films like Satyakam and Naya Zamana Dharamji laughs off the compliment. "When I started acting I knew nothing
about cinema. I was raw and unspoilt. I played characters that touched my soul. I surrendered to my directors. I didn't 'act'. I just did what seemed normal and natural. I also got the directors
like Bimal Roy and Hrishikesh Mukherjee. I did my best. I'd regard Bimalda's Bandini , Hrishida's Anupama and Satyakam as the important films in the 1960s that taught me
how to make love to the camera. I also regard Pramod Chakrvavarty's Naya Zamana and Dost as very important films in my career."


Dharamji is the only leading man besides Dilip Kumar to have been directed by both the legendary Bimal Roy and his most successful protégé Hrishikesh Mukhejee.


Comparing the two giant movie-makers Dharamji says, "Bimalda was a very quiet sensitive soul. He was like an angel. In his company you immediately felt like kneeling down. I was deeply grateful to
him for giving me my first break. He used to call me 'Dharmendra' But not in a formal way. He used to instruct me about the scenes with the same love and affection that a father shows towards his
son. I'd do talk, walk, stand and do exactly what he told me. He would okay my shots in one take. As for Hrishida, I am aware I was his favourite. He was very close to me. He used to be many things
for me. Sometimes he was like school master on the sets, sometimes like an elder brother, or a friend. I was the only actor who used to argue with him about his scenes. One day on the sets of one
our films he had a severe gout pain. So he instructed the cameraman Jaywant Pathare to do the shoot and left. After he left I told Jayant to shift the camera to my favourite angle. We shot for
barely ten minutes when Hrishida returned saying, 'I knew you would change things to your own liking. So I am back.' He used to get angry sometimes. But even his anger was very dear to me. Bahot
pyare insaan tthey ."


Recalling his beginnings as an actor in the year 1960s Dharamji said, "There were many successes in the 1960s. But I think my biggest hit in the 1960s was O.P. Ralhan's Phool Aur Patthar .
It was like the Sholay of the 1960.Actually I was signed for Bimalda's Bandini first. But I met Arjun Hingorani who insisted on doing a film with me .So his film Dil Bhi Tera
Hum Bhi Tere was my first release. Later I did many films hit films like Kab Kyun Aur Kahan and Kahani Kismat Ki with Hingorani. Then in 1970s I did a lot of very successful
films with Hema like Raja Jani, Sharafat, Naya Zamana, Jugnu, Pratiggya and of course Sholay ."


Congratulate him on his beautiful graceful and long-lasting togetherness with Hema Malini and Dharamji says shyly, "Bringing couples together is the work of destiny. Keeping a couple together is in
our own hands. It all depends on how you nurture your relationship."


Dharamji surprises me when I ask him to name his favourite film and performance. Instead of naming Hrishikesh Mukherjee's Satyakam , the affable actor promptly names Pratiggya .



Recalls Dharamji, "Though Satyakam is one of own favourite films my all-time favourite film is Pratiggya directed by Dulal Guha. It came during the same year 1975 as Sholay,
so it go eclipsed. But let me tell, Pratiggya was a super hit in spite of competition from Sholay. Just as in 1971 when Naya Zamana clicked in spite of blockbuster like Mera
Gaon Mera Desh. They were such different films. I am very fond of Naya Zamana because it was based on Bengali literature. The film had beautiful dialogues...But I love Pratiggya
the most because it was a really tough role. I had to play a truck driver who masquerades as a cop. It was like playing a role within a role. It was a layered character with lots of emotions and
drama. I had made to make people laugh all the way. But there was an undercurrent of emotions. It was a challenge. And people loved me in it."


Looking back with affection at his illustrious career Dharamji says, "I did all sorts in roles in a variety of films .It's the love of people that has kept me going. Main jahaan jaata hoon logon
ki aankhon mein pyar bhara hota hai. I can see their love. I am blessed. Neither my sons Sunny and Bobby nor I ever knew the tricks of the trade. We just do what comes sincerely to us. I want
to be known as a good human being before being known as a good actor."
BOLLYWOOD NEWS
Catch us for latest Bollywood News, New Bollywood Movies update, Box office collection, New Movies Release , Bollywood News Hindi, Entertainment News, Bollywood News Today & upcoming movies 2020 and stay updated with latest hindi movies only on Bollywood Hungama.