South Korean juggernaut BTS' member SUGA aka Min Yoongi celebrates his 29th birthday on March 9. He is dubbed as a 'musical genius' for his stellar compositions and hard hitting lyrics. The rapper-producer-songwriter has not only contributed vastly to BTS' discography but also has established a name for himself as a soloist. He works under the moniker 'AGUST D' when working on his mixtapes. So far, he has two successful mixtapes – Agust D and D-2 – to his credit. In addition to releasing mixtapes, SUGA has also collaborated with Korean, Japanese and Western artists as a composer, writer or even making a short feature in a song.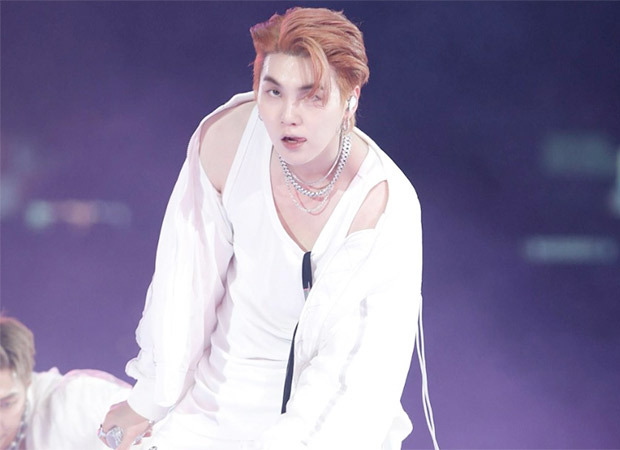 From 'Daechwita' to 'Autumn Leaves' – Here's revisiting 10 monumental songs by BTS' SUGA
On the occasion of his birthday, let's take a look at some of the many songs from SUGA's work as an artist of music and words.
DAECHWITA: D-2 [2020]
SUGA's return as Agust D with D-2 was one of the highlights of the 2020, when it came to K-Pop music. The fans, having waited for years for a fresh Agust D track drenched themselves into the stunning glory of D-2. The mixtape's title Daechwita features a stunning mix of modern and traditional instruments, with the track even beginning with a classic ancient call. From SUGA's tough-as-nails look, to the extraordinary lyrics, and even BTS members Jin and Jungkook's cameo in the music video, Daechwita is a perfect diss track but at the same time it also shows what happens when one's passion takes the form of greed and eventually, madness.
EIGHT (IU ft. SUGA) [2020]
Eight by IU and SUGA invokes a feeling of longing and nostalgia through memories that are intact despite the passage of time. SUGA echoes the sentiment in his rap verse where he speaks about memories lasting forever. The song reminds one of the late 2000s pop tracks with subtle presence of the rock guitar.
INTERLUDE: SHADOW [2020]
Intro: Shadow from BTS' 2020 album Map of the Soul: Persona captures the ups and downs in the roads of success. The song is alt-rock track with hard hitting rap verses sung by SUGA. The song takes the emo-path midway where SUGA raps about facing the after-effects of success which might not always be rosy.
SONG REQUEST (LEE SO RA FT. SUGA) [2019]
Lee So Ra's song Song Request is like a balm to the aching soul. It perfectly captures the emotions that each of us finds in that one track that brings us pain, joy and even laughter. SUGA's verse is like a personification of a radio that plays everyone's song request. The song feels like a dialogue between a person and their radio as they share a heart-to-heart moment.
ETERNAL SUNSHINE (EPIK HIGH with SUGA) [2019]
EPIK HIGH is known for their realistic lyrics and exemplary delivery style. The trio collaborated with SUGA for the track Eternal Sunshine from their 2019 album Sleepless in ________. The song addresses the issues of depression and anxiety in the youth as they chase success and fame. SUGA departs from his hip-hop and rap style and take the road down the lo-fi chill genre. He makes his presence felt through the music instead of adding his own verse.
TRIVIA: SEESAW – LOVE YOURSELF: ANSWER [2018]
The song that undoubtedly surprised millions upon its release, Trivia: Seesaw from Love Yourself: Answeris a song that instantly charmed everyone. The song is about a seesaw like relationship which is not going anywhere actually. One of BigHit's producers, Adora lends her sweet breathy vocals for the chorus which adds a fantastic touch to the track. SUGA's concert performance in the metallic red suit was a delight for the fans of the rapper. Trivia: Seesaw is a shade apart from SUGA's previous releases because the song leans ore towards R&B than rap or hip-hop as is his usual performance style.
BTS' CYPHER Pt. 4 [2018]
BTS's 'Cypher' songs are infamous amongst the fans of the band. Each of the four 'Cypher' tracks is a classic rap and hip-hop track about BTS' success, hard work and determination. The lyrics are bare, unapologetic and straight to the point. Sung by RM, SUGA and J-Hope and featured in the album Wings, Cypher Pt 4 is a track to listen if you're looking to vent out your energy or simply looking to bask in the glory of all things BTS.
OUTRO: HER [2017]
Sung by the rap line of BTS – RM, SUGA and J-Hope – Outro: Her is a smooth jazzy track. The retro chill vibe in the song speaking about a guy who puts up a mask to become the person who is loved by his partner. This song from the album Love Yourself: Her is a smooth ride from start to end, dropping pearls of wisdom in its path.
SO FAR AWAY (ft. Suran) [2016]
So Far Away is a collaboration track from SUGA's debut mixtape Agust D. Suran's presence adds a dreamy touch to the otherwise bleak yet eventually hopeful track. SUGA sings about the loneliness and not having a dream. The song feels like a dream, but it is bound to wake one back to reality.
AUTUMN LEAVES [2015]
Autumn Leaves from The Most Beautiful Moment in Life Pt. 2 is a highly emotional ballad. Suga has co-composed this track and also participates in singing the rap verses. It is a song is much more than just singing about not wanting to lose a loved one. It gives a message of hope and strength for those in despair.
Also Read: BTS members Suga, Jin and Jimin turn it up on 'Happy', 'Havana', 'Con Calma', 'Rasputin' and it will make you get up and just dance! 
BOLLYWOOD NEWS - LIVE UPDATES
Catch us for latest Bollywood News, New Bollywood Movies update, Box office collection, New Movies Release , Bollywood News Hindi, Entertainment News, Bollywood Live News Today & upcoming movies 2022 and stay updated with latest hindi movies only on Bollywood Hungama.