The on-going lockdown due to the Coronavirus outbreak has affected all industries across the globe. But entertainment is one of the industries that has got majorly impacted, arguably like never before. In most places, as cases increased, cinema halls were the first ones to shut and since it comes under the non-essential category, once the lockdown will be lifted, it'll be the last ones to start operations. Shootings too came to a halt and also other filmmaking work like post-production, casting etc. As a result, the losses faced by the industry are insurmountable. Some of the important voices have already made it clear that things won't be the same again in a lot of respects. Brace for a 'new normal' is what they say.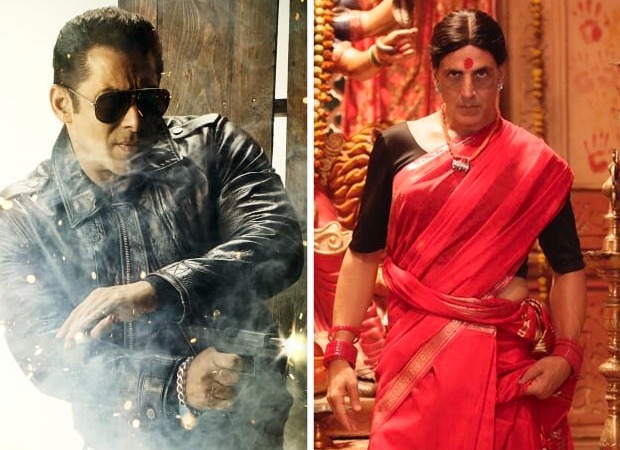 Fears of increase in clashes at the box office
The BIG impact of Coronavirus – The changes Covid-19 will force on to the business of Bollywood and a possible view of the future – Part 2
Taking the 2009 scenario once again in focus, it was seen at that point how a lot of films scrambled to come in cinemas, resulting in several clashes. The fear is that post-lockdown future will also see a repeat of that phenomenon. Taran Adarsh fears, "I foresee a very chaotic scenario. Not just Hindi, but Hollywood films, Tamil, Telugu, Punjabi film etc would also be releasing. As far as Hindi films are concerned, I guess that the makers of big films would chalk out dates and discuss amicably." Manoj Desai minces no words as he says, "Agar producer aur distributor ke paas dimaag hai, toh saath mein nahi aana chahiye. They should space out the releases." Shibashish Sarkar too hopes there's no conflict over release dates, "I hope that everybody would be sensible and make a space for each other. Everybody hopefully will sacrifice and adapt to each other's requirements."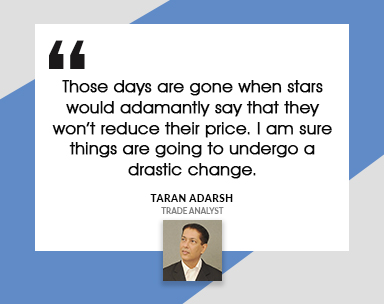 Akshaye Rathi comprehensively elaborates, "In this scenario, the entire value chain will have to work as one unit. No producer or exhibitor can afford any cannibalization of revenues. Before the theatres open, entities like IMPPA, Producer's Guild, MPA etc will have to sit and work around in ensuring that clashes are minimized and nobody gets into these stupid ego wars of clashing with another film and trying to arm-twist exhibitors. It has to be a scenario where every tent pole film has to be given the maximum scope of generating revenue and every cinema in the country that runs that film should be given the maximum chance to monetize it best. So associations should ensure that every tent pole release should come 2 weeks apart from each other. The smaller films can come together as they can be accommodated simultaneously. So, a
Radhe – Your Most Wanted Bhai
coming with a Laxmmi Bomb is not an advisable scenario because we need to milk
Radhe – Your Most Wanted Bhai
to the maximum and then we also need to milk
Laxmmi Bomb
to the optimum! Even 10% cannibalization by one movie into the other can prove detrimental in this condition."
While the single-screens and trade fear that clashes might be inevitable, the multiplex sector on the other hand doesn't feel threatened over this issue. Kamal Gianchandani says, "In any case, it's become a norm to release multiple films on a holiday. But compared to 2009, now we have more capacity. The number of screens has grown manifold. So accommodating more films in a particular week is not a problem. Two big films have been releasing regularly. Even this Eid, Akshay Kumar's Laxmmi Bomb and Salman Khan's Radhe – Your Most Wanted Bhai were supposed to arrive on the same day and that too with Fast & Furious 9! Even in Tamil and Telugu, there would have been some clashes. So release of multiple films, across languages, on a big holiday is already a norm. We don't think that the situation will get any worse as there are enough screens to accommodate multiple movies."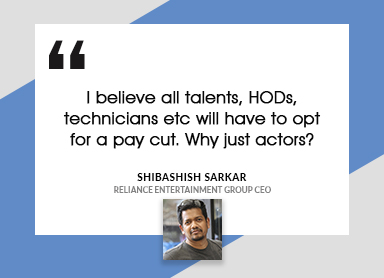 While big films might still survive in the clash of the titans, it is the smaller films that can get crushed. Producer Anand Pandit explains, "I worry for the smaller projects and smaller production houses. Success in this industry depends a lot on keeping the lid on budgets and getting the maximum out of the investment. There may be some who may have borrowed, some who may have sold assets. There will be others who may have worked tirelessly for the past several months even a year, possibly without making any money, waiting for that big payday. New projects will take time to be greenlit. Now they are all stuck. The uncertainty is quite daunting to put it mildly."
OTT to come to the rescue for smaller films?
Recently, Bamfaad, the launch vehicle of Paresh Rawal's son Aditya, got a direct release on the OTT portal Zee5 over fears that it might not find enough screens later on. So will more small films skip theatrical release and opt for OTT? Taran Adarsh says, "There's a possibility that some small films might directly come on OTT. If you release your film on the web directly, then you won't earn from theatrical. At the same time, for how long can the small films hold on? In Hollywood, they can hold on for a longer time but what about our producers?"
Girish Johar makes a valid point, "Smaller producers who have made films for less than say Rs. 10 crore, they'll not be able to sustain the delay as they are burdened with the rising costs. So they might opt for distress sale of their film to the OTT platforms. Toh unko thodi bahut maar padegi hi padegi. But to each, its own. If a producer feels that putting his film directly on OTT will mitigate his expenses, then why not? Having said that, I feel that India is a traditionally film going market. The validation that one gets of a film being hit or flop at the box office is something that every producer, director, actor, writer etc wants."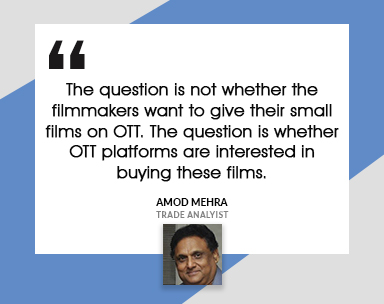 Akshaye Rathi too agrees as he says, "It'll be a case-to-case scenario. A lot of filmmakers realize the premium value that a theatrical run brings to it. When cinemas open up, I believe that the producers will have way more lucrative benefits of going for a theatrical release. I can't say what those benefits would be because that would be formulated and regulated. But I can tell you one thing for sure is that, theatres will do whatever it takes to support producers and vice versa."
Shibashish Sarkar too thinks in the same wavelength, "Disney has decided to take Artemis Fowl straight to digital, on Disney+. Disney CEO Bob Iger has admitted that some of their other films might also release on the internet but they'll hold some of their films for theatrical release. Same goes for Universal Studios. They released Trolls World Tour directly on OTT. But they'll release some of their big-ticket movies on the big screen first. We are content makers and for us, some films might seem fit for OTT while some would be ideal for theatrical release. It depends on the producers to take a call. If a few films jump the theatrical release and are streamed digitally, then that's fair enough. But there are some films that are made for the big screen and community experience. And these films will be held until theatrical opens up. If you ask me, all our films have been reserved for theatrical."
Amod Mehra however comes up with an unconventional point of view on this topic, "The question is not whether the filmmakers want to give their small films on OTT. The question is whether OTT platforms are interested in buying these films. Why would they pay these filmmakers when there's no shortage of content for them? The platforms will be desperate for these films only when there's a dearth of content. Also, these portals are more interested in web series rather than films. Also, only films with bigger stars are consumed most of the times."
At present, every filmmaker signs a contract with multiplex chains whereby they agree that they'll release their on the OTT only 8 weeks after release. Is there a possibility that this gap might be reduced? Kamal Gianchandani makes it clear that he's not expecting any change. But Shibashish Sarkar tells, "It will be a discussion for the future. 6 or 9 months down the line, we'll have to see how theatrical or OTT models are working. And it's not cast in stone that a film can come on OTT only after 8 weeks. It was followed at a certain point of time and it's only in the future that we can figure out whether or not there will be a discussion on this subject. Right now, the focus is only to start the life again"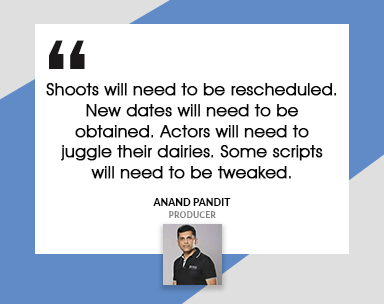 Change in film budgets; pay-cut for actors on the anvil?
The pandemic has led to shootings getting disrupted like never before. In such a scenario, there's a possibility of budgets being redrawn and an increase in the cost of the films under production due to increased cost of financing. And this might lead to actors taking a pay cut or opting for profit sharing. Taran Adarsh explains, "Everyone will have to pitch in. Those days are gone when stars would adamantly say that they won't reduce their price. I am sure things are going to undergo a drastic change." Amod Mehra says, "All films will have to rework on their subject, number of days of shooting etc. It'll be different for each though and one can't generalize."
Girish Johar explains, "Even South has started to mitigate its losses by dubbing their films in Hindi and other languages and releasing in cinemas. Recently, Allu Arjun announced that his new film Pushpa will also release in Hindi. At the end of the day, creating a noise also has a value. Meaning, you'll have to spend a lot on P&A in order to stand out. And this will make the scenario riskier for the producers. The actors' fees and those of director, especially if they are reputed, form large components of the budget. So their pay is a key component that has to be reduced so that everyone is able to breathe easy and comfortably tide over this difficult time"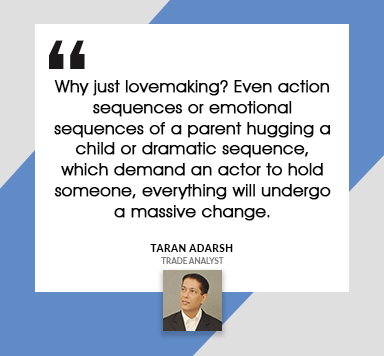 Shibashish Sarkar meanwhile, gives a detailed reply, "We can say that only when the new normalcy kicks in. We are probably looking at a situation that the domestic theatrical business will be less than what it was in a normal situation. Maybe, the collections can even be more than before! After all, people are all bored sitting at home and wanting to go out like before. Even in the past, this has happened many times when after a catastrophe or recession, the footfalls have increased manifold. But assuming that the situation is not favourable in terms of revenue expectation, then I believe all talents, HODs, technicians etc will have to opt for a pay cut. Why just actors? The producer will have to do everything to make the ends meet. And for that, everyone will have to take a cut in their profit margins. But I reiterate, these discussions will open up only at a later date because right now, we don't even know how things are going to pan out."
Question mark on foreign shoots
With the situation being much more alarming internationally, can we expect less foreign shoots in our films? Anand Pandit says, "Shoots will need to be rescheduled. New dates will need to be obtained. Actors will need to juggle their dairies. New locations will need to be recced keeping in mind travel restrictions. A lot of shoots are planned abroad keeping in mind the local subsidy available. Now that may or may not be available or even be an option. So the budgets will need to be reworked. More importantly, we would need to start thinking of the safety of the entire unit while choosing foreign location. Accordingly, some scripts will need to be tweaked and altered a bit. Some producers may even need to reshoot certain portions of their films."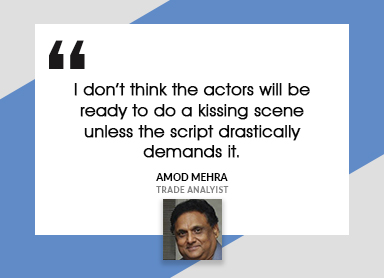 Girish Johar agrees, "In India, the pandemic is very much in control and we are pretty much at ease, as compared to other parts of the world. The government's strict measures have ensured that it has not caused widespread panic. But the situation is worse in USA and many parts of Europe. They will take much longer to come to normalcy. So if shoots resume say in July, I doubt any producer will decide to go to UK to shoot in August to take advantage of the rebate. Going there might be safe but filmmakers would rather not take the risk and instead shoot in India itself."
Shibashish Sarkar however makes a contrary observation, "In terms of timeline when shooting may start, we need to wait and evaluate options. All the countries or all the states have been coping differently. We definitely need to wait till the health crisis is over and lockdown opens up, especially the travel restrictions. There are some countries or states which will reach normalcy stage sooner than other. So there will be countries which will bounce back before India. Similarly there will be countries which will take more time. For instance, till now, the disease has not fortunately struck so badly in African countries. We need to see whether it remains controlled in future. Also, in some of the South East Asian countries, their peak was probably before it was in India. It's likely that restrictions there will be eased out before. So, in some nations, permissions for shooting will be granted even before India. If someone wants to shoot in those countries, if the story allows, and if travel restrictions eased out, it can be possible that probably shoot can start earlier in some other countries. That might not be the case for European or North American nations. The same might hold true even at a state level within the country. Some states probably will come back to normalcy before others. However, whether the shoot takes place in our country or abroad, we'll all have to gear up for a new reality. The units will be smaller, the members will have to follow much more social hygiene conducts, wear masks, use sanitizers, practice social distancing etc"
Rise in social distancing = fall in intimate scenes?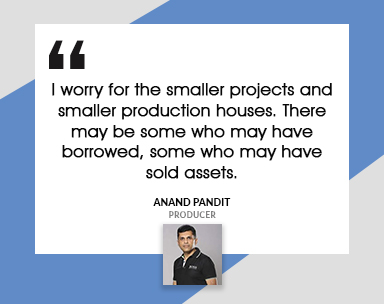 Taran Adarsh exults, "The two words 'social distancing' dimaag mein chhap chuke hai. This entire habit of staying away from people will take time to go away." In this regard, even shooting sets will have to practice safety measures strictly. So will that led to reduction of kissing or any form of intimacy on screen? Girish Johar laughs and disagrees, "I don't think kissing scenes will reduce or that there would be only zoomed out scenes!" In a lighter vein he says, "Or it might be like Amitabh Bachchan's short film Family."
An amused Kamal Gianchandani says, "I don't think so. From 100% social distancing to 0% social distancing will take time. There'll be a transition. But at some time, we'll get back to normal. At some point, there'll be a vaccine and thus, the disease will be eradicated totally. But even in the transition phase, I am sure that the necessary precautions can be taken. And if there's a requirement to show intimate scenes, I am sure it'll be possible to do so."
Amod Mehra says, "I don't think the actors will be ready to do a kissing scene unless the script drastically demands it. This used to happen with pornographic films also. Sunny Leone has said it in many interviews that she had to show a medical certificate to prove that she doesn't have a STD. So similarly, actors will need a certificate that states that he/she is fit and doesn't have cough or cold"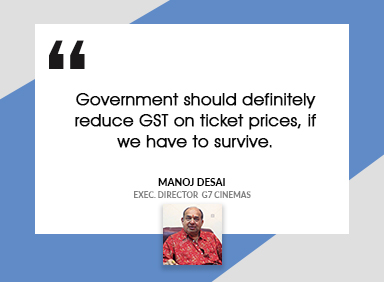 Akshaye Rathi makes a valid observation, "I'm pretty sure nothing of that sort is going to happen and the Indian censor board will have a lot of work to do! There are so many films that are already been made. And for the ones that haven't been made, I don't think it makes any difference at all. Before going for that kind of shots, perhaps the actors will go through a sanitization tunnels. So I am sure such measures will be implemented. Also, by that logic, action scenes
bhi nahi ho sakte na? Agar main kisi ko punch karunga, toh mere toh haath lag gaya na uss aadmi ko
!" Taran Adarsh too agrees on the later part, "Why just lovemaking? Even action sequences or emotional sequences of a parent hugging a child or dramatic sequence, which demand an actor to hold someone, everything will undergo a massive change."
Conclusion
Tough times lay ahead but the industry seems to be united like never before. No one exactly knows what the future holds but one thing is for sure – everyone is ready to co-operate to each other till things ease out. "The fact remains that the industry will need to come together as one and give each other a helping hand. We will have to be more united than ever before. Perhaps this may be a time for the industry look at their costs, fees and margins. It's not the same world anymore," says Anand Pandit and serves well as the last word.
Also Read: The BIG impact of Coronavirus – The changes Covid-19 will force on to the business of Bollywood and a possible view of the future – Part 1
BOLLYWOOD NEWS - LIVE UPDATES
Catch us for latest Bollywood News, New Bollywood Movies update, Box office collection, New Movies Release , Bollywood News Hindi, Entertainment News, Bollywood Live News Today & upcoming movies 2022 and stay updated with latest hindi movies only on Bollywood Hungama.