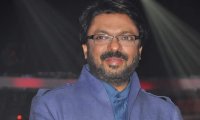 No, it isn't Aishwarya Rai Bachchan. Though Sanjay Leela Bhansali has worked in three of his best films with most beautiful actress of the world, it is Lata Mangeshkar, who turned 83 this week, whom Bhansali considers the most beautiful woman in the world.


"Oh by far!" he exults. "Lataji defines beauty for me. To me she represents the shringar rasa in all its glory and in its purest form. She has the rare beauty that Mother Teresa possessed. Beauty lies in her simplicity, her grace, her gentle yet no-nonsense demeanor. Her beauty is in her mystique, not self-created like some of our entertainers. Her mystique is not defined by something as mundane as inaccessibility, Lataji can and does speak warmly to you for hours. And yet you know you are not allowed into the most private areas of her heart. You wouldn't even dare to go there."


Says the passionate filmmaker, "Her life and her dedication to her art have inspired me the most. To me, her story is the most inspiring aspect of my life. We all strive for excellence. Lataji is the only human being who has attained human perfection."


There is a deeper connectivity between Lataji's past and the humble environment that Bhansali grew up in. "Every time I hear of her struggle, of all the tough times she had to go through from an early age, I get a lump in my throat. Every time I hear of her poverty and how she braved through years of struggle, I wonder, 'Did all this misery really fall on this woman of such breathtaking talent?' And I feel my struggle has been so meager in comparison."


Another reason why Bhansali finds Lataji the most beautiful woman he has ever encountered is her definition of power. "When Lataji walks into restaurant or a recording or any public place, people reflexively stand up in reverence. I witnessed this phenomenon with my own eyes. When she entered every single person in the room stood up and stopped talking. I haven't seen this with any other artiste. I once had the privilege of being at her recording when she came to sing the timeless R.D.Burman composition 'Kuch Na Kaho' for my mentor Vidhu Vinod Chopra. When she arrived we all followed her to the lift. But when she went in, no one dared enter the lift with her. She looked at us standing frozen outside, smiled and then the door closed. I ran up four flights of stairs to be at the top to receive her when the lift opened. Whether I reached there on time, I won't tell."


Ends Bhansali, "Is she really 83? To me she is timeless; ageless....a work of beauty so flawless that the ravages of time cannot touch her spirit. I am told a song by Lata Mangeshkar is played every minute of the day at some place on this earth. I believe that. I can't imagine a world without her and her voice."