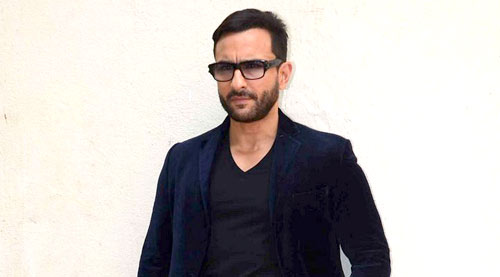 "I don't know if I said 'I don't have faith in Pakistan' or whether I said 'I don't have faith in all of Pakistan'. But most of the comments that I made have generally been
pro-Pakistan. But nobody picked it up," said Saif Ali Khan in a Bollywood Hungama exclusive video interview with Faridoon Shahryar. "When Saif says that he does not have faith in Pakistan,
he doesn't mean that he does not have faith in the people of Pakistan. We are talking about in the context of the fact that when a film like Phantom goes into being judged by the
establishment, we do not have faith that the establishment will let this film pass," said Kabir Khan to elaborate upon Saif's point of view. Both Saif and Kabir express their viewpoints on the
extreme reactions that have been coming the way of their film Phantom even though the ticket buying people are filling in the theatres in reasonably good numbers.


Saif I believe you said in an interview that 'I don't have faith in Pakistan'. It has generated huge reactions from all over, including Pakistani celebrities as well.

Saif Ali Khan (SAK): I don't even know what I said. I don't know if I said 'I don't have faith in Pakistan' or whether I said 'I don't have faith in all of Pakistan'. But most of the
comments that I made have generally been pro-Pakistan. But nobody picked it up! I've said that the Pakistani Censor Board has their own pressures, we also ban films, the media sometimes makes it
difficult for them to give their point of view etc. But the only thing that got picked up is 'I don't have faith in Pakistan' and that too, it's completely out of context. Read the rest of the
paragraph and you'll realize that the comment is fine. And I quite stand by what I am saying. When the Americans make a war movie and if they tell a story about Germans, there's no issue out there.
But here, we tell a story about people with whom we're at war; we have to take their support. So that's a very mixed up thing. The relationship is quite complicated. They are friends but when we
are telling a story of enmity and that they are the enemy, they are offended.


Phantom shows that Pakistan is one of the worst terrorist afflicted states but that bit is not talked about. Many who are criticizing have not even seen the film…

Kabir Khan (KK): We see Pakistan as one big mass and this reflects in news channels debates as well. We are not able to distinguish that there are elements. There's the army, there is the
intelligence, there is what is called 'deep state' which has the elements of terrorism and then there's the general population. So an attack one of those elements should not be considered as an
attack on the whole country. So when Saif says that he does not have faith in Pakistan, he doesn't mean that he does not have faith in the people of Pakistan. We are talking about in the context of
the fact that when a film like Phantom goes into being judged by the establishment, we do not have faith that the establishment will let this film pass.

SAK: The point was all about censorship. Sometimes, we don't agree with our Censor Board.

KK: We've banned their films also.


Sohaila Kapur's character is wonderfully sensitive. She represents the angst of common Pakistanis tortured by the menace of terrorism.

SAK: The Pakistanis are generally not happy with the presentation even the way it is. So to say that the elements in Pakistan are negative and against us is not okay apparently.


KK: But most of the reactions are pre-release - they are all pre-conceived notions. Sohaila's character shows how the people of Pakistan are also the victims of terrorism. There are
thousands of people who have been killed due to terrorism. So we are not saying that they are not affected by it. I am not saying that what we did in this film is how things should be done. But
unless we address the issue of terrorism, there can never be true friendship between the two people. The moment a terrorist attack happens, there's a vitiated atmosphere that's created. And there's
no chance that anybody can say that 'let's have a cricket match together' or 'let's have some cultural exchange'. Hence, you need to address the issue of terrorism and get rid of that element from
the society so that we can move forward.


SAK: Frankly, I feel that it's impossible to move forward. As one of the Pakistani journalists told us, India-Pakistan is like a messed up married couple that is not able to solve its
problems very easily! That's a very true way of saying it because the minute you look under the surface, there's a lot of animosity. But on the front of it, you can't keep pretending that
everything is okay. Like you can pretend with Bajrangi Bhaijaan that it's okay and that's fine. But the minute you get into a conversation, you don't actually want to listen. We want them to
understand our side and just accept the way it is. I am not particularly sure what they want. They must be having their point of view which is not being put across to us. I have never actually
heard their point of view!


But Bajrangi Bhaijaan somewhere connects people to people…

SAK: But Bajrangi Bhaijaan is also an unreal situation. Everyone will love it - Indians as well Pakistanis. And that's fine.

KK: But Faridoon what you are saying is correct - the people on both sides will always want friendship. But we must not pretend that the establishment and politics does not exist. We should
take both points of view and be able to discuss. After you see Phantom, of course you can say that we don't agree with this particular point or that our perspective is different. We would
love to debate that.


There's a Pakistani actor Mawra Hocane who supported Phantom on twitter and said that she's against terrorism. An actor called Shaan Shahid has blasted her and asked that she should be
banned. Also, people are criticizing her as she has couple of Indian films in her hand. It is being said that she's a sell-out.

SAK: Then what does freedom of speech mean then? People can say what they like but if it translates as actually getting into trouble or her job getting threatened or something terrible
happening to her, then that's a bad situation isn't it?


She later deleted those tweets...

SAK: That's okay. We also delete our tweets, when the pressure gets too much on the people here! Since I'm getting pulled into all these controversies, I want to say that when it comes to
these two countries, we must not make ourselves to be so great that we don't do any of these things either. Haven't our actors deleted tweets? Hasn't Neha Dhupia apologized because she made a
simple statement of making cities safe?


Kabir, You have a unique distinction that last month, you were hailed as the tourism minister of Pakistan for Bajrangi Bhaijaan and now you've become the most wanted man as far as
Pakistan is concerned! You are having a strange relationship with Pakistan…

KK: It's reflective of the schizophrenic relationship that we have and we should recognize the fact that both hold true.

SAK: And I'm glad it has come out because that's the truth.

KK: We should recognize that the attacks are happening and despite that, we should strive for a better relationship. But we should not ignore and take the ostrich approach that it doesn't
exist.


Phantom is based on the book Mumbai Avengers. And rarely does it happen that a book is bettered by a film. Some of the elements in the book were slightly jingoistic and verbose as
well. But you've stepped all those elements aside...

KK: The screenplay of the film was always meant to be different. The book provided the basic idea for us. And yes, when I was making Phantom, I was very conscious that it should not
become a sensationalist film since there's a certain politics that I have stood for. You have to understand the people of India and Pakistan have a shared history, culture, tastes about music,
films, literature etc which should be celebrated. When I meet a Pakistani cab driver in New York, he'll refuse to take the fare from me. But the moment we are back in the sub-continent and the
politics and hostility start coming on to the top of us, we try and prove ourselves to be the biggest patriots. With 'Phantom', all I am trying to say is, let's not pretend that 26/11 didn't happen
and that Indians are not frustrated about the carnage. This is a film that reflects the anger and frustration. See it and disagree with it. But just because we've made a film about identified
terrorists who carried out 26/11 attack beyond any scope of doubt, something that even United Nations that agrees with, don't say that attacking them means attacking Pakistan. That means that you
yourself are trying to project a terrorist as the face of Pakistan. I am sure millions of Pakistan will not be comfortable with that idea. I do not feel that Hafiz Saeed and his tribe represent
Pakistan. They have no religion and no nationality.


A section of critics have issues with the romantic angle in the film. Especially the 'Titanic' moment in the end has been talked about…

SAK: I didn't even realize that but it is a kind of a 'Titanic' moment. Thank god I didn't remember that scene when I was shooting it. Otherwise I wouldn't have been able to shoot it.
However, this is one of the rarest Hindi films that have a subtle love story. It gives a realism feeling. Love is the only thing that could have happened. I mean, they are both on one level heroic
and attractive. They have spent a stressful time together and then they develop a feeling for each other. And I feel it's quite beautifully treated and it doesn't quite happen. I've worked in films
where we've tried to do that. But this actually got pulled off. It's one of the really beautiful things that Kabir has done in the movie. A film like Phantom has to have a sense of loss
also. You can't roam around killing people and then get away with it. Daniyal Khan pays a heavy price for taking revenge against the nation. And these are the things that separate Phantom
from the other jingoistic films.
BOLLYWOOD NEWS
Catch us for latest Bollywood News, New Bollywood Movies update, Box office collection, New Movies Release , Bollywood News Hindi, Entertainment News, Bollywood News Today & upcoming movies 2020 and stay updated with latest hindi movies only on Bollywood Hungama.