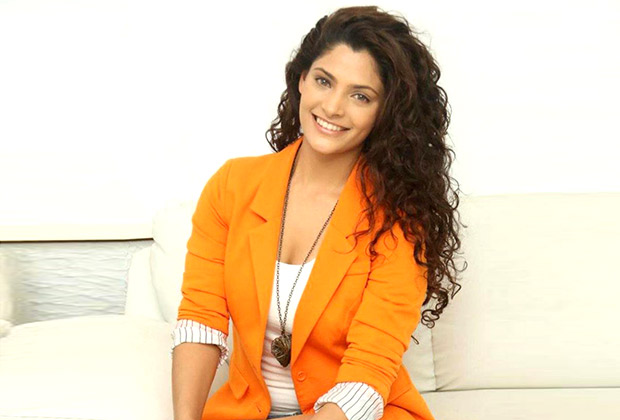 Unassuming, simple and a girl who still hasn't been influenced by the diktats of Bollywood, Saiyami Kher has a non-starry quality about her that makes her different. The first question I ask when I get on a chat with her is - 'How do I really pronounce her name?' She mentions the right way, and then goes on to confess that she has heard quite a few funny (and even absurd) variations of her name over the years. While that breaks the ice, we get going in this exclusive conversation.
Multiple tours across India and now a premiere show in London no less - you must be in a zombie state right now?
Oh yes, we are indeed in a zombie mode. We are getting two hours of sleep at an average on a daily basis, so you can well imagine our state. That said, when we start talking about the film, then it is all so exciting. We had such a ball making the film that even if we are giving 20 interviews a day, something new eventually comes out. There are new moments, new anecdotes to share. Finally people are watching the film and it would be exciting to hear from them now on what they feel.
Still, doesn't the whole promotional exercise become monotonous at times?
It does when people talk about 'how you got this film'. Then I have to go through the entire event chain again (smiles). However when I am asked about me as a person or Harshvardhan or Rakeysh or the music then I have so much to say. While a few questions do become monotonous, the experiences that I had on the film do not. Three years has been a really long time making the film and there is so much to talk about right from the point of auditioning to now the screenings that are happening across the world.
How do you look back at the three years gone by?
One thing that I looked forward to most was how does it all translate from script to screen. Early last week when I finally saw the film on the big screen, it was all so surreal. We had a really small script to begin with and when we read it then there were a lot of unsaid things and a lot of subtexts. It was a director's vision coming into play and then the moments were to be created by the actors. We knew that we had to translate it all into a visual film. When Gulzar saab saw the film, he said that we have gone way past the expectations from what was on script as the effect has been multiplied manifold.
And how have you evolved as a person during all these years?
I have been greatly influenced by Rakeysh sir and Gulzar saab. In them, I have got two Gurujis. That has created a big impact on my life. As a performer, because this is my first film, I asked Rakeysh sir a lot of questions. He recently said to me that there has been distinct growth in me from the first day of the shoot to the last day. In me, he now sees a completely different actor, which has been due to a natural evolving process. You learn a lot on the job. For me the, biggest learning is that when you start the shoot then you feel that you are trained and all but then the biggest experience is that you know very little after all. There is so much more distance to cover.
Since Harshvardhan too is a debutant, the two of you must have bounced off on each other in terms of learning on the job.
Now that we have spent three years together, he is extremely special to me. I had this notion that he may be a filmy because he is from a film family. However, he was so refreshing, as he is someone with whom you can chat instantly and draw a conversation. He is someone who is extremely secure as an actor. He knows what he wants. He is extremely rehearsed and well prepared. He has given so much time to the film. I have learnt a lot from him. It can be very intimidating for an actor to have big names around in the very first film. However, he is not. He holds his own. We have grown so fond of each other. Recently we were in Chandigarh and were talking all the way back. He is genuinely concerned about me, which I find very sweet. It is akin to being college friends who know each other for 10-15 years.
Now that the film is out, what have been early reactions for you?
One of the nicest reactions came from Anil (Kapoor) sir. He saw the film and said that you haven't acted per se but have been on screen as a character. That's something which was quite big for both Harsh and I. I guess that's the biggest compliment too. If people don't see us but instead they see characters then we have managed to do what we were set out to. Besides that a lot of people have come out and told me that the chemistry between Harsh and I something that is not so apparent in debut films of many other actors. I am cherishing these compliments.
BOLLYWOOD NEWS
Catch us for latest Bollywood News, New Bollywood Movies update, Box office collection, New Movies Release , Bollywood News Hindi, Entertainment News, Bollywood News Today & upcoming movies 2020 and stay updated with latest hindi movies only on Bollywood Hungama.