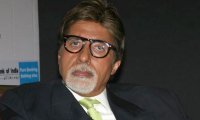 Amitabh Bachchan speaks to Subhash K Jha on critics, criticism, Abhishek and Raavan.


You have again started signing films after a long gap. Please describe the projects you've taken on.

Yes, I had not signed a film for a while. There had been an accumulation of 5 films one after the other, due to the multiplex strike. All of them have released, barring one.
I have signed up with Raj Kumar Santoshi, and there are projects on the verge of finalization with Pritish Nandy Communication, Prakash Jha, Puri Jagannath, Abbas Mustan and of course R. Balki.


You were in Paris recently for a recital of your father's poetry. How was that experience.

Yes, I was in Paris to do a recital at the prestigious Theatre des Champs-Elysee, of my father's poems. It was a first for me and a first for the Theatre too. Almost 70% French audience, subtitled facilities inside the theatre and a most remarkable evening for me. A venue that has played host to greats in philharmonic orchestra, world renowned ballet and opera to be hosting Hindi poetry recitation was unique. Some of my fans came in from New York and London, Germany and Spain to witness this occasion. I thought it was most endearing on their part. For me it was a privilege to be able to introduce my Father's works to a foreign and alien audience. Just such an honour. My Father would never have dreamt that this would happen someday, but it did happen and it filled me with a lot of pride.



It was a privilege to be able to introduce my Father's works to a foreign and alien audience

In London you had dinner with Aamir Khan. Any projects together coming up?

Why would you assume that when two actors meet and have dinner together that they would be doing a project together!! Aamir was in the same hotel as me, he called, we met and went out for a meal. Just another social evening, nothing more. Though working with Aamir would be a joy, particularly if he were to direct the film.



Working with Aamir would be a joy, particularly if he were to direct the film

Lately, Mr Amar Singh has had a lot of comments to make on your family. Your comments?

Amar Singh ji is family and any matter on him becomes personal. I would not comment on personal matters.


Does the savage criticism Abhishek's solo films Delhi 6 and now Raavan strike you as being perhaps a little unjust to him?

No not all. People pay to go and see a film if they do not like something they have the liberty to criticize it. I cannot understand why you particularly mention 'solo'. None of my successful films Deewar, Trishul, Muqaddar Ka Sikandar, Sholay, etc. were solo. Abhishek too has had his share of solo successes and non-successes. Some work some do not. Its filmmaking. Happens the world over. One accepts the public verdict learns from it and tries again.


His recent hit was Paa, where you also starred. Any more projects featuring you and Abhishek?

I hope there will be. There are a few talks in progress, when they are ready we can talk about it.


Do you think the subversion of the Ramayan especially towards the end was justified?

Firstly we need to understand that the film is not Ramayan. It is Mani's concept of a story with elements of the epic in his own interpretation of it. This is the director's take on a story. We cannot comment whether it is justifiable or not. It is best left to his sensibilities as a creative artist. Comment yes, justify perhaps not.



Raavan is not Ramayan; it is Mani's concept with elements of the epic in his interpretation

I remember your vocal and emphatic support of Mani Ratnam's Guru. Do you feel as strongly about Raavan?

Yes, but in different ways. Guru was straight storytelling and Mani's brilliance in its presentation was very clear to observe. Raavan is asking me to study and think and analyse and probe. It's taken a while to comprehend, so it is not immediate. It is driving me to intellectualize, something that most viewers are not prepared for when they go to see a film. Mani's technique and approach may already be the subject of discussion and inspiration or imitation even as I write. But then that is a personal and individual view. It cannot be generalised.



Raavan is asking me to study and think and analyse and probe. It's taken a while to comprehend

Apparently you've been reminding Mani Ratnam and Abhishek that they've worked thrice together and that it's about time you got a chance to work with him. Is a film with Mani around the corner?

I wish it was true, but there is no such offering. Could you put in a word for me??


I can't help asking...you're tweeting and blogging. Do these means of communication make the press redundant for you?

How could you possibly ask this question at the end of this most exhaustive response of mine to the press!! No the media will never be redundant. Yes I Blog and Tweet and Vog and soon shall also video blog, but the press shall always have its presence and importance. For me these mediums are a wonderful opportunity to connect with my fans and well wishers independently and instantly. The internet is becoming a vast medium for the future. Most of the requests for interviews have also reduced because the media picks up all the daily news from our blogs and tweets. Look at the vast amount of information that these mediums provide on individuals you would perhaps have never had the opportunity to interact with. It should be allowed to grow and prosper its use and misuse notwithstanding.


Tweeting...what has been the most memorable experience in that sphere of activity?

To have had the great opportunity of a chat with Lata ji!!
BOLLYWOOD NEWS
Catch us for latest Bollywood News, New Bollywood Movies update, Box office collection, New Movies Release , Bollywood News Hindi, Entertainment News, Bollywood News Today & upcoming movies 2020 and stay updated with latest hindi movies only on Bollywood Hungama.