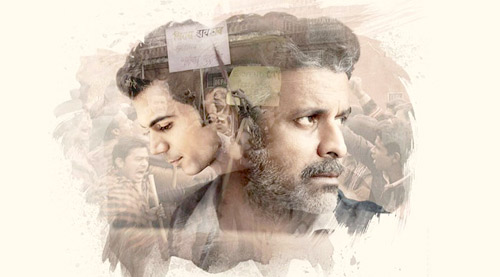 Irony cannot go any further. Hansal Mehta's path-breaking film Aligarh, which was actually shot in a topographically similar town Bareilly after threatening calls were
received by the crew from radical elements in Aligarh against shooting in their town, has now been 'banned' in the town after which the film is named.


According to the Mayor of Aligarh, the film shows the town in a bad light. It's actually the call for a ban that exposes the city's intolerance level. What the unauthorized ban actually does
is to prove how homophobic we Indians really are.


A lot of Indians still think homosexuality is an illness that can be eradicated through celibacy, meditation or heterosexual marriage. In fact director Raj Amit Kumar's brutal film Unfreedom
banned, in its collective wisdom, by the Indian censor board is about a young lesbian girl Leela (Preeti Gupta) who runs away from her wedding, is chased down by her bigoted homophobic cop-father
(played brilliantly by Adil Hussain) and subjected to gang rape by cops in lock up to make his daughter "normal" in her sexual orientation.


Hansal Mehta's Aligarh is being chased down by the same clan of homophobic radicals who are now playing the unofficial moral watchdogs of the city of Aligarh. And the malaise is
spreading into other towns. From Lucknow the rickshaw puller whom Prof Sreenivas Siras was captured on camera having sex with, has gone to court against the makers of the film for defaming him.



The rickshaw puller is evidently being instigated by political elements which see some kind of electoral benefit in propagating homophobia.


Even sections of the film industry pretending to be liberals are fiercely homophobic. A huge superstar is known to heckle and scoff at 'faggots' in the film industry. Just before a television
interview with a highly-regarded journalist this superstar took off on the journalist's sexual orientation. This, in front of a dozen crew members. The whole heckling session has been captured on
camera by the TV channel.


The entertainment industry is run by homophobic elements. When the film Aligarh was on release I recommend it to a very respected filmmaker and spokesperson of the industry who gently
advised me to stay away from gay films.


"Those who make gay films are largely gay and those who appreciate them are also seen to be gay," he warned me.


How does one combat this level of bigotry in one of the world's most flourishing entertainment industries? Hansal Mehta reads out a message from a prominent filmmaker who praises the film and then
writes optimistically. "Hopefully we'll find a cure for homosexuality along with AIDS and cancer."


Two decades ago Deepa Mehta faced severe resistance to her film Fire about two desperately lonely sisters-in-law played by Shabana Azmi and Nandita Das in a conservative Delhi family who
share a lesbian relationship.


Mehtra recalled with much fondness the vigil that Delhi's gay community kept when Fire was released in 1996. "They carried placards saying, 'We're Indian, we are Lesbian.' Till then some Indian
moralists believed homosexuality, especially lesbianism, didn't exist in India. 'Fire' was a turning point for me as a filmmaker. I saw what responsibility was being put on my shoulder. To me,
'Fire' wasn't a film only about lesbianism."


Mehta recalls her shock when the moral police pounced on Fire. "I remember I was in Dubai in 1996 watching A.R. Rahman's concert. I had put the release of Fire behind me. I just
thought it would come and go in India without creating a ripple, like all films on unconventional themes. I should've been warned. I got a call in the middle of the concert asking me to come to
Delhi fast. They had just halted the screening of Fire. I was aghast. It was my first brush with the moral police. Later, of course, I got used to of being bullied by extra-constitutional
censors in India."


Significantly, Fire had been passed without a single cut when it was submitted to the censor board. "Not a single shot was cut. Not even Shabana and Nandita's lovemaking. And this was a
decade ago. I was lulled into a false sense of security. I guess India has progressed, but a section of the moralists won't accept it. I feel happy to see other filmmakers going into the theme.
But, I repeat, I wasn't making a film on lesbianism. It was about subjugation and repression."


Hansal Mehta feels the same elements that attacked Deepa's Fire 20 years ago are crawling out of the woodwork to condemn Aligarh. "What is it about us Mehtas that makes us easy
targets for homophobic elements?" asks Hansal in a lighter vein.


Apoorva Asrani who wrote Aligarh refuses to make light of the attack on the film in the city after which the film is named. "Fringe groups supported by the mayor of Aligarh bullied
four cinema hall owners into removing Aligarh after its first show! The homophobia that silently killed a kind and gentle professor in 2010 is now out in the open. It's sad that they want to
suppress a burning truth from their own people. More than 2% of India's population belongs to the LGBT community. That is a higher population than Sikhs, Jains or Parsis. By denying such a sizable
community its dignity, these fringe groups in Aligarh are taking us back into the dark ages. It's a shame."


Shame, indeed. But then, when have we not been shamed by radical elements whom we allow to strut around as the voice of the nation?
BOLLYWOOD NEWS
Catch us for latest Bollywood News, New Bollywood Movies update, Box office collection, New Movies Release , Bollywood News Hindi, Entertainment News, Bollywood News Today & upcoming movies 2020 and stay updated with latest hindi movies only on Bollywood Hungama.