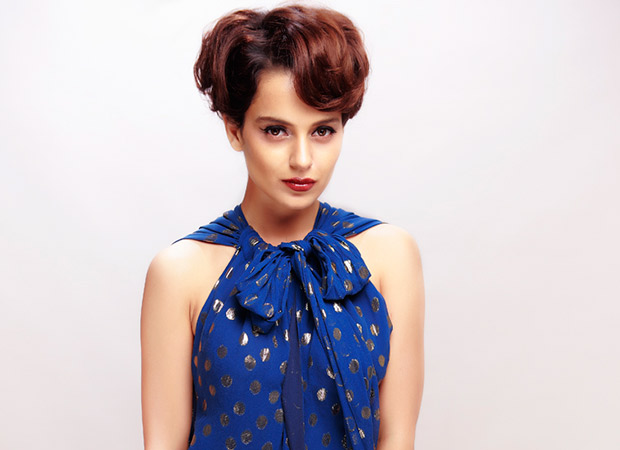 It has more than a year and a half since Kangna Ranaut was seen in a career defining role. The film was Tanu Weds Manu Returns and though last year she didn't have any film of hers releasing, she is starting 2017 with Rangoon. We get chatting with her in an exclusive tête-à-tête!
This is the first time when you, Saif Ali Khan and Shahid Kapoor are coming together in a film. Indeed a casting coup of sorts, isn't it?
I was extremely excited when I heard about Rangoon from Vishal (Bhardwaj) and Sajid (Nadiadwala). I was actually looking forward to something like this since Saif and I were supposed to do Reema Kagti's Mr. Chaalu but then the film didn't happen since something went wrong. Then at one point in time even Shahid and I were thinking about doing a film together but that didn't happen. Since Rangoon had such a good role for me, I was game for it.
And now you have both men vying for your attention in the film! Guess it is as complicated as it gets in this triangular love story?
It is a complex character for sure; I couldn't afford to keep it simple. Julia is someone who is not very likeable. There is this definite arc in her character where she goes through this whole metamorphosis. I had to bring in variations in a subtle manner. Actually the best part of my performance is the subtlety. At the end of the film you would feel that she is a completely different character.
To be playing an Anglo-Indian character from the 40s must indeed have been something....
No no no, I am playing an Indian girl in the film, not an Anglo-Indian. My real name in the film is Jwala Devi which gets changed to Julia. She comes from a poor background, goes these shows on roads and is turned into a star. In this new world, she tries very hard to fit in. There is this man [Saif Ali Khan] who is in love with her and changes her name. She is made to mingle amongst the British but deep down she is a 'banjara' girl. She looks Anglo but then her accent is giveaway (laughs). In a way I could identify with that kind of journey since after coming from Himachal Pradesh to Mumbai at such a young age, I had to indeed try hard to fit in. I had to start speaking in English, wear clothes that are Western, put on these high heels, the works!
Talking about your accent, what was termed as a weakness by your critics has turned out to be your strength today isn't it?
You know, it is always like that. What is actually exceptional about an individual ends up striking a chord with the audience. That peculiarity factor works. Look at Shah Rukh Khan. When he started, people used to say he is stammering. Today it is this uncommon aspect about his personality that has struck gold. I am just giving an example here; not drawing any comparisons. Whoever has achieved something in life; it is because of some uncommon aspect to their personality. That's why I want to encourage people to not fall prey to whatever everyone else is doing.
Please carry on.
Back then, when it came to Aishwarya (Rai), her beauty was divine and that was so popular with the masses. Madhuri (Dixit) was a great dancer. I couldn't even dream of matching up to any of them. I am ordinary and sometimes ordinariness is also important. Everyone is special in their own right. I love my ordinariness, or for that matter my accent. These are my special qualities and it is good to see that people cherish that. I work hard on my body language. That is one of the strongest and most powerful traits of being an actor. I worked on that for the part of Julia too. It is very different from any of the characters that I have played. Even my expressions and emotions are very different from that of the contemporary world since I went all the way back into the 40s.
Isn't it surprising though that given your personality and looks, no one before Vishal or Sajid thought about making a period film with you?
Vishal sir said to me once that to make a film with such a strong female character, you need to have certain budget. There has to be stardom attached to the heroine. He saw that in me thankfully. Moreover, to deserve such a project, aapko uske laayak bhi hona chahiye. 10 saal lag gaye aisa role milne main. Thankfully, Vishal and Sajid felt that I would fit in!