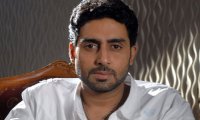 On meeting Abhishek Bachchan, you notice that he is so calm and composed that almost all his answers would be to the point and short. But I get a shock of my life that he had almost got the side-A of the recorder full. He has depth, knows what he is talking and makes super sense. He pours his heart out when he wants, gives you so much respect that you sometimes feel you don't deserve and yet slash you apart if you talk the 'wrong' thing. But that's how Abhishek Bachchan is - frank. He doesn't beat around the bush. We like him that way and that is exactly the way he comes across in Part 2 of this exclusive - Abhishek Bachchan Interrupted with Devansh Patel. Now it makes sense why I reached home at 2.30 in the night. Not because of his long answers but because his answers bring out the Abhishek Bachchan we have rarely heard about.


Your new name is tweety-pie. Thanks to Twitter, we also know that you love eating frankie. How has twitter helped you to grow as a person and as an actor?

(Laughs) Not as a person. As an observer of films and the audience, it's helped me a lot. I think my sense of core values and morals is very deeply ingrained, and has been a major criteria in my growing up years and my formation. I'd like to believe that those values are strong enough not to be shaken or changed that easily. As an observer, it teaches you a lot about your work, which is your audience. They are not as fickle and easily convinced as we'd like or hope they are. You come to know about your audiences minutest details they go into. I joined twitter because I feel that it is a fantastic forum to interact with your audience and to get to know them better. I also believe that the requirement of an actor has changed today. That whole - 'he is an elusive star and that enigma'; I don't think that exists any more. If you're a mystery and an enigma it means that you're not doing any work and people have forgotten about you (laughs). The generation has changed. They aren't going to respect you how you want them to. Today, your audience wants to sit next to you and say, "What's up buddy?" They won't do that with my father. There is this respect and that barrier when it comes to Amitabh Bachchan. But with me, they'd like to be friendly and have a one on one relationship and twitter allows that.



Today, your audience wants to sit next to you and say, "What's up buddy?"

With films like Dev D, Kaminey, Ishqiya, Paa, LSD being made, is it right in saying that we are giving birth to a different audience or a different cinema?

I've never believed in it. I never understood what parallel cinema was. I just know there is good cinema and bad cinema. The format of the film might change but it still has to appeal to the audiences. I think it's very foolish to think that the audience does not understand our films. If they're not understanding your film than you're making the wrong film. You have to make films for your audience. As a cinema lover, I want to go and be entertained. I want my money's worth. Yes, these are nice films that have been different in the way they're told and there was something about all these films that have appealed to the audiences.



Tarun has got it all right this time. Dostana 2 is going to be three times funnier than Dostana

Anything that we don't know about Dostana 2 that you know?

Not much. I think Dostana has suddenly grown into this monster. I remember when Tarun Mansukhani said, "I want to do part 2 of Dostana". I answered, "Don't do it." I felt that Dostana wasn't a franchise film that a sequel could've been made. Some films should be just made once and let it be. When he told me the concept of Dostana 2, I said, "This is fantastic." I was also scared and apprehensive on how Tarun would top Dostana. I mean, all the punches were pulled in part one. So what was remaining in part two was what I was curious about. How do we take it further? Tarun has got it all right this time. Dostana 2 is going to be three times funnier than Dostana. He cracked a story line which is hilarious. We start filming in July in London.


How easy it is to say 'Yes' to friends and professionals like Rohan Sippy and Goldie Behl for you to be a part of their film?

Very easy. My problem is that I say 'yes' too easily (laughs). I could like one scene in the film and agree with them. I wish I had the art to be removed from the film and view it. I wish I could. I don't have that capability. It sounds stupid but Roahn Sippy is my childhood friend. We went to school together. If he says that he has got a movie and wants me to do it, I'd say 'yes' to it. That's just the way I am. I won't say that I'm spontaneous but I am emotional about these people. If I do see that there is something wrong which I feel may not work for the film, I then have a liberty to tell them because they're my friends.


How much of music has influenced your life Abhishek?

It really is huge. I remember my mother telling me that to be a good actor you should have a sense of rhythm. It doesn't mean you have to be a musician or a dancer. But there has to be an inherent sense of rhythm and that rhythm helps you in your performance because a performance has a tone, a pitch and a rhythm. For me, music is integral. I listen to music as often as I can. When I am going to work, when I'm at work and returning from work, I need to listen to music.


Anything you'd like to tell us about Dum Maro Dum, your next film directed by Rohan Sippy?

Yes, the film is currently titled Dum Maro Dum. We've started shooting and will wrap up by the end of June. It is based in Goa and I play a cop in the film. He is very passionate at what he does and it's a very gritty thriller that I haven't done in a long, long time. It was a genre I was looking to get back to.


How like minded are you and your wife, Aishwarya Rai Bachchan and how diverse are you two?

Both equally. It's quite weird but I think most husbands and wives will say that. There are certain topics where we think exactly the same and there are certain where we think completely the opposite. That all adds to the attraction. There is no monotony between me and my wife. Because she is also a friend, and sometimes when we don't agree, I discuss things out with her. There are many a nights where we just sit and talk it out. She has a different point of view and I like listening to her point of view because she makes a lot of sense.


Lux is known for its beauty. So here we have it then, the three most beautiful men in the world - Paul Newman, SRK and Abhishek Bachchan.

I'd love people to say that. But unfortunately they probably won't. They say - 'Chand pe daag hota hai'. I think I'm the daag for Lux (laughs). The beauty is only a beauty if there is a beast to compare her to. That's why I think Lux cast me opposite my beautiful wife in the commercial. When they approached me for the commercial, I said, "I'm not getting into any bath tub and lathering myself." My first reaction was 'No'. But when they explained me why I would fit in the advert with my wife, I liked it and agreed because it was fun. Today, the commercial is hugely successful. It all paid off. I am very particular about what I endorse. What I liked was that it took me out of my comfort zone for once. It gave me the opportunity to appeal to a different kind of an audience and make a statement. With Aishwarya, I really didn't want to do commercials which sold home appliances, etc. But the Lux Soap advert is something different. Hindustan Lever as a company is very supportive and keeps us involved in their campaigns. That's the way I like to work. I am one of the only three men in the world to become a Lux model and that's pretty cool.


How personally do you take journalists and journalism?

I take it very personally because I think that they too take it personally. At the end of the day a journalist takes his job very seriously. I believe that journalism and the media is a conscience of the nation. They are the opinion makers of the nation and are the people who portray the truth. They take all this seriously. I do not disrespect a media person because I respect what they do. If I've agreed to sit in front of you, I am open to whatever questions you pose to me. But to answer them or not is my prerogative. Having said that, because of the position I have put the media in, which is of great respect and a very serious position in our society, I think they have to be equally responsible. What Mumbai Mirror wrote about my wife was offensive, slanderous and damaging. But most importantly, it wasn't the truth. You write gossip, that's ok with me. But how can you not tell the truth? That's the first rule of journalism. How can you not call and verify your story with the person you're writing it on. Forget the content of it, which was very personal, private and really not their business. But the journalist didn't have the decency to verify it with my wife. I took offence to that. So when we called the newspapers, they said that they stand by what they've written. So there is nothing much I could've done about it. It's a very serious profession. I tweeted about it too. I do not want anybody to talk false about the women of my house hold. Yes, they're public figures but as a man of the house, I'm going to draw a line somewhere. They are not willing to even bring that source in front of me. Well then, they'll face consequences.


Abhishek Bachchan Interrupted - Part 1
BOLLYWOOD NEWS
Catch us for latest Bollywood News, New Bollywood Movies update, Box office collection, New Movies Release , Bollywood News Hindi, Entertainment News, Bollywood News Today & upcoming movies 2020 and stay updated with latest hindi movies only on Bollywood Hungama.