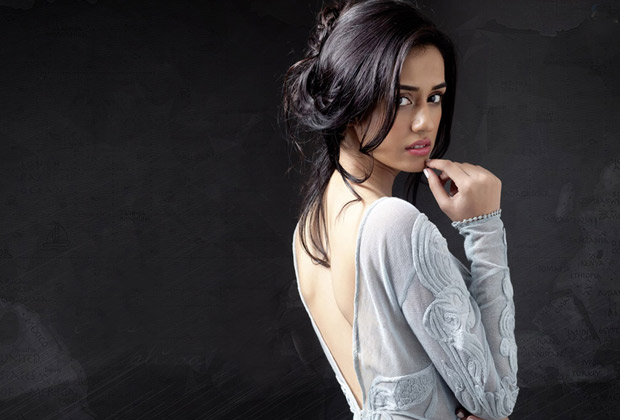 This may seem like an unconventional beginning in the film industry. However, young Disha Patani is happy that her first film is M.S. Dhoni - The Untold Story. Especially since she is working with Neeraj Pandey in her very first film, Disha is glad that the film has given her a chance to perform, and not just sing and dance. Over to the young woman.
There are a lot of thoughts that go in mind when you are knocking the doors of the industry for a little while. To be chosen for M.S. Dhoni must have been a great moment, isn't it?
To be working with Neeraj (Pandey) sir was something like a dream come true. This is my first film and to have one of the finest directors make it for you is a great feeling. I was so sure that he is the man who would make me perform. I am someone who focuses a lot on performance. I am an actor first and then a dancer or someone who can look good in songs. I don't want any of that to overshadow my performance. I trusted Neeraj sir and knew that whatever he would make, it would make sense.
Since you have been around for a while, a number of offers may have come your way, be it quintessential romantic, comic or something else. What were the kind of subjects that you were contemplating?
I was getting more of commercial films where I had to dance and all; you know those 'launch films' kind. I don't understand the concept of launch though. For me, a film is a platform where you can show your talent. I was getting all these commercial cinema but then for me the art of acting is very important. I was looking for someone who can present me as well a performer. Now when I see the scenes and the songs that I have done for the film, I see an inherent simplicity. He makes everyone look so good in the simplest of scenes.
The film also has a realistic setup, that of a small city. Since you come from a small city too, it must have been akin to life coming back 360 degrees?
Yes, I am from a small town Bareilly [Uttarakhand]. My character is from Delhi though and it wasn't difficult to get the slang or mannerisms to get the characterization right. I had also done readings and knew everything about the character, so I connected to it. Being from North India, I could get the hang of people over there and their general talk and attitude.
Since the film needs you to come up with a natural style of acting and Sushant also boasts of the same virtue, was it a breeze shooting with him?
You know, the first time when we met, it was for the shooting of a love song. That was awkward though (laughs). Later, we were comfortable since both of us have studied in Delhi, we love food and we are Rajputs. We bonded well. Also, he is a very hard working guy. When he comes on the sets, he is in the character; he doesn't move. I learned a lot from him. That being said, even though I am a newcomer, I was never instructed by him. He would give me my space to work with my character, that's how we had some good chemistry together. There was no binding around the performance.
How about understanding your character though, considering the film's theme?
Though I have not played cricket, I have been into sports. I was a state-level basketball player in school. As for cricket, Sachin sir used to be my favorite. I remember Dhoni sir when he used to have this long hair. I remember watching cricket with my family since they are huge cricket maniac. We used to sit together and scream and cheer for our teams. We used to call our friends over. Still, I was never a diehard fan per se of cricket. Today, I don't get the time to watch TV as I am working and traveling so much.
Since you are playing Dhoni's love interest in the film, how much did he detail his emotional journey and bare his heart out?
Whatever he had to say, it was already in the script so we didn't have to go beyond the written word. Also, there is nothing in the film which is beyond reality. 99% of the film is whatever has actually happened to him in real life. What we have done is just a small bit out of his life since we have compressed it all three hours. When someone is going through things in their life, be it happy or bad emotions, we can only understand and then only express through acting. As for him and the girl he loved, they went through a lot and now Sushant and I have given our best.
BOLLYWOOD NEWS
Catch us for latest Bollywood News, New Bollywood Movies update, Box office collection, New Movies Release , Bollywood News Hindi, Entertainment News, Bollywood News Today & upcoming movies 2020 and stay updated with latest hindi movies only on Bollywood Hungama.