Did you know anything about BFFs in B-town? Well, obviously Bollywood scoops are filled with BFF love and rivalry! But how trustworthy are they? May be that is what the new show on Colors Infinity is out there to prove. BFFs with Vogue S2 with Neha Dhupia as the host promises to bring forth some hot-shot gossips, revelations, confessions and lot more masala. And we must say it hasn't disappointed us much as yet!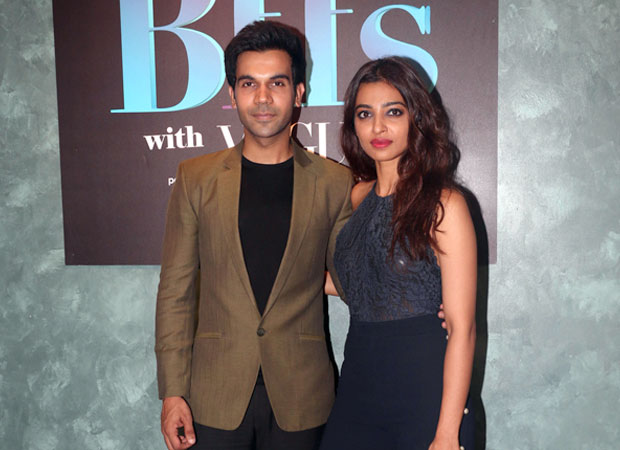 The recent episode of BFFs with Vogue season 2 featured Radhika Apte and Rajkummar Rao as the new BFFs!
1. Well if you wonder how Rajkumar and Radhika became BFFs? Rajkummar Rao has a perfect response to it
"When you guys called us together", quipped Rajkummar when Neha Dhupia confidently asked him when they became BFFs. While it left Radhika Apte in splits, we could see a hint of embarrassment on Neha Dhupia's face. We don't blame you darling!
2. When Rajkummar Rao was asked to choose between Sushant Singh Rajput and Kriti Sanon
We all know about the Raabta between Sushant Singh Rajput and Kriti Sanon. But when Rajkummar was asked to choose one of them for their acting prowess, the actor preferred to eat a chilly! Why? Well our guess is as good as yours!
3. Radhika Apte slapped a Tamil director
Here is a revelation that we have already heard! Radhika slapped a Tamil costar who got touchy with her on first day of meeting at the shoot. Bravo girl!!
4. When Rajkummar decided to 'Strip it' more than 'Say it'
Well as the show progresses and as Neha likes to put it, the best part is the Say it or strip it section. Unlike previous episodes, where the guests chose to say things rather than strip, Rajkummar opted for the reverse. In fact, Rao was left with just his trousers and t-shirt on by the end of the segment.
5. When Radhika Apte called Rajkummar Rao a 'Waffadar Kutta'
As the show goes, each guest is supposed to introduce their BFF. In the case of Radhika Apte and Rajkummar Rao, the actress ended up calling her BFF a 'Waffadar Kutta'! Before you get your mind running, we are referring to the comparison Radhika made when she said, "Rajkummar is really very honest and is absolutely loyal to his friends, family, or even to her whom he is in a relationship with. He is exactly like that loyal dog."
6. Radhika Apte revealed her first experience with 'Phone Sex'
Continuing with the show, Neha Dhupia quizzed Radhika Apte about her most outrageous audition. Thinking back, Apte remembered her audition for Dev D where she was expected to have phone sex. Recalling the incident she added, "It was really one of the craziest auditions. I have never heard of phone sex and it was there that I had to do it in front of a whole audience. But yeah it was a great experience."
7. Radhika Apte reveals the one filmmaker who should retire
Towards the end of the episode, Radhika revealed a lesser known fact about her adoration for Ram Gopal Varma. Talking about the same she said, "I think RGV should just stop making films. Look at the work he has done in the past, those are like brilliant films and I love them. But if you going to make films that will ruin the lot that you made earlier don't. Just quit." Reasoning further she added, "I have immense love and respect for RGV and I say he should stop because of this."
Also Read: Radhika Apte to star alongside Hollywood actor Dev Patel
BOLLYWOOD NEWS
Catch us for latest Bollywood News, Bollywood Movies update, Box office collection, New Movies Release & upcoming movies info only on Bollywood Hungama.