The romcom Ishq (1997), completed 25 years on November 28. It is remembered for many factors but its pipeline scene is epic and has a fan following even today. Aamir Khan and Ajay Devgn rocked the show with their antics but Sanjay Goradia, who plays the deaf pipe cutter, also took the cake. Hence, it's no surprise that despite having a screen time of just a minute, he managed to generate a huge impact. As Ishq completed 25 years, Bollywood Hungama exclusively spoke to Sanjay Goradia about the scene and a lot more.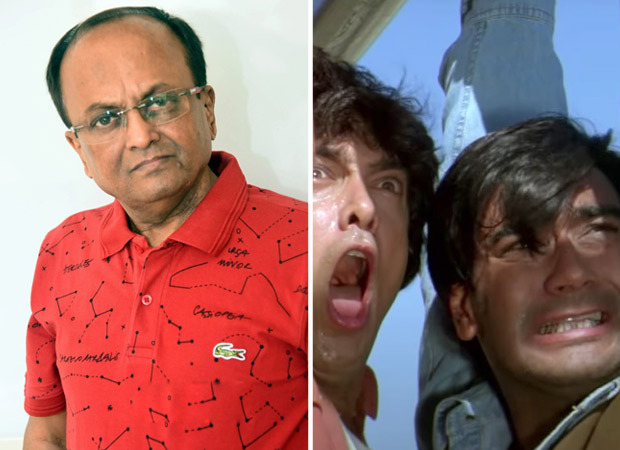 25 Years Of Ishq EXCLUSIVE: Sanjay Goradia opens up on how the funny pipe scene was shot without VFX: "Aamir Khan and Ajay Devgn have worn shirts over their T-shirts. It was not a style statement. It was purposely done to hide the safety wire!"
How did you get this role in Ishq? This was a time when you had not worked in many Hindi films…
I had done films even before but had never done a major role in any of them. This was a time when I was not even serious about my acting career. If someone would call me for some work, I'd go for it. I won't even ask what the role is or how much money I'd be paid.
I don't know who suggested my name to Indra Kumar. Someone from their team called me and told me to meet them at a hotel in Juhu. They wanted to narrate my role to me. I was stunned as this had not happened yet. Mujhe directly shooting pe aane ko bolte toh main aa jaata!
Nevertheless, I met them. Dialogue writer Praful Parikh explained my role and the whole scene to me. I was amazed when I heard it. Kyunki aisa scene pehle kabhi dekha hi nahin tha maine kisi film mein. I was overjoyed and accepted the role. I would have given my nod even otherwise as I had no choice then since I was just starting. They decided to pay me Rs. 3000 per day. I shot for 3 days and hence, I was paid Rs. 9000.
Tell us about your shooting experience.
I went to the shooting location – Tarapore Gardens in Andheri. The film's unit had put up a pipeline between two buildings. Above the pipe, there was a wire running parallel. From afar, it seems like a normal cable TV wire. But it was kept for the safety of the body double. It was connected to the belt which was worn by the stunt artist. If you see the scene, Aamir and Ajay have worn shirts over their T-shirts. It was not a style statement. It was purposely done to hide the safety wire!
It was a 14-15 floor tower. Even on the ground, there were several junior artists. Aamir and Ajay both had two body doubles. Veeru Devgan, the fight master, executed the whole scene. He sat in an open area on the terrace and checked the preparations. Even during breaks, he would sit there. As for Ajay, he would go and relax in someone's air-conditioned flat in the same building. I really respected Veeru ji's gesture. He must have felt that he was a technician and that he should be on the field. Even though he could have relaxed in the AC room, he didn't do so.
The terrace was very big. On one side of this terrace, a similar kind of pipeline was laid out six or eight feet above. This is where Aamir and Ajay performed the scene. The way it was shot, one might feel that they are hanging in between the building. But in reality, they were just hanging on a pipe above the terrace.
I was there for 3 days and was observing how the scene was being filmed. I knew right then that this is going to be a landmark scene for the Hindi film industry. There was no CGI or VFX used. Hence, it was quite real.
Did you interact with Aamir Khan and Ajay Devgn?
No. It was limited to just 'Hi' and 'Hello'. These big actors usually don't allow you to come near them. I also prefer to keep a distance. Of course, if the star proactively approaches you and wants to talk, then that's a different matter.
After Ishq, I worked with Aamir Khan on Mann (1999). I was there for the Singapore and Thailand schedules. We were together for 10 days but even then, I hardly had any interaction with Aamir Khan. I would just observe how the scenes are being filmed.
Dedicated to people travelling between Andheri East & West nowadays! pic.twitter.com/VNhOnSmg5n

— Roads of Mumbai ❁ (@RoadsOfMumbai) November 24, 2022
Did you visit cinema halls to check the audience's reaction to your scene?
I don't recollect much but yes, the reaction to that scene in general was fantastic. Even today, memes are made on it. Just recently, I saw a meme of this scene and it was connected to the closure of the Gokhale Bridge in Mumbai's Andheri.
To be frank, it's not like I am ashamed of the scene but it's not my biodata either. I have done a thousand times much more work than what I did in Ishq. Also, maine uss scene mein koi kamaal kiya hi nahin hai. It's the brilliance of the producer, writers, director and fight master Veeru Devgan.
The scene is even remembered even today. When fans meet you, do they still mention Ishq to you? And how do you feel about it?
People often meet me and tell me that they loved me in Ishq. It used to irritate me as I have done so many plays, shows and films but people remember me for that scene. Vipul Mehta, who has directed 85 of my plays, loves to take my case on this aspect. For instance, there are times we have gone out for dinner and someone asks him, "Yeh Ishq waale actor hai na?". Despite knowing how much it irritates me, he'd purposely tell them, "Haan wohi hai. Aap jaake unko bolo"!
Also Read: 25 Years Of Ishq EXCLUSIVE: "Ajay Devgn and Aamir Khan were not scared during the pipe scene as it was shot very safely. Ajay's father Veeru Devgan took EXTREME caution" – Indra Kumar
BOLLYWOOD NEWS - LIVE UPDATES
Catch us for latest Bollywood News, New Bollywood Movies update, Box office collection, New Movies Release , Bollywood News Hindi, Entertainment News, Bollywood Live News Today & Upcoming Movies 2023 and stay updated with latest hindi movies only on Bollywood Hungama.