1. Laal Singh Chaddha: Aamir Khan is an actor known to be trusted by the audience. How could his judgement fail him so badly this time? Or was it something else? Maybe the audience doesn't like remakes? If so, why did they flock to see Drishyam 2?Maybe they don't like Hollywood remakes? It boggles the mind why Laal Singh Chaddhawas rejected. Once in a while in this imperfect world we get a near-perfect film about flawed characters trying to stay on the straight and narrow path. Actor-turned-screenwriter Atul Kulkarni's adaptation of Robert Zemeckis' 1994 classic Forrest Gump is every bit as charming disarming and enchanting as the original, and then some more. Some characters especially that of the heroine is re-written to suit current times. But the spirit of innocence and faith remain intact. Through the naïve uncorrupted eyes of Laal Singh Chaddha we get a world-view of history as it unfolds from the Partition to the demolition of the Babri Masjid.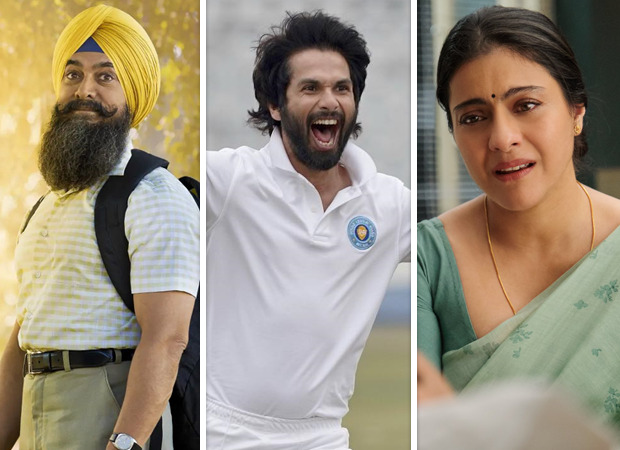 2022 Recap: From Laal Singh Chaddha to Jersey to Salaam Venky 5 films that deserved better
2. Dhaakad: A fabulous action film with diligently choreographed action scenes Dhaakad relies almost entirely on treatment and execution. And kudos to debut director Razneesh Ghai for making the violence look so dirge fully dynamic; the bloodshed feels like a blizzard of remorse showered on an unrepentant conscience. Gory? Yes! Violent? Of course! We live in a violent world where an eye for an eye is not enough. It's more like a limb for an eye. Seeing Kangana in the killer mode is reward enough for all the time we've had to bear with inept female heroes taking revenge on all mankind for wrongs done. Dhaakadis slyly slick, and remorselessly violent. It sticks to the point. And gets to brass tacks immediately. Kangana playing a spy named Agnee is assigned by her boss (the very capable Saraswat Chatterjee) to extract a human trafficker/drug dealer Rudraveer from his hideout. Dhaakadis a film in a hurry. It moves breathlessly from one fabulously-staged fight to another almost daring us to exhale. There is no time or space for anything but vendetta in Agnee's ravaged life. While Kangana and Arjun Rampal roar in brilliance as adversaries there are three other stand-out performances by Divya Dutta, Saraswat Chatterjee and the underrated Sharib Hashmi.But the real star of the show after Kangana and Rampal is cinematographer Tetsuo Nagata. Even when the frames ooze blood Nagata makes the film look like poetry in commotion.
3. Jersey: This is a film that is not afraid to flirt with broad emotions. It plunges into its protagonist's life with a fervent gusto, sparing us none of his anguished self-loathing for being a loser, especially in the eyes of his wife and son. The father-son bonding is crucial to the efficacy of this mellow drama. Shahid Kapoor, giving what could arguably rank as his career's best performance, bonds beautifully with his screen son played by Ronit Kamra. It's a pleasure beyond measure to see the two of them together. Even when they don't speak to each other, the father and son are heart-breaking in their mutual devotion.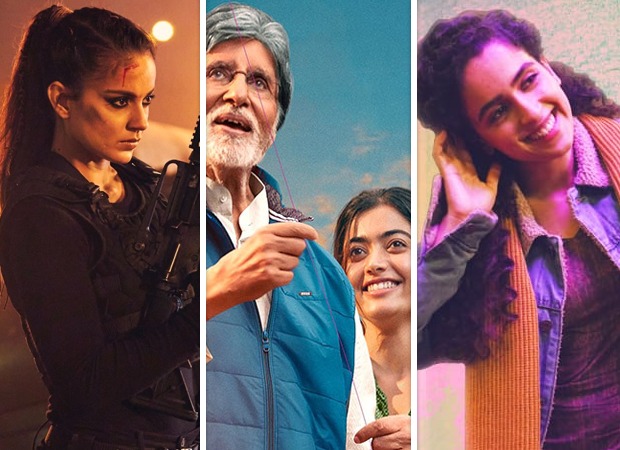 4. Goodbye: In 2022 there were other films on a death in the family like Ram Prasad Ki Tehrvi and Paglaitt. In spirit, Goodbye is closer to the former, though the only similarity between the two films is a sudden death in the family. In Ram Prasad… it was Supriya Pathak coping with the death of her husband and the drama of push and pull of interests that follows. Amitabh Bachchan in Goodbye as Harish Bhalla, the patriarch of the family is a bristling bundle of ire and sarcasm. His abnormal aggression at his loss targets all his children especially the daughter Gayatri (Rashmika Mandanna).Many times as this lengthy film moves from tragedy to acceptance, you will find yourself connecting to the tamasha that ensues after a death in the family. Vikas Bahl is very good at juicing the contradictions and hypocrisy that underline the tragedy.he blemishes in the script(and that includes a long unnecessary moaning monologue by Mr Bachchan about his dead wife's half-empty bottle of shampoo lying in the bathroom, etc.) are swept away by the genuinely moving episodes and some validating performances especially by Pavail Gulati, Elli AvrRam, Sunil Grover (as the coolest godman in Hardwar), Ashish Vidyarthi, Divya Seth, Shayank Shukla (as the snivelling cousin getting ritual instructions on the phone), Martin Jishil (as the guy who informs Mandanna of her mother's death) and of course Mr Bachchan. Neena Gupta plays the corpse with dead seriousness.
5. Salaam Venky: Revathi's Salaam Venkydoesn't give us a choice. We HAVE to like, if not love, this big-hearted film about a dying son and his tirelessly devoted mother. Apparently based on a true story, the film clasps us in a tight embrace not allowing us to breathe. So overpowering is its commitment to wrenching tears out of us that the narrative frequently becomes melodramatic and maudlin, going as far as to making the mother sing a lullaby on her son's death bed. Seriously! What we can do except to surrender to director Revathi's sentimental journey into the heart of a soap opera, played out with finesse, I might add. No one can fault Salaam Venkyfor faltering in its commitment to communicating the mother's grief. Kajol as the strong solidly nurturing Sujata curbs her tendency to shriek and shout. She has played that kind of a hyperventilating mother quite recently in Helicopter Eela. This time she is far more restrained and implosive, thanks to Revathi's direction which impels the matriarch to bleed in places that cannot be seen.
Also Read: #2022Recap: Bollywood's BIGGEST and SHOCKING controversies of 2022
BOLLYWOOD NEWS - LIVE UPDATES
Catch us for latest Bollywood News, New Bollywood Movies update, Box office collection, New Movies Release , Bollywood News Hindi, Entertainment News, Bollywood Live News Today & Upcoming Movies 2023 and stay updated with latest hindi movies only on Bollywood Hungama.