Till 2007, it was very clear to all that Hindi cinema was changing a lot, yet remaining the same in basics. If Om Shanti Om, Partner, Namastey London and Welcome on the one hand and Chak De! India, Bheja Fry and Taare Zameen Par all did extremely well, it showed that Hindi cinema, as always, was about the mixed menu fare that the audience wanted—in good value-for-money entertainment across genres.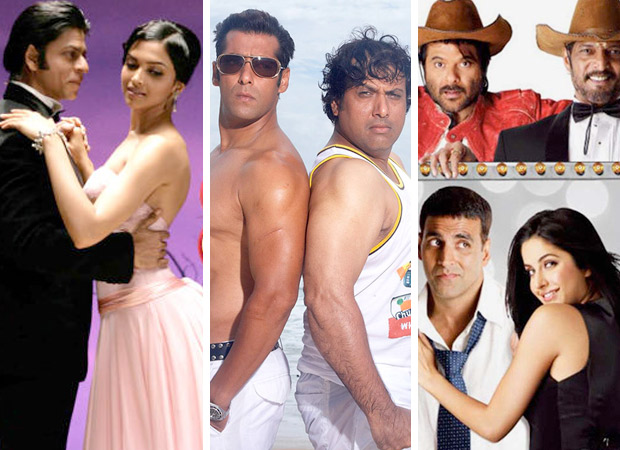 In 2008, however, confusion reigned—or rather, it was the beginning of the era of confusion. And though the signals were equally clear-cut, the film industry chose wrong conclusions for reasons of its own, chief among them being the new makers who had come in, with their own beliefs in changing Hindi cinema beyond the point it could for audience acceptance, with a filmmaking degree and diploma from overseas, a zero basic connect with Hindi cinema audience and a pathetic knowledge or study of Hindi films down decades.
Make no mistake, the business angle is not the only important angle for a film, but the business done by any film does just show what kind of fare the audiences endorsed. More, the return of investment (which decided if a film was disaster, flop, also-ran, success, hit or blockbuster) was always to be kept in mind while designing a project, especially if not run-of-the-mill. And getting back the money invested was important for more films had to be financed, especially of the different or substantial, non-masala kind.
Let us first look at the films that did well. Topping the overall list was Ghajini, released in Christmas week, and produced by Reliance Entertainment. A remake of a South film, this Aamir Khan-Asin movie directed by A.R. Murugadoss proved conclusively that action, even violence, if backed by strong emotions, a taut screenplay and big stars, could be a formula for a mega-hit, even with the Adults certification that cut a good portion of the audience.
As a matter of interest, it began the 100 crore (nett Indian collection after deducting the omnipresent Entertainment Tax) club. Since then, the 100 crore figure has become both a benchmark and a racket at different levels, and over the next decade, has stopped being really relevant as films can do upwards of Rs. 150, 200 and 300 crore now.
Ghajini, therefore, can be the flag-bearer of the current unwholesome trend of lay audiences being obsessed more with the business done by films rather than their intrinsic calibre (or lack of it)!
Ghajini also became the torch-bearer of the Aamir Khan blockbuster formula in Christmas week, which had organically happened in end-2007 with Aamir's production Taare Zameen Par. In 2009, he followed it up with 3 Idiots, the first film to cross 200 crore, in 2013 with Dhoom 3 (first to cross 250 crore), in 2014 with PK (first to cross 300 crore) and finally his production Dangal (first to cross 350 crore)!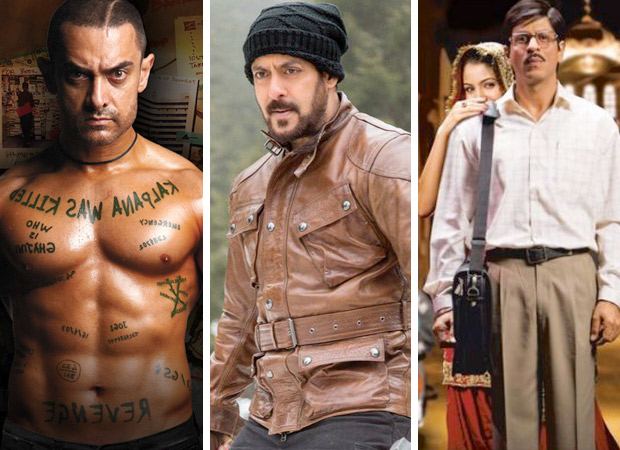 And what was this special formula? Simple: have a story with an element of appeal to children during Christmas holidays, so that tickets for at least one parent were additionally insured, and 'cash' in with high ticket-rates for the entire week or more due to vacations. Add the intrinsic quality of the film (something checked minutely by Aamir at every level) and the fact that Christmas was not an expense-heavy phase for Hindus and Muslims and they could spend more on cinema, and you had clear winners!
In effect, 2008 also began the Christmas season's association with a year's biggest hit, which continued even with the 2017 Salman Khan film Tiger Zinda Hai!
Return of investment
In the old tradition of films being judged on how well they did, the biggest hit that year was Jaane Tu…Ya Jaane Na, a candyfloss romance also co-produced by Aamir Khan and starring his nephew Imran Khan. Jannat, Mukesh Bhatt's small thriller revolving around match-fixing and A Wednesday!, a patriotic masterpiece were remarkable for leading the year as well.
While the last film was 95 minutes long, had no star, no songs or masala frills, and rested solely on its story's impact, it added to the confusion: were songs and stars at all important? The deviant filmmakers who had come to abound in cinema decided to hop on misguidedly on the wrong thought wagon! They decided to make cinema minus one or both, thinking that the people will like the films because of these cardinal differences!
But nothing could be further from the truth. While some such filmmakers are still at it in 2018, it was forgotten that A Wednesday did have two super-stars actually—a whopper script and its hugely talented director!
Take the audience for granted, and even the sweet-for-some Dasvidaniya, the reasonably slick Maharathi and the arty Tahaan could not rise beyond mere critical acclaim without the so-called commercial elements.
On the commercial front, it was very clear that tight scripts with the right mix of masala and music (as always) irrespective of genre, worked—Race, one of the slickest works of thriller maestros Abbas-Mustan, the hilarious Golmaal Returns (which marked the true arrival of master comic director Rohit Shetty), Anees Bazmee's whacky Singh Is Kiing and Vikram Bhatt's most emotional horror drama to date, 1920. Also doing well was Aditya Chopra's charming romance with Shah Rukh Khan, Rab Ne Bana Di Jodi.
And while experiments like Tarun Mansukhani's rom-com on homosexuality in Dostana, Madhur Bhandarkar's expose of the fashion underbelly in Fashion did tepidly well, Abhishek Kapoor's Rock On!!, a film on friendship and rock music, failed to connect with the masses and did well only in Mumbai. Jodhaa Akbar, interminably long, just managed to scrape through on star-power, that is, Hrithik Roshan and to an extent Aishwarya Rai Bachchan.
One flop had a valid specific reason for their failure, like Roadside Romeo, a cute story that did not connect with children due to a long list of classic Hindi film references from yore that they could not comprehend, but stood out when it picked up an international award.
In 2008, thus, any slackness, tackiness or audience disrespect in execution led to outright rejection (Krazzy 4, Heroes, Hello, Drona, God Tussi Great Ho, Love Story 2050, Sarkar Raj, Karzzzz, Halla  Bol, Thoda Pyaar Thodi Magic, Yuvvraaj and Tashan).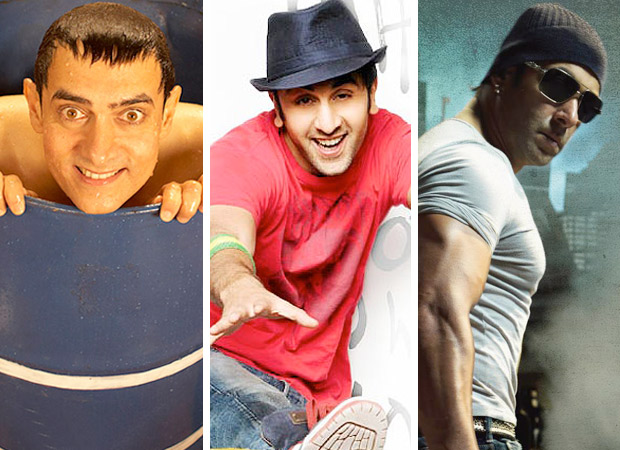 Clear message—so why the confusion?
It is mysterious, despite the clarity of the box-office, how and why confusion not only prevailed in this year but increased out of proportion in the following year, 2009, which saw only three hits (3 Idiots, Ajab Prem Ki Ghazab Kahani and Wanted) and just four successes, the record remaining as abysmal even in 2010!
One great reason for the confusion was what a veteran trade analyst called "media hits"—defined as "hits" not by the trade (which is the real authority) but only by the media, which had no clue what they were writing about and called some films hits or successes due to personal preferences, kinks or lobbies! Though such myths have always been always there for two or three films each year down the ages, the vested interest through the increasing presence of corporate producers made 2008 the first year in which this dubious club started in earnest as well—with Mumbai Meri Jaan, Aamir and Oye Lucky ! Lucky Oye!—a trinity of hyped films, leading the list.
Yet another confusion-generator was the increased desire to needlessly be different for the sake of it, and confusing the ensuing mediocrity with "cinematic evolution". What happened with most of the films above also began to happen with a clutch of filmmakers who, again thanks to immature or ignorant media, were branded as the new messiahs who would take Hindi cinema to unimagined heights.
All they did, instead, was take it down to near-Stygian depths, creating a paucity of weekend cinema outings, especially for family or group viewing, stymied manifold by spiraling ticket-prices at multiplexes—even then!
Last, but emphatically not the least, was the use of music, which became increasingly distanced from its vital role in Hindi cinema. Not only did the content (lyrics, music, playback) become mediocre, but the use of songs itself took a nosedive, and lip-sync began to seriously go out of fashion.
"Global" thinking thus became a self-destructive missile for the largest and first medium of entertainment for the masses. We continue to see the ever-sagacious audiences still opt for quality and variety if well-presented, but thanks to the vitiated thinking that began in 2008, Hindi cinema, unlike its Southern and Hollywood counterparts, continues to suffer even a decade later.
BOLLYWOOD NEWS