One of the finest films of Indian cinema, A Wednesday, completes ten years today. Directed by Neeraj Pandey, this film talked about the plight of the common man like never before because of which it became a sleeper hit.
The first thing that comes to the mind of many when asked about this film is obviously Naseeruddin Shah and his clap worthy 'stupid common man' monologue. It's unfortunate however that the other protagonist of the film, Anupam Kher, is not remembered as much. If analysed properly, A Wednesday became successful not only because of Naseeruddin Shah but also thanks to Anupam Kher. And he deserves far more credit than he has got.
10 Years of A Wednesday: Commissioner ho toh Prakash Rathod jaisa ho, warna na ho…an ode to Anupam Kher's excellent act!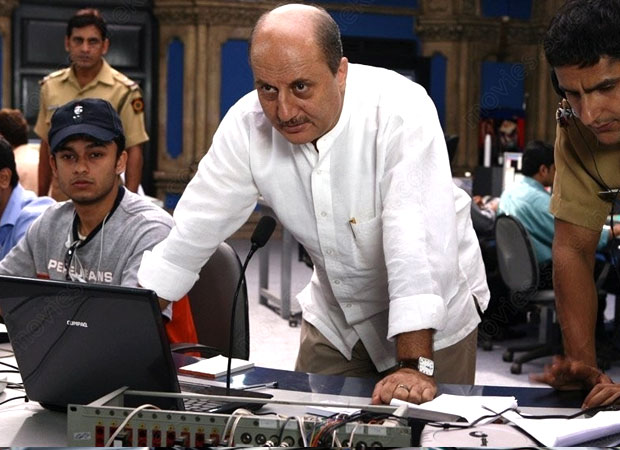 In the film, Anupam Kher plays Commissioner Prakash Rathod, a level-headed, no-nonsense cop who knows his work well and can take quick decisions. But he has also a funny and sarcastic side. He can troll you on your face and you might not know. For instance, in the beginning of the film, Prakash Rathod is seen talking to a popular film actor who gets too scared over getting a threat call. The way Rathod handles him and even takes a dig at him is amusing. He asks his two officers on a very stressed out day whose face they saw when they woke up. When they both say in unison 'our own face', he says 'No wonder'! Not just that, he has no qualms in taunting even the Chief Minister (Chetan Pandit). When the CM asks him why he's ducking away from responsibility, Rathod makes it clear that administrative hurdles won't let him function properly. This was his way of getting unlimited authority from the CM while also showing him his place. His conversation with the CM in the climax is even funny. The CM is seen lamenting how they have no choice but to give in to the demands of the stupid common man and Rathod turns into his 'yes man'!
Apart from dark humour, Rathod also cares about his officers. Knowing that Arif Khan (Jimmy Sheirgill) and Jai Singh (Aamir Bashir) would be stressed out while taking the terrorists to the air strip, he tells them to come to his house in the evening for a drink and also to unwind. He also has a temper. The sequence where he's waiting impatiently for the call of the stupid common man but instead is phoned by a credit card offering bank executive gets him really angry. But watch out for him in the end when he is impressed with the deeds of the stupid common man. But at the same time, he realizes that as a commissioner, he can't go gaga over him. Not to forget, the stupid common man has broken the law with his actions and by securing explosives. Hence, he rightfully gets angry when the young computer hacker and Inspector Babu (Virendra Saxena) try to defend him.
The character of Prakash Rathod was written after thorough research and it shows. He is a heroic like character but that doesn't mean he bashes up ten goons singlehandedly. However, he knows his job and can get work done instantly. The way he keeps his cool intact when the stupid common man tells him that he'll blow up bombs in the city if his demands are not men is seen to be believed. At one point, he nonchalantly tells the CM 'Sir, aap mujhe suspend kar dijiye', shell shocking everyone around! Also, his interaction with the stupid common man in the end and the way he simply introduces himself is very impressive.
Of course, credit goes not just to Neeraj Pandey for writing this character so well but also to Anupam Kher. He brought life into this character and ensured that he doesn't go overboard even for a second. I'll even go to say that it was a complete flawless performance. Sadly, this remains an underrated act of this veteran-n-versatile actor. When one asks about the memorable performances of Anupam Kher, what comes to mind are Saaransh, Karma, Dilwale Dulhania Le Jayenge, Khosla Ka Ghosla, Maine Gandhi Ko Nahin Mara, Special 26 etc. I hope A Wednesday is also counted in this list on an immediate basis.
A month after A Wednesday released, Raj Thackeray in an interview to Shobhaa De said, "I have full faith in Mumbai Police. Give them full freedom. They'll end crimes in 10 days. What they showed in A Wednesday, which I recently watched, is true. Anupam Kher demands complete control." I have never agreed with this politician but in this regard, we are on the same page. Most people after seeing this film wished if the stupid common man was real and would do something similar in reality. I hope the same but I also hope that we get a Commissioner like Prakash Rathod - someone who knows how to get things done and even get the CM on his side in getting total control, someone who's not corrupt and cares for the citizens. "Police agar chaahe aur sarkar ijazat de, toh shehar mein koi chote bachche ka khilauna nahin chheen sakta", goes on a dialogue in another cop drama, Khakee (2004). In times when certain elements wreak havoc in the city, destroy public property and netas get away after giving communally charged speeches, one really hopes that a Prakash Rathod takes charge of the city soon and makes the city a better and a safer place!
Also Read: Anupam Kher hoists India's National flag at United Nations Headquarters in New York!
BOLLYWOOD NEWS - LIVE UPDATES
Catch us for latest Bollywood News, New Bollywood Movies update, Box office collection, New Movies Release , Bollywood News Hindi, Entertainment News, Bollywood Live News Today & Upcoming Movies 2023 and stay updated with latest hindi movies only on Bollywood Hungama.