Well this pair is sassy, hot and evergreen! The Arora sisters are definitely thick as family but are also as fun as buddies. They are all geared up to set the house on fire with rapid answers and startling revelations. The latest episode of BFFs with Vogue S2 just got hotter! The sexy ladies are all set to unleash secrets, have some fun and obviously give us some inside gossips. As these friends get together for an interesting chat, we couldn't help but pick some of these few moments that left us quite intrigued! Are you as curious as we are? Then go ahead and tell us if you found these as some of the exciting moments of the show!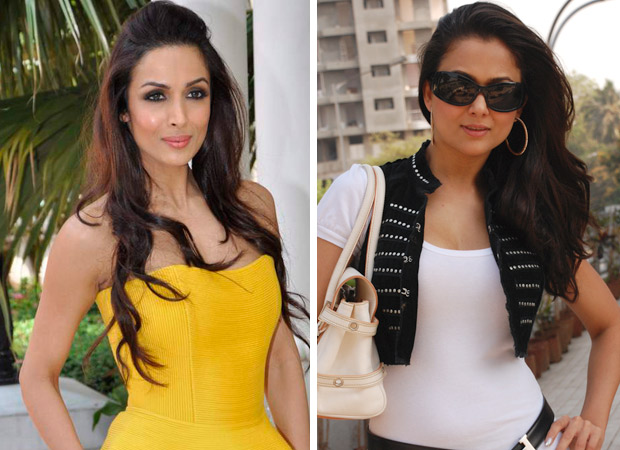 1. 'Be Calm'
Yes, that is advice that was given by both the sisters to each other. In an interesting quiz round when Malaika Arora was asked to talk about her sister Amrita Arora's flaw, pat came the reply to 'Be Calm'. According to Malaika, Amrita is quite hyper and often gets anxiety attacks quickly. So her advice was to ask the latter to chill. On the other hand, a similar advice was given by Amrita to her elder sister when the former was asked about giving a parenting tip. However, Amrita referred to the term 'Be Calm' in a different context. She believes that Malaika is a quite concerned mother and hence she prefers if the actress takes things coolly.
2. 'Kareena Stop Gossiping'
We have already got a glimpse of this statement made by Malaika Arora Khan during the trailer of the latest episode of BFFs with Vogue S2. In the same round, when Malaika was asked to complete a sentence as the host Neha Dhupia started Kareena Stop….. the model turned reality show judge responded immediately with the word Gossiping. Well what can we say, BFFs know better!
3. The reference to Khan?
Well, we all are aware of the much talked about high-profile divorce of Malaika Arora Khan and Arbaaz Khan. While the two are still extremely close to each other's family, the duo continues to maintain their stand about separation. With rumours stating that the model turned reality show judge have dropped Khan from her surname, the recent introduction of Amrita Arora seems otherwise. When Amrita was asked to introduce her sister on the show, the actress used the word Khan as she peppered it with some 'stunning' adjectives. The word 'Khan' obviously left us wondering if Malaika is planning on retaining it in her name! After all BFFs don't lie!
4. Invent their own language
When the show kicked off with Neha Dhupia randomly putting up terms like 'Biggish', 'Guts' and 'Liability', we are sure the audience were perplexed. Well, this was the moment when we saw Arora sisters giving us fun sibling-goal vibes. Apparently, Malaika and Amrita have invented their own definitions for these terms. If a party was awesome, they use the word biggish to describe it. If someone does something that they don't usually do, like a jeans-tee lover Amrita sporting a glamorous gown etc. they use the term Guts. This interesting revelation was quite a fun moment on the episode as we saw even Neha getting a hang of these terms.
5. Did you know that Meher Jessia ganged up against Malaika Arora?
Everyone, who loves Bollywood and its glam parties, are aware that Malaika Arora and Mehr Jessia [model and wife of Arjun Rampal] are good friends. However, did you know Mehr was one of the few who were mean to Malaika. During the recent episode of BFFs, when Neha Dhupia asked if she is aware of an incident where people have been mean to her, Malaika reminisced about a backstage incident. Although she maintained that it wasn't mean, she spoke about an incident where Mehr ganged up with model turned actress Namrata Shirodkar against Malaika! However, Mehr and Malaika now share a great camaraderie with each other. As they say no permanent enemies in Bollywood we believe!
6. Malaika Arora will block Gerald Butler!
Expect the Arora sisters to leave you speechless and you won't be disappointed. In the 'Say it' or 'Strip it' round, Neha Dhupia asked Malaika Arora about which famous person's number would she really want to block and she replied with the name of 'Gerald Butler'! She definitely left viewers shocked with her answer! The answer however made Neha strip it instead of Malaika. However, we are as shocked as our Bffs host - we mean, who would want to block Gerald Butler?
7. Was it Malaika or Amrita - the wild one?
Amidst a barrage of sibling questions that was thrown towards them, we got some intriguing answers! If Malaika came across the bold one considering her glammed-up looks then let us tell you that looks can be quite deceptive. Owing to the recent revelations made by the sister duo, apparently Amrita was the one who got into trouble more than Malaika. In fact, Malaika confessed that she was the goodie-too-shoes and always ended up looking out for Amrita.
8. Amrita may be a BFF but not a 3 am Friend for Malaika
We must say that we saw Malaika in her candid self during the recent episode of BFFs. Even though she confessed to texting her sister and BFF Amrita more than a million times a day, she also maintained that Amrita is not her 3 AM friend. But there is a reason for it! As mentioned by Malaika before, Amrita is quite panicky and according to her, a 3 Am call will definitely give Amrita a big panic attack. So Malaika stated that she prefers to call someone who is much calmer that her younger sister!
9. Who is Single, who isn't?
At the start of the show, Neha welcomed the two sisters by asking them to speak about each other. And when she threw the question of singlehood, well it was a moment that shouldn't have been missed. It is a known fact that Amrita Arora is happily married! So when Neha asked her when was the last time Amrita was single, Malaika answered saying, Never! On the other hand, Malaika ended her 18 year old marriage with Arbaaz Khan almost a year ago. So when she was asked when was the last time she was single, it took a while, before the actress answered 'currently. We wonder why the pause!!
10. What Amrita hates the most about her sister?
In a round called, five things they hate about each other, Amrita Arora confessed that the one thing she hates about her sister is that every time Malaika promises she [Amrita] will be getting something soon, the said present never turns up!!
Also Read : Hey Kareena Kapoor Khan, your bestie Malaika Arora Khan wants you to STOP gossiping
BOLLYWOOD NEWS
Catch us for latest Bollywood News, New Bollywood Movies update, Box office collection, New Movies Release , Bollywood News Hindi, Entertainment News, Bollywood News Today & upcoming movies 2020 and stay updated with latest hindi movies only on Bollywood Hungama.