Bareilly Ki Barfi Review {2.0/5} & Review Rating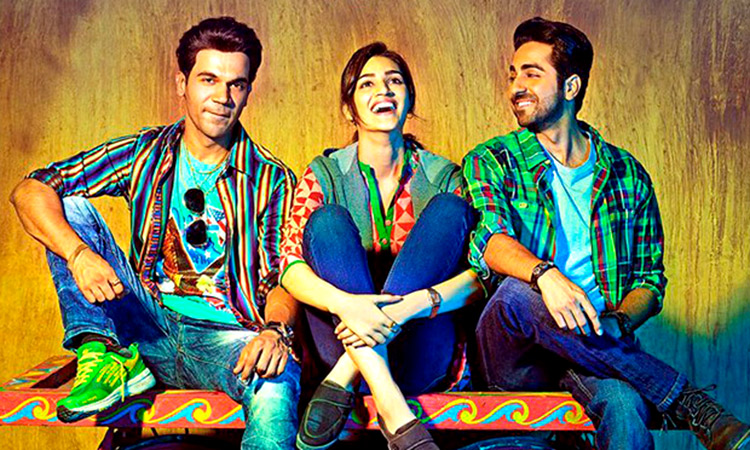 Since more than a decade, our filmmakers have started churning out films set in small towns, particularly North India. Such rooted stories work big time, especially if they provide ample entertainment. The success of TANU WEDS MANU RETURNS, SULTAN and DANGAL in recent times have made it evident how such 'desi' flicks have a large acceptance. BAREILLY KI BARFI, this week's release, too is based in Bareilly, as the title suggests, and looks entertaining from the promos. So does it manage to tickle viewers' funny bone or turns to be yet another flop in the season of debacles, let's analyze
BAREILLY KI BARFI is about a printing press owner who devises a unique plan to woo the girl he loves but the idea backfires. Chirag Dubey (Ayushmann Khurrana) runs a printing press in Bareilly, Uttar Pradesh. After being heartbroken, he writes a book called 'Bareilly Ki Barfi' on the girl he was in love with. Fearing that she'll be slammed if he writes the book in his own name, he puts the name of Pritam Vidrohi (Rajkummar Rao), his shy, soft-spoken friend, as the book's author. The book fails big time but five years later, Bitti (Kriti Sanon), the coolest girl in town, buys it one day from the railway station, when she was about to run away after her mother Sheela's (Seema Pahwa) constant rants over her marriage. In the train, Bitti reads 'Bareilly Ki Barfi' and is stunned to see that the girl described in the novel is very much like her – free spirited, break dance lover, smoker, film buff and progressive. She immediately returns back to Bareilly and meets Chirag, since he had printed the book, and asks him for Pritam's contact details, since she is impressed by the book. Chirag slowly falls for Bitti but is not able to tell her that it's him and not Pritam who wrote 'Bareilly Ki Barfi'. Chirag then devises a plan – he tells Pritam to have a makeover, meet Bitti, break her heart and run off. At this point, Chirag would take over and hopefully woo Bitti successfully. Sadly for Chirag, Bitti slowly starts falling for Pritam. How Chirag then attempts to ensure that doesn't happen forms the rest of the story.
BAREILLY KI BARFI begins well and the introduction of characters is done in a neat manner. But the film really picks up steam when Pritam enters the narrative. His transformation and the whole process is hilarious and in several ways, is the best portion of the film. Chirag-Bitti's sequences in the first half aren't great but make for a nice watch. One sequence which particularly stands out is Bitti celebrating Chirag's birthday. Post-interval, things look fine initially. The comic and dramatic moments continue and entertain but after a point, the film drags. BAREILLY KI BARFI never was illogical but yet, few aspects seem too difficult to digest. Firstly, why did Chirag not use a pseudonym to write his novel? His character is also shown to be quite a 'dabangg' who has no qualms in ragging and terrorizing Pritam. Yet, he never gathers the courage to tell Bitti how much he loves her. There's a twist in the tale in the finale which does catch viewers unawares and it brings a relief since the climax was getting clichéd. But the explanation given behind the twist again turns out to be too unconvincing.
BAREILLY KI BARFI is adapted from the book 'The Ingredients Of Love' by Nicolas Barreau. Nitesh Tiwari and Shreyas Jain's story is weak and needed quite a bit of polishing. Nitesh Tiwari and Shreyas Jain's screenplay is effective at places but otherwise, it drags. Nitesh Tiwari and Shreyas Jain's dialogues however are terrific and probably the best thing of the film. Ashwiny Iyer Tiwari's direction is uncomplicated and simple and that's her biggest victory. But the director, who helmed the well-made NIL BATTEY SANNATA last year, could have done a better job and kept the film tighter.
Ayushmann Khurrana as always appears confident and dominates some of the sequences quite well. He looks convincing as the lover boy as well as the bully (in scenes with Rajkummar) and this is quite praiseworthy. However, his friendzoned avatar does remind one of his act in his previous film MERI PYAARI BINDU. It's amusing that he played a role in a similar zone in two back-to-back films. Kriti Sanon delivers a decent performance and works on her accent, mannerisms etc to appear a small-town girl. She doesn't succeed completely but nevertheless, it works for her progressive character. Rajkummar Rao is a scene-stealer. He's seen as the shy, demure person and post the transformation, he turns into an outgoing, brash guy and he essays both the avatars brilliantly. If BAREILLY KI BARFI will be remembered in the years to come, it will be primarily for this National Award winning actor's performance! Pankaj Tripathi (Narrotam Mishra) is funny and also excels nicely in emotional scenes. Even he has played roles in the similar setting but he manages to ensure each of his performance stands out. Seema Bhargava leaves a very huge mark. Her constant rants over Bitti's marriage and the way she sparkles everytime she comes across a prospective groom is nicely done. Rohit Chaudhary (Munna) is fine as Chirag's sidekick. Same goes for Swati Semwal (Maya).
The music of the film is not memorable. 'Sweety Tera Drama' is the only track that registers. 'Badass Babuaa' is relegated to the background during the entertaining montage of Pritam's transformation. 'Nazm Nazm' fails to make a mark while 'Bairaagi' is wasted. 'Twist Kamariya' is forced but since it's added during opening credits, one won't mind. Sameer Uddin's background score is highly entertaining and uplifting.
Gavemic U Ary's cinematography is nothing special but the very first scene is very well captured. Chandrashekhar Prajapati's editing is pacy but goes off track in the second half.
On the whole, BAREILLY KI BARFI has its moments and boasts of great performances but it's too unconvincing. Also, lack of face value and low-key promotions coupled with insipid music as well as domination by TOILET – EK PREM KATHA will spell doom for the film at the box office.