Actor-writer RJ Balaji is all set to make his directorial debut with the film Mookuthi Amman starring Nayanthara in the lead. Along with writing the screenplay and co-directing the film with NJ Saravanan, RJ Balaji will also be co-starring with Nayanthara as a reporter from a middle class family. Senior actress Urvashi will be essaying the role of his mother. Ahead of the release of the film on Disney+ Hotstar, RJ Balaji spoke to Bollywood Hungama about making a political satire in 2020, the inspiration behind the film and working with lady superstar Nayanthara and renowned actress Urvashi.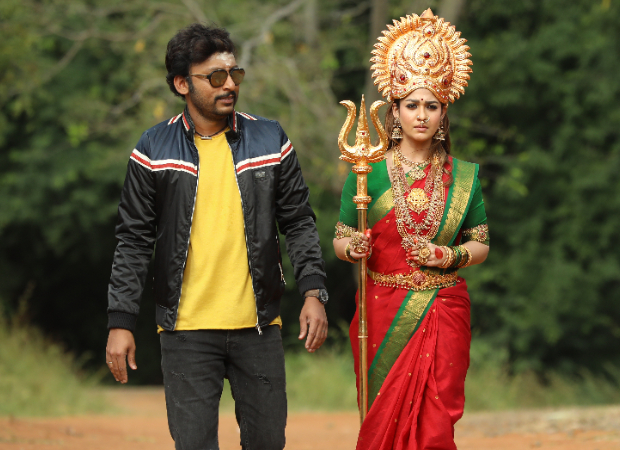 The trailer of Mookuthi Aaman bears resemblance to previous films like OMG and PK. What inspired you to make the film?
The inspiration is the timing, the society that we live in today. After my last film LKG, I had no idea what I wanted to do next. I was promoting the film before its release and suddenly one random day I was reading something in the paper and then I thought I wanted to do a film like PK, OMG for my next film. So, a film with a message in it but very relevant to the time we live in. When I wanted to make something like PK, I approached Rajkumar Hirani sir for the rights but moneywise it did not work out. That's the time I thought we have to come out with our own story. Inspiration is just the place, the time we live in.
Is it challenging to make a political satire in today's time?
It is definitely a challenging thing, not because of people or the general public. It is because of people who want to create problems with these things. There is absolutely no controversy or no problems involved in the film. But I am talking about the parties or outfits who want to create controversies out of religion. I think in that case, it is a very testing time to make such films. But we were cautious from day 1 to not have anything in the film that affect anyone, not have things that are not right. We were very clear on what to show and what not to show.
What kind of research did you go through especially since the topic the films deals with is quite sensitive in nature?
The film is a very simple film. It is a film about a middle class family who go through a lot of problems and suddenly they encounter a Goddess. For this, we required basic research. From childhood we have been watching films involving Goddesses in Tamil and also in other languages. And also there are technical terms involved, that is, you need to be right when you state a fact. So, we met a lot of people, we read a lot of books and we watched documentaries like Wild Wild Country. We did all of these things before starting to write the film. Once we started writing, it took 5-6 months to finish and then we shot. So, we were very clear what we wanted to say and what we wanted to show.
Was Nayanthara always the first option? Also, was casting for the film difficult?
Nayanthara was the first option, but I never approached her. The film took me to different people. I approached a few heroines before that . Nayanthara being a friend, suddenly called one day and said you narrated it to few people but did not narrate it to me. Then she called me a for a narration. After the narration she said that she loved it and she will do the film. So it was not difficult. The challenging part was to shoot the film with a big star cast in 50 days. Thankfully, we finished shooting before the pandemic hit, otherwise it would have been difficult to shoot with so many junior artists on the spot.
How was it working with Nayanthara and Urvashi?
Nayanthara is a superstar and is a thorough professional and it is very easy to handle her. You tell her something and she will deliver it. You tell her to be somewhere and she will be there before time. So that is Nayanthara. Urvashi ma'am has been here for 40 years and she has done 600 plus films across languages. To have her on spot and have her excited about the role itself is a big challenge. She has seen it and done it all. I approached Urvashi ma'am to play the role of my mother, which is a very important role and has some 35-40 scenes. Her character has funny shades. The way I have written her character it is almost like my mother. My mother is the funniest person I have seen. At the same time after reaching a certain age, I realised that she is going through a lot of stress, depression in her mind. In modern days, we speak about the depression undergone by working women, but forget about our mothers, grandmothers, who have abusive and drunkard husbands. This is the first time in India that a film is speaking about depression in older women and she has played her character really well. I hope she gets lots of awards for whatever she has done.
Had you known that the film would release straight to OTT, would you have made some changes?
I would have definitely made some changes considering the OTT sensibilities. All of us have been locked inside our homes and have been watching films at home for 7-8 months now. So, anything beyond 2 hours, we feel it's a lengthy film. In Spite of not knowing the name of the film or the cast, when you see the film is 1 hr 45 mins, then you think 'Oh! it is a small film, let me watch it'.That's the attitude people have right now. If I knew it was for OTT, I would have probably made some changes to the scripts or the songs so it is 2 hours or under 2 hours. Now, at the end of it we realise, this film being a good film wherever you play the film, people will enjoy it, that is the confidence we have in the film.
ALSO READ: EXCLUSIVE: Mookuthi Amman director RJ Balaji reveals why he could not get remake rights of Rajkumar Hirani's PK 
BOLLYWOOD NEWS
Catch us for latest Bollywood News, New Bollywood Movies update, Box office collection, New Movies Release , Bollywood News Hindi, Entertainment News, Bollywood News Today & upcoming movies 2020 and stay updated with latest hindi movies only on Bollywood Hungama.