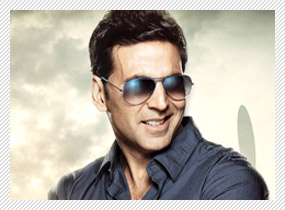 After Akshay Kumar's Holiday crosses the 100-Crore Mark, he prepares us for more
After Akshay Kumar's Holiday crosses the 100-Crore Mark, he prepares us for more
Entertainment
Congratulations. Holiday has acquired a blockbuster status. How does it feel to have delivered such a
big success during a year when there aren't that many successful films happening?
Thank You! Excuse my bluntness, but the triumph of Holiday has nothing to do with whether other films are
running successfully or not. I genuinely don't feel any better for Holiday's success because other films haven't
been doing that well this year. It has everything to do with the fact that such an honest, admirable film, was
recognized by friend and foe, audience and critics the world over, and was admired and appreciated for all it's
worth. That is what makes this wonderful blockbuster commendable.
Initially, some of skeptics had tried to write it off?
Holiday has fought against all odds, from schedules, to accidents and injuries. I couldn't be happier for
the makers and creators. We all did well with this one!
Holiday was a mood-change for your career, considering it's comedies that you are most solidly
identified with?
My place will always be with action and comedy. It is where my heart is, and that's where and when my blood pumps.
But my ambitions as an actor will never stop growing. Making films like Holiday inspires me to step out of
my comfort zone with confidence, because deep down you know at the end of the day, no matter what the outcome, you
know this project is worthy.
After a series of comedies-and you've another one coming up-Holiday seemed risky?
I'm grateful to those that took the chance with me, and chose a 'Commercial Comedian' to portray such a heavy
serious role. I may have been around for a while, but there is competition out there everyday & everywhere. It
will always feel damn good to know you are wanted for roles that can change many people's paths in life.
Your next release Entertainment is an out-an-out comedy. Do you feel your fan-base
enjoys you in the laughathon the most?
My fans are incredible! Whatever makes them happy, I'm willing to do. They gave me so much praise for
Holiday and requested I do more cinema like this. But, at the same time, they said they still can't wait
for Entertainment to release! So, I think, if I give them the best of both worlds, which I'm juggling to do
now with my next three films, then by God's grace, they'll be happy and I'll feel worthy of their love and
support. I am nothing without them.
That's really modest of you…
It's the truth! Actors are the ones that are supposed to set trends. But it doesn't matter how much we think
something works, if the audience says 'NO MATE', we can do nothing but walk away with our tails between our legs
and come back with a better option next time.
Curiously your main co-star in Entertainment seems to be an over-sized canine. The last film I remember
about the rapport between the hero and a canine was Teri Meherbaniyan with Jackie Shroff. Do you feel films
about the relationship between the hero and the animal kingdom like Haathi Mere Saathi can grab today's
audiences' attention?
Absolutely! In Entertainment, I think you'd have to be pretty cold-hearted not to feel for the man v/s dog
relationship. Believe me, there are more dog lovers out there than there are action freaks. So, if my
Khiladi franchise can work, so can my this.
How relevant is Entertainment to today's definitions of movie entertainment?
Comedy isn't relevant, comedy is what it is, it's timeless, it's fun, and if anyone tries to make it anything more
than that, then they are 'barking' up the wrong tree. Pun intended!
This is also your umpteenth film with a debutant director, a duo of debutant directors. Do you
enjoy working with new directors as much as you do with established ones?
Absolutely, if not more, as I can be more free to be versatile with debutants than with established directors as
they love to learn, experiment and improvise with scenes much as I do. Most acclaimed directors like to play it
their way and their way only, which is great, because you can't be on fire all the time. But all kids like to run
wild sometimes and if you're going to make a laughathon, you need to make it with open-minded people who have
hearts bigger than India's map and funny-bones softer than a puppy in a paddling pool.
Curiously, you've lip-synced to a female playback voice in one of the songs in Entertainment. What
brought that on?
Well, I just couldn't resist. I was more than happy, if not delighted when I found out about 'lip singing' a
female voice. When you go all out for a film, why stop at anything?
How keen are you at this stage of your career to do offbeat films, like you've done Neeraj Pandey's Special
26 and you're doing his Baby also. So which do you enjoy more? Baby or Heyy
Babyy?
I will always enjoy doing a Heyy Babyy more, because entertainment is of course entertainment. But doing a
serious film like Baby is extremely fulfilling and rewarding as an individual and an actor. But seeing as I
have the luck and the luxury to be invited to be a part of both, I can only say this ....I love my work, be it
funny, serious, emotional, or useless. It makes me appreciate all I have done, good, bad or indifferent. I'm just
glad I've done something.
One sees you working with a slew of new actresses these days: Tamannah, Tapsee Pannu and Kriti Sanon. Why do
you need to constantly work with newcomers?
Why not? They deserve the right to be given a chance. I've always chosen to be instinctive rather than calculated.
I think that's one of the nicest things about me. If all of us leading men worked with the same talented heroines,
how would our industry ever grow? No one knows who the next 'Kareena Kapoor Khan' or 'Katrina Kaif' will be. It's
my duty to give back to this industry what was given to me.
And what's that?
Opportunities.