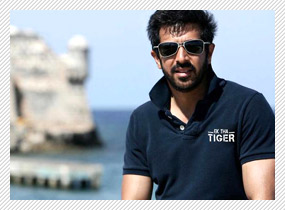 Kabir Khan knew he was in the hot seat when he took on the job of directing Salman Khan on what's said to be YRF's most expensive and this year's highly anticipated movie. Waiting to talk to Kabir, I think back to a chance meeting couple of years ago. Back then Kabir was releasing his dark political thriller New York. We sometimes like to believe that, on a white screen that brings us all kinds of shock, gore, mayhem or entertainment, there is one man who is about to bring all this together in one movie - Kabir Khan in the next four days will be renamed - 'The Man who made the Tiger'. It's a volatile mix of two Khans coming together - Kabir and Salman. Both possess relentless energy and enthusiasm but from what I know and have seen Kabir's work on the big screen, he dramatises this personal tension and creates a hallucinatory realism that is so engaging and entertaining. Add to that the Salman mania. And Tiger might just create new record at the BO. Presenting you a special in-depth interview of director Kabir Khan on a film that he calls 'Will earn respect and reinvent the box office'. This is an Ek Tha Tiger exclusive!


Was it really difficult to tame the tiger?

It wasn't difficult to tame the Tiger. Not at all. My approach for everything in life is that you have to look for the positives. But why would I complaint if I have India's biggest star to mount the biggest film Yash Raj has ever made? Today when you see the trailers you will realise that Salman Khan is in a never before seen avtar. Yet there is still his inherent charm and all the elements of Salman. That's the reason we took him because we wanted a larger than life actor to portray a larger than life character. I'm enjoying the countdown to the 'Salman Khan Days'.


Salim Khan quotes, "Ek Tha Tiger is a landmark film for Salman". Your job's done!

Salim Khan complimenting me on the film is a dream come true. We've studied him while we were learning to write screenwriting. He was India's finest at one point. We showed Ek Tha Tiger to Salim saab on the edit stage. After showing him substantial portion of the film he came out and hugged me saying - "Ismein se kuch bhi mat badalna. Dil khush ho gaya". The next day he called me saying, "Film jaisi hai waisi hi release karein aur agar aapke mann mein ek percent bhi doubt hai ki yeh film superhit nahi hone wali hai toh aap ghar jaake so jaye". After that I messaged Salman also and said that this is what Salim saab told me. My final exam is over. I have passed.


Knowing that Salman Khan is the hero of your film, did you compromise one bit in story-telling?

I've never compromised in the story of Ek Tha Tiger just because Salman Khan is in it. I've told you this before and I am saying it again that I always do a re-write after the cast is locked. I've done this for Kabul Express, New York and Ek Tha Tiger. Adi Chopra and I were unanimously agreeing in how the story had shaped up. I mean, how many actors are there in this industry who you can call Tiger and not feel cheesy about? When Salman walks you feel it's the Tiger walking. Salman was always the right choice. I wanted to bring the elements of Salman Khan and I altered here and there after knowing him more. Like the line that Katrina says to Salman is funny because it's Katrina saying it - 'Ab tumhari umar shaadi ki ho gayee hai'. It'll get lots of laughs in the theatre.


Many think that you cater to a very specific genre when you make movies

All the three films I've made so far are different from each other in its genre. If you are reacting to a strong contemporary and real content then yes, I make such films. It's not that I am in a certain zone or a dark spot when it comes to choosing my next script. I will always want to mount my films with a strong real backdrop. I can't write my films in La-La Land. I don't know how to write for my characters like that. For me a backdrop is very important. Ek Tha Tiger is as real as it gets.


Given your fascination towards characters, would you love to write a biopic next?

I would love to write a biopic in the future. One of the greatest drawbacks of our industry is that we don't take back anything from our contemporary history or our past. There are so many stories that can be made. Look at Sean Penn in Milk and look at Irrfan Khan in Paan Singh Tomar. These are engaging stories. I cannot adjust to writing anything fake about my characters. I love them too much. I cannot compromise on them. So even if Tiger is a fictional character, I will make sure that he is as real as possible.


And you have a good ear for music too.

More than just the songs, I love the background score. It's very important. That's a great tool for the director to take the narrative forward. I am very happy with what Julius Packiam has created. He has worked with me since my debut film. There are really good action scenes backed with brilliant background score. Having said that, the songs are really picking up but it will more once the film releases.


Salman is loved for the way he says his dialogues. Won't it make sense to release the best dialogues from Ek Tha Tiger after the film's release?

It would be a great idea if we released Ek Tha Tiger dialogue CD. I would love to do that. We have also done something similar in the Tiger song. We've cut some dialogues over a composition. But an idea like 'dialogue CD' will work wonders.


Enough about the Tiger, let's talk about the Tigress.

(Laughs) Yes, let's talk about the Tigress. Katrina Kaif's role in Ek Tha Tiger is five steps beyond New York. Yes, we have underplayed her in the trailers but we cannot give away much about her too. It's role to die for any actress. I am not saying this because I have written it but I am saying this because it's opposite Salman Khan.


Salman quotes, 'Kabir's career starts with Ek Tha Tiger'. What do you have to say to that?

Salman did say that Ek Tha Tiger is a defining moment of my career and that my career starts with this film. He said this because he knows for the fact that Ek Tha Tiger is the most high profile film of mine ever, and for him too. What he's trying to say is that from here on I will be known as the 'Man who made the Tiger' (laughs).


How's your journey been so far with the YRF?

It's never been difficult to convince Aditya or Yash Chopra about the subjects I've directed for Yash Raj Films. Honestly, they're such solid producers. When I did Kabul Express, Adi stoood behind me like a rock. He got threats from Taliban and lots more happened on the sets too. On paper, New York was a very risky film because it was a dark political thriller. It was backed brilliantly by YRF and it was my first commercial success. Even with Tiger, for them to give me the mandate to make the most expensive film coming out of YRF is quite something. I love them and they've given me confidence. My journey with them has been truly rewarding.


Hollywood's got its Titanic and The Avengers now. We will have our own Ek Tha Tiger soon, won't we?

Honestly, I'm not thinking about the numbers and the prediction of the film at the Box Office. I don't believe that numbers justify the success of a film. There are films that may not make as much money as other films but they are better films than those that made more money. Numbers are important and everyone needs to make profit. Movies need to push beyond numbers. It has to earn respect.


What's Mini's take on Ek Tha Tiger?

My wife Mini is my greatest critic. She has seen the film. Even Adi Chopra feels that Mini is a balanced person. She understands the film as an audience. She is having the Ek Tha Tiger hangover (laughs). She has been a part of the scripting process and for her to like it is quite special because most of the written material changes on the screen. Even Yashji, loved it immensely. He said, "Tumne jo kuch bhi likha hai, is film mein woh sab kuch hai aur usse bhi kaee zyaada".


Watch Promo: Ek Tha Tiger


BOLLYWOOD NEWS
Catch us for latest Bollywood News, New Bollywood Movies update, Box office collection, New Movies Release , Bollywood News Hindi, Entertainment News, Bollywood News Today & upcoming movies 2020 and stay updated with latest hindi movies only on Bollywood Hungama.