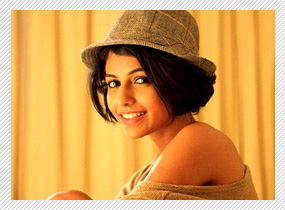 "When you start out as an actor, the dream before you die is to work with Yash Raj Films and Dharma Productions", the newcomer quotes as she sips her green tea. To my shock, these are the production houses she has worked with in her first two films. It's a dream come true for the twenty seven year old. It's time for her to re-dream. It was a hot and humid evening at Costa. A petite five feet figure walks in a peach coloured dress with her chopped boy-cut hair looking messy yet mesmerizing. I offer her a seat but she refuses to sit claiming the air-condition isn't working properly and that the table was kept near the entrance, being a hindrance. "Let's sit where we get more cold air", the actress tells me. Then in a few seconds, she sneezes. "God Bless you", I utter. Her nose heard it. She goes for it again. I doubly bless her. Then she insists I try the cold coffee concoction with caramel. It's her treat but it has nothing to do with me being a 'Patel'. All this and you can't help but get swept away by her confidence, energy and eccentricity. We've all got one of them. But, while for most of us, the three words rests quite happily in our heads, occasionally spurring us on to do something more challenging, there's one woman who's written her list, crossed through every point, and probably already started on the next one. That woman is Manasi Rachh - an advertising professional, actor and who knows what hidden talent will be unleashed in the next few months? Even more refreshingly, her progression comes with an attitude that says not so much, but screams - 'Just do it.....Seize the Moment'. Presenting you the far-from-being-perfect Manasi Rachh from Student Of The Year.


Do you think it's your attitude that got you admission in St Teresa's?

That you need to ask my Dean (laughs). I was auditioning for the part that was being conducted by Nandini for SOTY. I had given a few pictures to her while I auditioned for Excel Entertainment but that film didn't work out. So she called me again saying that she was casting for SOTY. The first round of audition I gave was from the film Jaane Tu... Ya Jaane Na. It was Genelia's character which was their reference. Nandini called saying I was shortlisted for the part. At that time, my debut film Mujhse Fraaandship Karoge wasn't released. Karan wanted all newcomers but at the back of my head, I knew I had done MFK. Lucky for me, I was called in for another audition, but this time it was a scene from SOTY. It took me two hours. I was getting restless and the last call made my day. I was selected for SOTY. I've been lucky. God's been kind.


How much of the character you play is real?

I am not Shruti Pathak off screen. I love making friends. I try and avoid fights with friends. I am very 'blah' to be honest.


As a teenager in school and college, what got you glued to the 'idiot box' (TV)?

I watched a lot of Friends. But I'm more into serious cinema. I like Almodovar's movies. I love Pushpak. It's beautiful. I've got the DVD. Then again, I can watch DDLJ fifty times. For me, it has to be a good storyline. I love how different directors treat the same scenes differently. It's amazing. I come from the world of advertising, so my choice of movies is a bit weird (laughs).


What Karan Johar movie are you highly impressed by?

Kuch Kuch Hota Hai. It's a classic friendship tale. It was so young and aspirational. It was so romantic and you wish you get a boyfriend like that (laughs). So from SOTY, if I had to pick my choice of man, it would be Varun Dhawan because he is more fun, happy and a chiller, not cheat (laughs). When you see the movie, you'll know. I don't like intense guys.


Do you see sparks of Pooja Bhatt in Alia?

I see them. I loved Pooja Bhatt in Tamanna. She was awesome. I loved Paresh Rawal in the film. Pooja was very raw and I liked that about her. She was very bohemian in which she approached her characters. Alia is very good looking, like her sister. She has the attitude that's infectious. It's Alia's casual demeanour that impresses me. I have some intense scenes with her and it was awesome. You have to be pretty to be Alia. Period! (Laughs). Playing best friends with her was quite fascinating.


...and your interactions with Karan Johar?

What I like about Karan Johar is his energy. We were shooting in Bangkok and were dying of the heat. But he was always on his feet. He is approving something for his other film on the sets of SOTY because he is a producer also. He is answering calls, etc. He is intelligent. He is Karan Johar because of his intelligence. He has got Dharma Productions where it is because of his thinking. Karan is also a great motivator. When we were doing swimming, he used to come up to me and ask me if I was fine. He did that many times only because he knew I had just learned how to swim. He is caring.


Will SOTY relate to the youth across the nation?

I don't know about that. Emotions are emotions. Friendships are friendships. However you show it, what age or whether the backdrop is college or not. I think the basic emotions are relatable to everyone around the world. So yes, audience will relate to emotions.


From Mujhse Fraaandship Karoge to Student Of The Year to...?

To Charlie Ke Chakkar Mein. It's directed by Manish Srivastava. And before you ask who Charlie is, let me tell you, cocaine is referred to as Charlie (laughs). It's a crazy film revolving around mafia to drugs to violence. It's very realistic in nature and a dark film. And it stars Naseeruddin Shah.
BOLLYWOOD NEWS
Catch us for latest Bollywood News, New Bollywood Movies update, Box office collection, New Movies Release , Bollywood News Hindi, Entertainment News, Bollywood News Today & upcoming movies 2020 and stay updated with latest hindi movies only on Bollywood Hungama.