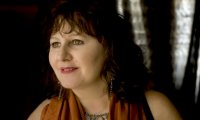 "When the film starts, you realise that it's a coming of age story of a young thirteen year old boy named Sajid but suddenly you realise that it is actually a coming of age story of a sixty year old man George Khan", quotes Leslee Udwin and from that point on I knew that I wasn't sitting near the pool side of the Sun N Sand Hotel in Juhu with some money minded producer but a passionate producer who loves people. Welcome Leslee Udwin. What's organic about Leslee is that she is original. So when she greets me in the lobby of the hotel, the first thing she asks is, "Can we sit near the pool side as I need to light my cigarette". In the next thirty minutes, we have our cold coffee, British film talks and some good old British accent on the table. It's Leslee's drive to make films universal and not just define them with terminology such as 'Brit Asian film' or an 'Indo Brit' film. And with decades of hard work and commitment to films, she has got all the required skills that many producers fail to achieve: patience, self belief, bravado and the ability to ride a streak of luck. Dressed in the regulation outfit of a British intellectual: black, black and more black, she was upbeat about her sequel West Is West that gets its grand release in India this Friday. But Leslee believes that central to the films unprecedented success is the film's vision - her vision - of making stories with heart and soul. UK's Harrow Observer columnist and Bollywood Hungama's London correspondent gets to know more of Leslee Udwin's enduring passion for making films, including West Is West.


"I recognise West Is West as my own story and I'm sure many of the audiences will too"

I believe that I am an outsider in my own country, UK. I am not English but that's too provocative a comment to make. But I'll explain exactly what I mean. I am Jewish. When I first came across the story of East Is East, it was in the form of a play reading. I knew the writer of the film, Ayub Khan Din socially. We were both actors back then. He asked me whether there was any life in his writing for film or television as he was busy preparing it for a stage play. I heard it and I just fell head over heels in love with it. The character George Khan from his writing was one hundred percent my father. If I recognised it as my story, I felt that the rest of the world would do too. I was right.


"Only Film Four had the guts to make East Is East when everyone else thought it was just another Asian film"
At that point in time, there was racism in England because every financier I took the film too twelve years ago rejected it. They thought it's an Asian film and would be seen only in Southall, etc. Only one company had the guts to make it because they had the so called 'diversity' brief. The company was Film Four.


"West Is West is much better and much more mature than its predecessor"
Yes, West Is West is coming after twelve long years as a sequel to the 1999 hit East Is East because half of the time went in persuasion (laughs). The bottom line is that East Is East was so mega successful that it put the most immense pressure on the writer. People also have this mistaken notion that sequels don't do that well as the original. But in this case, West Is West is much better and much more mature than its predecessor.


"The script is my ultimate ingredient and there is no such thing as slow and fast cinema"
It took me five years to persuade Ayub Khan Din. Every time I met him for dinner, I used to persuade him saying the time is right to make the sequel. Finally he was determined to make it a standalone film. We wanted to make it in such a way that even if people didn't see East Is East, it wouldn't have mattered. I abandoned my family for four years to make West Is West. We are here to make passionate cinema and West Is West is just that. For us British filmmakers, the script is the ultimate ingredient.


"West Is West is Ayub Khan Din's story"
The reward we've got in this ten to twelve year gap is awesome. Not many know but the writer Ayub Khan Din started conceptualising the idea of East Is East way back in the 1980s. Then he wrote the play, he staged it and then the film was made. Ayub was an angry young man when he started writing East Is East. He had a lot of anger towards his father. His father made their life a misery. After East Is East, Ayub himself turned father and has children. The writer has now mellowed and understands what it is to be a father. He now sees the world through a father's point of view. West Is West is Ayub Khan Din's story and the way Om Puri plays the father just cracks your heart.


"My writer Ayub Khan Din can't see the world without seeing it comically."
West Is West was the opening film at IIFI Festival in Goa. We also screened the film at the Gandhinagar Film Festival in Gujarat. Everyone laughed and cried and again laughed. That's what Ayub the writer has brought on to the table. In his real life too, when his father used to hit his brother, it wasn't painful, for him it was funny. Ayub can't see the world without seeing it comically. For me as a producer, comedy and tragedy sitting in the same frame is all I could've asked for.


"The thing that makes me worship Om Puri is not his great talent, it's his soul"
Om Puri is one of the greatest actors in the world, not just in India. He is not sufficiently valued in the Bollywood industry according to me. Bollywood is too led by the nose by five stars. The thing that makes me worship Om Puri is not his great talent, it's his soul. This man cares for the common people. I've known him for twelve years and we have the greatest closest relationships. Actually, he is a Brit Indian (laughs). West Is West is a reminder that Om Puri is Hindi Film Industry's greatest assets.



"Aqib Khan the kid is the discovery of the year"
Aqib Khan who plays the role of Sajid in West Is West is a discovery of the year. It's his debut film. We wanted to retain the original Sajid from East Is East but could not because the actor had grown to become a nineteen year old boy and we needed a thirteen year old Sajid. So the search began. I saw some two hundred and thirty five kids from all across Bradford, Leeds, etc. What's more, West Is West was the story of Sajid and his father. So we needed someone who could match up to the skills of Om Puri and the kid had to be a genius in his acting prowess. I wasn't prepared to bring on any actor who had to struggle with the accent and so we finally zeroed in for Sajid who has come out as a British discovery of the year. He was the last kid to come in on the last day of the auditions.


"I make films because I love people, not money"
My prime tool as a producer is to concentrate on the content rather than running behind money. I make films because I love people, I make films because I want to change the world and not in a preachy way or politically being correct, etc. but in an intrinsic way that just improves the way we live our lives, small or large, this film does just that. That's what leads to creativity and passion as a producer.


"Comedy comes from characters and situations you can relate to"
Comedy pointing up what is unfortunate that happens to all of us all the time. The prime thing about comedy is recognisability. We will only laugh if we've been in that situation or feared being in it, etc. Comedy comes from characters and that's what Ayub Khan Din the writer has mastered in.
BOLLYWOOD NEWS
Catch us for latest Bollywood News, New Bollywood Movies update, Box office collection, New Movies Release , Bollywood News Hindi, Entertainment News, Bollywood News Today & upcoming movies 2020 and stay updated with latest hindi movies only on Bollywood Hungama.