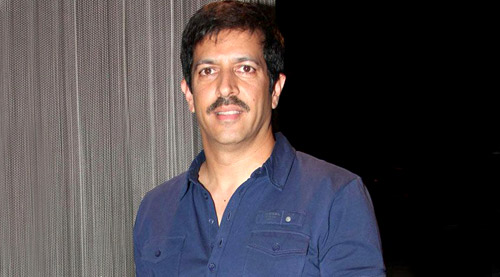 Objecting to 'Selfie' song and some of the scenes in Bajrangi Bhaijaan, a few legal notices have been sent to Salman Khan, me and the producers by a few so called 'religious groups'. Well, if these groups are not comfortable with what we are doing, I am not at all comfortable with the way they think and what they stand for. Bajrangi Bhaijaan is a film that is made to celebrate love and unity. These are people who do not stand for that. Their agenda is to do anything that goes against uniting the people. These people have no idea about the greatness of India, social fabric of the country and what India stands for. So, I don't take them seriously. They are coming to us under the garb of being a religious organization. I don't think it's a religious organization. Just as Salman Khan had said, if they are truly a part of any religious organization, then they would not raise such kind of objections. Every Religion speaks about love and respect for other religions. Bajrangi Bhaijaan is a unique celebration of unity and the different cultures that exist in India. The less we pay attention to such organizations, the better, as they are just looking for their five-minutes of fame. What I am proud about is that something like Bajrangi Bhaijaan can only happen in India. That's the greatness of India and that's what we need to celebrate. We are not going to allow a bunch of hundred boys screaming on the streets to put us down. This is an ideology that me and Salman Khan very strongly believe in. We stand by our film. We are glad we are bringing it out on Eid so that everybody can celebrate with us.


On the other hand, there are voices of dissent (in very few numbers of course) who criticized our wish of re-opening cinema theatres in Kashmir. These groups in the heartland of India and these 'voices of dissent' in Kashmir are actually of the same gang! And they should be completely ignored and not even spoken about. I don't know where their ideology comes from, what is their thinking, what kind of warped childhood these people must have had. I see no reason why films should not be seen by people in theatres by Kashmiri people. Everybody is watching films in Kashmir. Every village we go to in Kashmir, people would be chanting Salman's name. This means that they have seen Salman Khan's films. But they don't have access to theatres and hence they watch the films on pirated DVDs. So why cannot somebody open up a theatre in Kashmir? The situation today is good enough for security to be in place for a theatre. The point is that somebody needs to take that first initiative. Everybody today is a victim of stereotypes about Kashmir. When we were going there to shoot, people used to be shocked that 'Kashmir jaa rahe ho Salman Khan ko leke'. And I would retort 'Isi liye jaa raha hoon! Taaki logon ko pata chale ki wahaan ke haalaat bilkul theek hai'. Please don't go by sporadic headlines. Some incident happens in the border areas and then people start thinking that this is happening in the whole of Kashmir. Not one day did we have any security issues or problem with logistics, crowd management etc in Kashmir. People of Kashmir were really happy to welcome us. They gave us all kinds of support and I hope more and more people go to Kashmir and start shooting there.


In our film, we have this Bajrang bali bhakt who is taking a lost Pakistani girl back to her homeland. We are making this film with good intention. We are sensible and sensitive people. We have weighed the pros and cons of every scene so that it doesn't inadvertently become insensitive to any community. And I am glad to say that it's not a film that will hurt anybody. I have no fears that any right minded person will get upset by the movie.


If I become conscious of the fact that my name is Muslim and therefore I will be perceived in a certain way and hence I should be careful, I think I'll go wrong. I think the best way to approach these subjects or anything political is approach with what you truly believe in. If you try and second guess or appease one section, bearing in mind the baggage that I am carrying because of my cultural identity, I think you'll falter. When I am writing, I am writing straight from the heart and try to imply what I like to say, what is the kind of politics I like to believe in, this is what I am stating and I would not like to be identified as a Hindu or a Muslim while I am saying something.


Thanks to my documentary experiences and travelling around the world, I have managed to see different viewpoints. There's always a human story behind everything. We love to stereotype. If I say a terrorist in any part of the world for example then you'll already be having a picture in your mind that a terrorist's mannerisms and behaviour would be of a particular kind. But when I met some of these terrorists during the course of my documentaries, I realized that each one of them is different from the other and each one of them had a back story. They are flawed individuals because you might not agree with their ideology. While travelling I have seen various viewpoints and realized that people think they are justified from their point of view. Hence, if you see, I never have a villain in my film! Be with Kabul Express or New York or Ek Tha Tiger or even Bajrangi Bhaijaan, there are no villains. I don't understand the concept of villain. Everybody is doing something from their point of view and they feel that it's correct. You might not agree with that ideology and consider it to be incorrect, but that doesn't make them a villain.


After the release of Bajrangi Bhaijaan I plan to take a two month long holiday. There are many more countries to explore, new people to meet and hopefully I'll come up with new stories for my future films.
BOLLYWOOD NEWS
Catch us for latest Bollywood News, New Bollywood Movies update, Box office collection, New Movies Release , Bollywood News Hindi, Entertainment News, Bollywood News Today & upcoming movies 2020 and stay updated with latest hindi movies only on Bollywood Hungama.