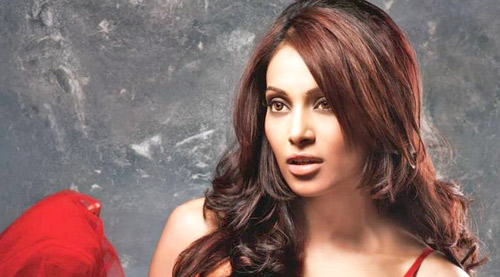 It was a little less than a year ago when Bipasha Basu completed the shooting of her adventure-horror-thriller Creature. Pairing up with her Raaz 3 director Vikram Bhatt, she has now been pitted against a 'creature' villain which is first of its kinds. There is another first in the form of debutant Imran Abbas from Pakistan who is the lead hero with Bipasha. On the eve of the film's release, Bipasha gets into a chat.


Yet another supernatural film Bipasha, you seem to be really enjoying the genre!

(Smiles) When people ask me 'why another supernatural film', I say 'why not'. In Bollywood, so many different kind of films are made, be it slapstick, masala or action. These films are driven by heroes and a heroine is just a support structure. Yes, you get the benefit if the film does 100 crores but you are still a support structure. On the other hand horror and supernatural genre films are the ones which I am driving. I am trying to entertain the audience in a new genre; the kind which is worldwide so big and huge but out here in India is in its nascent stage.


So how much has Vikram Bhatt raised the bar further with Creature when compared to the other horror/supernatural films that you have done together?

That's Vikram's forte after all (smiles). He wanted to make a film that is different from the rest and that too with the kind of special effects that are a step forward. In Creature, everything is done in India and at 1% cost of the films belonging to this genre that are made out there in the West. In that sense, I am very proud to be a part of the first 'creature' feature that has come out of our industry. There is so much to explore in this genre of fear and if Vikram and I are the lone crusaders right now, it's great as we are not part of the herd!


How exactly?

See, both of us have a single point agenda - we want to entertain the audience. Fear as an emotion has got tremendous scope in terms of visual entertainment that is best enjoyed in theatres. Vikram is using it to his advantage very intelligently. What also works is the thought process factor which is common for both of us. Creature is a film where you have to trust the director. Moreover, Vikram has this 'keeda' of doing different things and he knows me too that I would join in. I am always going to support something which is against the tide.


In a way, did the film push you to the maximum in terms of acting as you were fighting off against an unknown evil?

No matter what film you are doing, you are always acting. It isn't that only if you are doing a dramatic scene or you cry or you move someone emotionally, you are acting. Aisa nahi hota hai. You are acting in all genres. In case of Creature, it's a different kind of acting. If you talk about the human part of my character then it's the struggle of a vulnerable, independent, simple girl who wants to make her life on her own. In fact adversity makes her stronger and she gets ready to face something as weird as a creature. She does not have physical power but still she has to achieve the impossible. Creature is the story of that vulnerable woman whose problems make her much braver as she believes in her dreams.


You seem to have covered quite some distance since your Ajnabee days.

Well, I am not like a 16 or 20 year old girl who wants to do a frivolous role or indulge in college romance! I want to do roles which are exciting and designed for a woman. I remember that when I did Aatma, everyone around me was thinking that why was I playing a mother. Many were open enough to tell me that they didn't want to see me as a mother. Some distributors said that too. However, I want to do the kind of roles that people want to see me as and then also the kind which I want to do. I want to create a balance of both.


Creature does require you to get intimate with your co-star on screen. Considering the fact that you and Imran didn't know each other at all, was it tough to begin with?

I can tell you one thing about intimate scenes; you can know the person for the longest time and then it becomes tough to perform on such scenes with someone who is a friend. It is never comfortable. I am telling you that it's better if you don't know the person. I have had a firsthand experience on that in case of Jodi Breakers. I had to do a kiss with Madhavan and since we are friend for years, I was so embarrassed and conscious about doing it on screen. In comparison, I didn't have any issues when it came to intimate scenes with Imran since we got to know each other only on the sets.


Meanwhile, in your personal life, you know Harman Baweja for quite some time now. How is it going with him?

For sure these have been good times. See, such things just happen. You never have a plan that you will meet a person like him as these things are never pre-decided. But then when you meet someone like Harman who is a friend to you and is a man who respects every woman, it's a good feeling. You feel wonderful that you are with a good guy (smiles).

BOLLYWOOD NEWS
Catch us for latest Bollywood News, New Bollywood Movies update, Box office collection, New Movies Release , Bollywood News Hindi, Entertainment News, Bollywood News Today & upcoming movies 2020 and stay updated with latest hindi movies only on Bollywood Hungama.