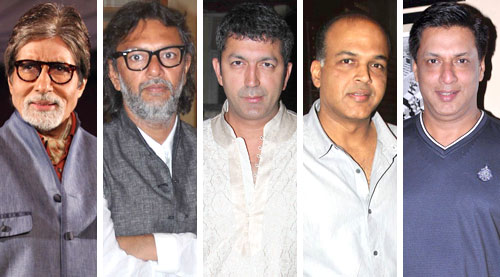 Amitabh Bachchan: "My favourite romantic film is Guru Dutt's Kagaz Ke Phool, for no particular reason."


Rakeysh Mehra: "Raj Kapoor's Bobby and Guru Dutt's Pyaasa are the two romantic films that shaped and molded my view of love and life. Actually, I, first saw Bobby at the Regal theatre in Connaught Place in Delhi in 1973 when I was 10 with my family. Movie-going was always a big event for the family. My father was great fan of Raj Kapoor. And Raj Saab was launching his son in Bobby. So, it was an especially important film for our family. I must have seen Bobby at least ten times, when it first had its golden-jubilee run. Each time, it was in the theatre and not on the small screen. I remember falling in love with the film and with Dimple Kapadia. That was a child's amazement at a film that shaped his romantic perceptions. Then, later, when I grew up, I saw Bobby with the eyes of a filmmaker. And, then I saw what great filmmaking skills had gone into it. Somewhere deep down, Bobby remains entrenched in my heart. And then as filmmaker, nobody can beat Raj Kapoor Saab. Also, the treatment of love and romance in Guru Dutt's Pyaasa greatly influenced my style of filmmaking. Every moment of Pyaasa breathes romance for me."


Kunal Kohli: "Yash Chopra's Kabhi Kabhie. Loved the screenplay, the love that spanned generations, the intensity of the emotions, dialogues, performances, some the best romantic scenes in Indian cinema are in Kabhi Kabhie. The scene between Shashi Kapoor and Amitabh Bachchan talking about Raakhee and Amitabh Bachchan being in love during college is a masterpiece. And the scene when Rishi Kapoor confronts Neetu Singh and tells her he is her weakness.....simply magical! Really miss, Yashji."


Kalpana Lajmi: "Sahib Bibi Aur Ghulam directed by my uncle Guru Dutt. A flawless masterpiece, on a true poignant unrequited love, multi-layered, intense and deeply complex."


Ashutosh Gowariker: Ah... Bobby for its endearing characters, especially the two fathers played by Premnath and Pran, the high romance quotient between Rishi Kapoor and Dimple Kapadia, superb cameos by Durga Khote and Prem Chopra. Perfect representation of the rich-poor divide, and a narrative that holds together even today, Bobby is a major classic for me.


Konkona Sen Sharma: Happy Together, Too Young To Die, Jules Et Jim and Smiles Of A Summer Night... There must be many more.


Nikhil Advani: Guide - truly tragic! (Jean-Luc) Godard's A Bout de Souffle - a superb story about unrequited love... Woody Allen's Annie Hall - funny, mad, eccentric... I think Amitabh and Jaya Bachchan in Sholay were silently and intensely romantic.... When Harry Met Sally - modern and urbane take on love... Ye Tu Mama Tambien - great road movie with hidden love story.


Madhur Bhandarkar: Ek Duuje Ke Liye - the bold theme of a romance across regional barriers is just the kind of thing I'd like to attempt. K. Balachander's direction and Laxmikant-Pyarelal's music were amazing. Then there was Kamal Haasan, in his Hindi debut. He made a perfect pair with Rati Agnihotri.


Bipasha Basu: Ghost... I like the theme of eternal love beyond the living, Arthur Hiller's Love Story showcases the strength of love and DDLJ, because it is just simply so romantic and makes you feel happy and good about falling in love.


Raveena Tandon: I loved the taming-of-the-shrew angle in Betaab... then my dad's (Ravi Tandon) film Khel Khel Mein, which was full of youthful energy and super-music... Qayamat Se Qayamat Tak, Aandhi and Hero for their haunting music. And Ek Duuje Ke Liye, in which I could feel the couple's pain.


Prabhu Dheva: For me, the most romantic film is Dilwale Dulhania Le Jayenge. My favourite love song is 'Jeena laga hoon' from Ramaiya Vastavaiya.


Parineeti Chopra: My favourite romantic film is Dilwale Dulhania Le Jayenge, and my favourite song would be 'Dekho na' from Fanaa.


Ayushmann Khurrana: "My favourite romantic films are Dilwale Dulhania Le Jayenge and Kuch Kuch Hota Hai. Both, because of the king of romance, Shah Rukh Khan. My favourite romantic songs are 'Dil ka bhanwar kare pukar' from Tere Ghar Ke Samne, the songs of Qayamat Se Qayamat Tak, 'Tujhe dekha to yeh jaana sanam' from Dilwale Dulhania Le Jayenge, the Aashiqui 2 songs… And I love my own songs for my beloved wife, though she prefers retro.


Sooraj Pancholi: My favourite romantic song is 'Tum hi ho' from Aashiqui 2 and my favourite romantic film is Aashiqui 2. My favourite romantic Hollywood films are P.S. I Love You and The Notebook.


Taapsee Pannu: To me, Twilight with Kristen Stewart and Robert Pattinson is the ultimate love story. My favourite romantic song is 'When you say nothing at all' by Ronan Keating.


Rajkummar Rao: My favourite romantic film is Falling In Love featuring Robert de Niro and Meryl Streep from Hollywood. In Hindi, it is Dilwale Dulhania Le Jayenge. My favourite romantic song is 'O saathi re tere bina bhi kya jeena' from Muqaddar Ka Sikandar.


Amit Sadh: My favourite romantic films are P.S. I Love You, Cloud Atlas, Dilwale Dulhania Le Jayenge and Roja. My favourite romantic songs are the title song from Bas Ek Pal and 'Meethi boliyan' from Kai Po Che, and my favourite international romantic songs are 'Mine would be you' by Blake Shelton and 'Highway Don't Care' by Tim McGraw.


Richa Chadda: For me, the most romantic film is Lamhe and most romantic song is Humne dekhi hai un aankhon ki mehekti khushboo from Khamoshi.


Ali Fazal: My favourite romantic films are Dilwale Dulhania Le Jayenge, City Of Angels, Bobby, Kabhi Khushi Kabhie Gham and Blue Is The Warmest Colour. My favourite romantic songs are 'Let her go' by Passenger, 'Book of love' by Peter Gabriel, 'Chanda re chandra re' from Sapney…listen to these songs even if you don't have a Valentine. There are many out there who don't have fathers and mothers. At least you still have a choice.


Shekhar Kapoor: Dilwale Dulhaniya Le Jayenge, because, I can't get over Kajol."


Sanjay Gupta: 9 ½ Weeks. The combination of a dark doomed love story and an incredible music score. The two heart-throbs Mickey Rourke and Kim Bassinger completed the picture."
BOLLYWOOD NEWS
Catch us for latest Bollywood News, New Bollywood Movies update, Box office collection, New Movies Release , Bollywood News Hindi, Entertainment News, Bollywood News Today & upcoming movies 2020 and stay updated with latest hindi movies only on Bollywood Hungama.