The super-success of the action thriller Uri: The Surgical Strike will go down in history. After all, the film has been breaking records every week. No film in the history of Indian cinema has collected in double digits in Week 6. Even in week 7, it has collected like no other movie ever. What aided the film in the last few weeks is the ghastly attack on the CRPF jawans in Pulwama on February 14. The anti-Pakistan sentiment is at an all-time high and the Vicky Kaushal starrer, which talks about the 2016 surgical strikes, was in sync with this emotion. As a result, collections increased for the film post the attack. The same happened in the week gone by. On Monday February 25, Indian armed forces undertook what popularly came to be known as 'Surgical Strike 2'. And this proved advantageous for the film as on Tuesday, it collected more than Monday. While Monday collections were Rs. 50 lakhs, the collections the next day zoomed to Rs. 65 lakhs! Not to forget, this is happening on the 47th day of the release, when even the biggest of films are on the last legs or already out of cinemas.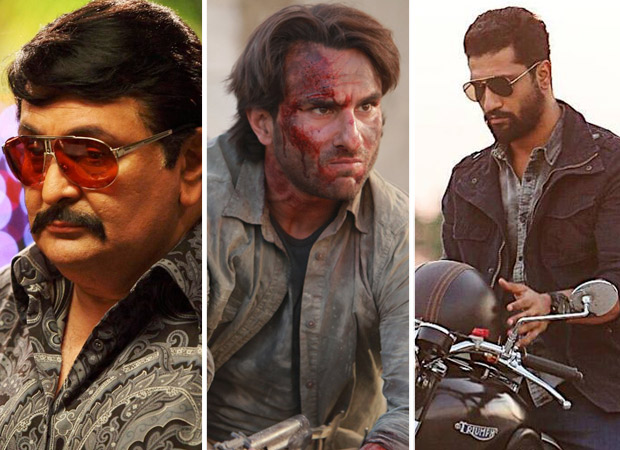 Post the Uri Attack in September 2016, also the subject of Uri: The Surgical Strike, Indians in general have once again begun to see Pakistan as a dangerous enemy. There was also overreaction on the part of some over-zealous so-called patriots, though. But it is this renewed anger towards the neighbouring country that made Uri: The Surgical Strike such a blockbuster and this emotion had weaned off before the 2016 attacks. As a result, two films which were in the same league as Uri: The Surgical Strike and which released earlier got appreciation and critical acclaim. But at the box office, they failed to make an impact. And looking at the way Uri: The Surgical Strike has performed exceedingly well; both these movies in 2019 surely would have done a far better job at the box office.
These two films are D-Day and Phantom. The first one released in 2013 and was directed by Nikkhil Advani. Starring Rishi Kapoor, Arjun Rampal, Irrfan Khan, Huma Qureshi and Shruti Haasan, this action thriller is about a covert operation by Indian agents to bring back India's most wanted criminal from Pakistan. Rishi Kapoor plays a character inspired from real-life gangster Dawood Ibrahim. While many films in the past have not shown the D-don getting eliminated, D-Day was an exception. The climax boils the blood of viewers as Rishi's character Goldman makes a scathing statement about the state of India and Indian media. A frustrated Rudra Pratap Singh, essayed by Arjun Rampal, shoots him, before asserting that India has now changed. Watching this brilliant scene now gives a déjà vu of Uri: The Surgical Strike that also mentions about 'Naya India'. Had D-Day released today, audiences would have gone crazy during the climax. The social media was not that huge in 2013 and in present-day, it would have surely got more traction.
Phantom, on the other hand, was directed by Kabir Khan and amusingly, it came some 40 days after Bajrangi Bhaijaan. Both the films were poles apart when it comes to foreign policy with regards to Pakistan. Hence, some began to accuse Kabir of being bi-polar. Obviously, they misunderstood as Kabir made it clear that he has issues with the Pakistani establishment and not Pakistani common man. In Bajrangi Bhaijaan, he depicted a beautiful bond between an Indian simpleton and a mute Pakistani girl. Phantom however was action-packed thriller showing a RAW agent taking revenge for the deadly 26/11 terror attacks of Mumbai. Captain Daniyal Khan, played by Saif Ali Khan along with Nawaz, essayed by Katrina Kaif, even infiltrate into Pakistan in order to eliminate a character modelled on Hafiz Saeed, the mastermind behind 2008 attacks. The killing of this terrorist in the film is unforgettable as Daniyal says 'India chahti hai insaaf' and pumps bullets into his body. He then runs in heroic slow-motion. I remember in my show, there were hardly any claps in this sequence. But had Phantom released today, I wouldn't had been surprised if audience had given standing ovation at this point!
Often we hear that a particular film didn't work as it was ahead of its times. In case of D-Day and Phantom, they just ended up coming out in the wrong period when the anti-Pakistan sentiment, had ebbed. And it's not like these films were flawless and they had their share of glitches. However, just like Uri: The Surgical Strike, both the movies were about covert operations that dealt with giving a blow to the Pakistani establishment, hugely responsible for spreading cross border terrorism. Here's hoping viewers remember these two almost-forgotten films and given them their due on television or online streaming platforms!
Note: We are aware that the Pulwama attacks were quite unfortunate and our heart goes to the families of martyrs. The article is not intended to mock and look at them as a profitable episode for Bollywood. Rather, it simply tries to observe analyse the box office trends.
Also Read: #MeraJawanSabseMajboot: Uri, Border & 5 Bollywood movies which ignite PRIDE for our Defence Forces
BOLLYWOOD NEWS
Catch us for latest Bollywood News, Bollywood Movies update, Box office collection, New Movies Release & upcoming movies info only on Bollywood Hungama.