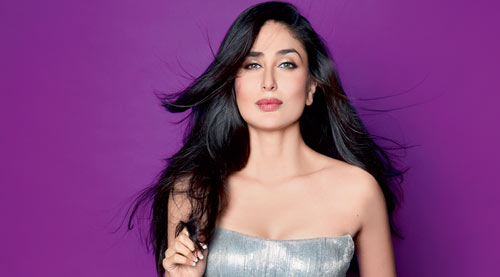 Not stardom, not marriage and certainly not competition...Nothing dims Kareena Kapoor's aura of self-satisfaction. She can call herself 'stunning' without sounding vain. The beauty of being Kareena Kapoor Khan is that the beauty never gets in the way of her honest self-appraisal and candid opinion on all those who matter in her life. In this heart-to-heart chat Kareena comes clean on career, marriage, stepchildren, stardom motherhood.



The reviews for Bajrangi Bhaijaan (BB) are glowing.

Some are not that enthusiastic. I think some critics are little unnerved by the change in Salman's personality. I feel he might get the National award. It's not just the performance. It's also the strong message behind the film that makes Salman so powerful in this film.



You've a rather small role in BB?

To use a cliché, there are no big or small roles. Only big and small actors. I did the film because of Salman and director Kabir Khan, and because it was being released for Eid. The very fact that I got the chance to be part of a film like Bajrangi Bhaijaan is enough of an incentive for me. And yes, I am not around in the film dancing in a mini skirt dancing around trees.



I think you've crossed that stage long ago and besides where are the trees?

Yes, doing all that bores me now. Besides, Kabir Khan would never write a role for a woman that is regressive or decorative. About that sequence where I catch hold of Salman's hand and take him to my father, Salman's father told me it's the backbone of my character. So, I am happy to have done the film.



Are you now looking at entering a new phase in your career?

Oh, absolutely. I am now moving into performance-driven roles. For the next two years, you will see me in a more performance-oriented cinema. In Abhishek Choubey's Udta Punjab and R. Balki's next you will see me playing substantial characters. I am quite jittery about Balki's film.



Why?

I told Saif I need to be on my own for at least 4 hours days, lock myself away and get into Balki's character. This character challenges me like none recently.





What about Udta Punjab?

After Chameli and Jab We Met, this is the film and role closest to my heart. Ooof, what a film and what a story! There were irresponsible reports that I wasn't doing the film because Shahid was in it. Why do people write like this?



Because it makes juicy copy?

Haan toh phir likho (laughs). I said yes to Abhishek Choubey immediately. Now, I am ready to work with younger talented directors. I think my script sense is improving.



Who are your favourite co-stars?

Salman, Aamir and Ajay Devgn. I've shared brilliant films and wonderful times with them. I've done such diverse work with each of them. And I've grown up in front of them. They were all my sister Lolo's co-stars. Salman has given 9 hits with Lolo. Ajay has done dozens of films with her and Aamir gave his career's biggest hit Raja Hindustani with Lolo. And I was there to see all these shootings.



What plans does Karisma have?

Just to take care of her two children. Her son is just 3 ½ years old.



Are you protective of her specially now when she's single again?

Of course. But more than me, Saif is protective of her. He truly loves Lolo. She is a wonderful person and very reserved. She says I bully her. She is mild, mellow and soft-spoken. She's like a little lamb. She lives two buildings away from me and we are constantly in touch.



People had given your marriage to Saif six months?

Ha ha. We are married for three years. I've matured with this relationship. I've become a mature woman after marriage. I've become more responsible towards my family. At the same time he allows me to fly. Whether I want to do an item song or I want to go on a holiday with my female pals, he is all for it. He says I should do what I like. I plan to go to Barcelona with my female friends after Balki's film.



Tell me about your relationship with Saif's children?

Earlier, it was just us. Now I enjoy having his family, my family over for meals. I love it when Sara and Ebrahim come over. I keep calling them to come over. But they don't visit us as often as I'd like them to. They have their own social circle. Ebrahim, at 15 has his own friends.


Whom are you closer with? Ebrahim or Sara?

Sara, because she's now a grown up girl. We share a lot of girlie stuff. Both the children are so well brought up. Full credit to their mom (Amrita Singh).


What about your own child?

Not right now. I am not ready. And you know me. Until I am ready, I won't do anything. Two years from now, I'll be a mom.


What about the biological clock?

Arrey women have children at 40. I've a long way to go. I will definitely have my own children. I've always done what I wanted to. I wanted to be a star-actor, then I wanted to get married, have a home. I'll be a mother. And I'll continue to act.


No other film family has given two female sibling superstars like you and Karisma?

Yes, and we are very proud and grateful.
BOLLYWOOD NEWS
Catch us for latest Bollywood News, New Bollywood Movies update, Box office collection, New Movies Release , Bollywood News Hindi, Entertainment News, Bollywood News Today & upcoming movies 2020 and stay updated with latest hindi movies only on Bollywood Hungama.