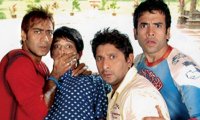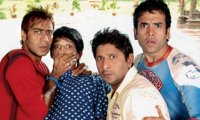 Comic movies cannot be rated on how much they make you laugh. It's just that they make you laugh, that's it! Comedies are light-hearted dramas, crafted to amuse, entertain, and provoke enjoyment. The comedy genre humorously exaggerates the situation, the language, action, and characters. Comedies observe the deficiencies, foibles, and frustrations of life, providing merriment and a momentary escape from day-to-day life. They usually have happy endings, although the humour may have a serious or pessimistic side or sometimes even vulgar. But who cares? As long as they make your jaw hurt. Be it slapstick, screwball, dark or deadpan, comedy will live on forever and will go down as everybody's favourite choice of genre.


Now digest this: Golmaal, Kya Kool Hai Hum, Dhol, One Two Three, Sunday, C Kkompany, Life Partner, Golmaal Returns, Golmaal 3 and Hum Tum Shabana. This actor has mastered in the art and craft when it comes to the comic genre. Tusshar Kapoor's upcoming movies, a sequel to his earlier hit - Kya Super Kool Hai Hum, and Char Din Ki Chandni is only adding on to his long list of comedies he has been a part of since 2005. Well, it's time we tickle Tussh's funny bone and extract his favourites too.


UK's Harrow Observer columnist and Bollywood Hungama's London correspondent brings you Tusshar Kapoor's top ten all time favourite comedies on the big screen. Oh wait! There is one exception. Go find it out yourself in this exclusive read! Over to Tusshar…


Baap Numbri Beta Dus Nambri is a crazy comic caper and quite unusual coming from Bollywood. I love that movie and can watch it even today. The jokes in that movie were awesome and so new for that period. Kader Khan and Shakti Kapoor were the protagonists of that film, can you believe it? The Dubai - Madh Island joke is a cult joke. People still remember it today. The performances given by Kader Khan and Shakti Kapoor were one of their most memorably funny ones ever on celluloid.


Dirty Rotten Scoundrels is an absolutely charming comedy from Hollywood. Steve Martin and Michael Caine were splendid. I saw it years back. I flipped on both their performances. It's a subtle comedy but quite intelligent and it certainly goes down as a classic comic movie of all times. They made 'conning' look so heroic. It's a film that I'll never forget. It's one of the greatest scam comedies.



There's Something About Mary goes down as one of the raunchiest romantic comedies. I mean, it was more of a com-rom as it had comedy in abundance. It was a benchmark role for Cameron Diaz but also Ben Stiller. Ben was one of the new faces of comedy post that film. It was one of the first slapstick comedies of that era. It was mad. It had a fine balance between crude and crazy. I'd rate this one as the most embarrassingly entertaining movies of all time.


Kya Kool Hai Hum is one of my favourite comedies. It's India's truly first sex comedy. The honesty and sincerity with which the director portrayed the shamelessness of the genre just worked for the audiences. It was very unpretentious. It had lots of twists and turns. The movie worked not just at the comic level but at an emotional level too. Sooraj Barjatya loved the movie and that for us was a huge compliment back then.


Coming To America was a superb comedy by the pampered African prince Eddie Murphy. The whole idea of the royal 'pe***' being cleaned was so hilarious. That line was unforgettable. It had a satirical edge to it and great romance too. The way they shot his royalty and how he wanted to leave everything was quite something. They captured the lower middle class stratum of America brilliantly. Also, there were many other characters played by Eddie Murphy himself that made Coming To America special.


50 First Dates is a light romantic comedy that was the sweetest comic films I've seen. A fresh idea and some remarkable performances by Adam Sandler and Drew Barrymore. It was a movie with a big heart and even bigger laugh. Fitfully funny and touching, it was Adam Sandler throughout who stole the show. It's a flirty comedy I think and a highly recommended 'date' movie of all times.


Chaalbaaz is one of those rare comic geniuses that people have forgotten. I think being a women centric film and still making audiences split into laughter was defining. Sridevi's best performance on screen was electrifying. The way she takes her revenge is awesome. The ensemble cast of Shakti Kapoor, Anupam Kher, Rajnikanth and Sunny Deol was impressive too. Though the movie fits various other genres too but I see it as a great comedy.



Here's Lucy is an exception I've made into these top ten favourite comedies I like. This one's a television sitcom starring the brilliance of Lucille Ball. I remember as a kid I used to see it on television in the late seventies and early eighties. Who can forget the character Lucy Carter? She was known world over by this name. I recall the most famous episode was the one where Elizabeth Taylor guest starred. It was a great slapstick sitcom of all times and my favourite too.


Munnabhai MBBS has to fit in this list. It was a comedy that we haven't seen before. I didn't expect it to be such a huge hit. The writing, the dialogues, the comic timings of Arshad Warsi and Sanjay Dutt was incredible. It made you laugh and cry at the same time and that's a rarity in today's day and age. Rajkumar Hirani reinvented the comic genre with this one I thought. An absolute gem I'd call.


Golmaal series is the by far the craziest ensemble comedies India and Bollywood will remember for decades. Golmaal series is one of the rare franchise movies that have been the number one success in its genre. The first part will remain special for me because my chemistry with Sharman Joshi was terrific. People still want me to act like one wherever I go. That's the power the movie holds. I think it had an unusual mix of comic actors from Ajay Devgn to Arshad Warsi to Sharman Joshi to Sanjay Mishra, Mukesh Tiwari and Vrajesh Hirjee. If you are getting bored, this is certainly one movie to watch. I think the movie infused a new freshness in its dialogues especially the Black movie spoof.