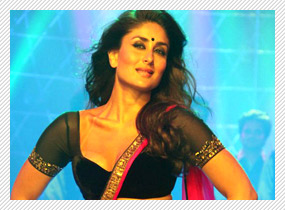 Not just for the sequels and the remakes: Hindi films are known to have a plethora of titles shared by more than one film over the decades. And the current trend of using a lot of English titles is as much an option to bypass this shortfall in inspiration as it is to be 'contemporary' and global. After all, Heroine sounds so much trendier and universally-accepted than Abhinetri! Nevertheless, Bollywood will always continue to repeat titles for films in the years to come.
The purpose of this piece is not to enumerate all the cases, which would take space enough for a booklet, but to delve into some of the interesting and lighter side of this business of repeat titles, which in many ways is unique to Hindi cinema, mainly because of the quantum of films dished out and the limitations of commonly understood Hindi and Urdu, for Hindi films have to appeal from Kashmir to Kanyakumari and likewise the breadth of the country. Hollywood and regional films are barely known to do so, except with remakes.
Under convention, a producer must renew his registration of a title in 10 years to prevent another filmmaker from using his film's name, unless of course they part with it for commercial or friendly considerations. And so we wonder whether any title other than Wanted would have worked as well for Salman Khan's first turnaround film in 2009 had the maker of the 1987 Mithun Chakraborty-Tina Munim flop not parted with it! Let's also think of the all-time cult film Dilwale Dulhania Le Jayenge (the title suggested by Kirron Kher from the chartbuster of the 1974 blockbuster Chor Machaye Shor). Hardly anyone is aware that this was already the title of a C-grade film censored in 1980, but never released! Of course, the spelling was different – a common point in such cases, as a Roman interpretation of Hindi and Urdu words.
Speaking of cult blockbusters, Chor Machaye Shor itself, which put Shashi Kapoor and composer Ravindra Jain in the big league, was used for a 2002 David Dhawan non-starter. Dhawan has been a master at repeating many titles, including that of another cult film Hum Kisise Kum Naheen with the last word's spelling changed to Nahin. He has smartly bypassed Subhash Ghai and Manmohan Desai by using their B.O. smashers Hero and Coolie with a suffix – No.1! To give the Dhawan his due, both his movies Hero No.1 and Coolie No.1 too were huge hits, but piquantly, they had taken the central plots not from these originals but from two Hrishikesh Mukherjee films, Bawarchi and Golmaal respectively. And the Golmaal saga is too well-known as the beginning of Rohit Shetty's completely different comic franchise, while Shetty officially remade Mukherjee's comedy as Bol Bachchan!
So we have the same titles for different stories and different ones for the same plot! And this happens only in Bollywood! Like Dhawan reprising Pyar Kiye Jaa as Haseena Maan Jaayegi and mixing the original Haseena (The 1969 Prakash Mehra hit debut) with Do Phool to create his career-biggest hit, the 1993 Aankhen!
Aankhen (also spelt in two of the four versions as Ankhen) has quite a history. The first film (1950), a social, introduced Madan Mohan, the second (1968) was a spy saga, the third (Dhawan's 1993 film) was a screwball caper, while the last (in 2002 with Amitabh Bachchan and Akshay Kumar) a thriller. But each film had an interesting common point – at least one comic situational song! Eerily also, each of the three Andazs (1949, 1971, 1994) and Anaris (1959, 1975, 1994) have starred a Kapoor in the cast. Coming once again to Aankhen, Govinda was such a fan of Dharmendra that he loved having the senior actor's film titles even in other films - check Dadagiri, Loha and Shola Aur Shabnam. He considered this lucky and of these four films, only Loha did not work!
Speaking of suffixes like No.1, such technical 'escape routes' really lead to a misuse of cult titles. Two C-grade skin flicks in the millennium were named Bobby – Love And Lust and Tezaab – The Acid Of Love and no one apologized to Raj Kapoor or N.Chandra for degrading their immortal titles! And the success of Main Hoon Na led to a barrage of dubbed films beginning with Main Hoon like Main Hoon Angrakshak or Dakuraani, Dhandewali, Durgaa, Gambler, Kkkhiladi (!!), Mallika, Khareedaar, Rakhwala, Rangbaaz and Soldier! The prosecution rests!
Of course, there were the always lucky names – the '50s Daag revived Dilip Kumar's hit-streak after many flops, ditto the 1973 Daag for Rajesh Khanna. The 1999 Daag-The Fire (we suspect another bypass with the suffix!) was lucky for Chandrachur Singh and Mahima Chaudhary who had had flops after hit debuts! Similarly Waqt (1965) was a pioneer in multi-star films as well as the lost-and-found genre in contemporary cinema, while the 2005 film of that name saw NRI business go to the next level after the Aditya Chopra-Karan Johar beginning. Jugnu was yet another blockbuster title each time.
There were also the always-jinxed titles – Yaadein for one, Blackmail for another, Mehbooba for a third. And so we could not understand how - in superstitious Bollywood - some filmmakers actually re-used their flop titles, like Pramod Chakravorty repeating Barood (1976, 1998) and Aamir Khan's father Tahir Husain using Madhosh (1974, 1994). Of course, Rajkumar Kohli could not repeat the magic of his career-biggest hit, Jaani Dushman (1979) in 2002, and Ram Gopal Varma, convinced that his director had messed up James (2005), remade it instantly with the title of his debut success, Shiva, only to give another disaster!
Finally, in the great gamble that is filmmaking, it is amusing to realize that no film having a title connected to cards or gambling (juaa in Hindi) has ever had the box-office dice fall in its favour – check Juari twice, two Gamblers, Teen Patti, The Great Gambler, Ikke Pe Ikka, Ekka Raja Rani or Zindagi Ek Juaa!
BOLLYWOOD NEWS
Catch us for latest Bollywood News, New Bollywood Movies update, Box office collection, New Movies Release , Bollywood News Hindi, Entertainment News, Bollywood News Today & upcoming movies 2020 and stay updated with latest hindi movies only on Bollywood Hungama.