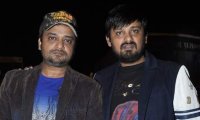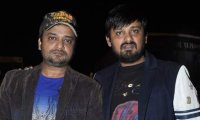 2011 was just about good when it came to music in Bollywood. There weren't many earth shattering albums hitting the stands which worked in entirety and those
which were lapped up did come with an expiry date. One hopes though that the scenario changes in 2012. Here is presenting the list of Top-10 most anticipated
soundtracks in year to come.


(In alphabetical order)


Dabangg 2 (Sajid -Wajid)


This one will arrive last in 2012 but is expected to make a great impression if the prequel is anything to go by. Dabangg swept away quite a few
awards for its music and the successful team of Sajid-Wajid, Salman Khan, Sonakshi Sinha and Arbaaz Khan are expected to make a big splash for the sequel as
well. For Dabangg, it was Lalit Pandit's 'Munni Badnaam' that had done the trick. However, as long as Sajid-Wajid can come up with yet another
'Tere Mast Mast Do Nain' or a 'Chori Kiya', a music lover won't quite mind, more so if an additional item number is thrown in as a bonus.
Ek Tha Tiger (Sohail Sen)


Now this is one combination to watch out for. Films coming from the house of Chopras have a sensibility of their own while Kabir Khan has hardly followed any
diktat in his first two assignments (Kabul Express, New York). Composer Sohail Sen has adapted himself well into the YRF mould, as evident by the
diversity he has shown in their Mere Brother Ki Dulhan after landing straight from the world of Khelein Hum Jee Jaan Se. However, the man who
is going to make all the difference, Salman Khan, is all set to bring a different perspective to Ek Tha Tiger. Watch out, you never know 'chikni'
Katrina may turn 'chameli' again.


Housefull 2 (Sajid - Wajid)


Sajid Khan thinks commercial and music of his first two films, Heyy Babyy as well as Housefull, has boasted of chartbuster tracks. They are
'masala' at the core and work as instant coffee but one can't deny the fact that they work for the film. On the other hand, producer Sajid Nadiadwala more
often than not gets it right when it comes to music of his films, case in point being Anjaana Anjaani which is playing till date. With Sajid-Wajid
pretty much in form and 'masti-mazaa' as the flavour of the season, music of Housefull 2 would be first amongst the biggies to arrive this year.
Jannat 2 (Pritam)


Bhatts. Pritam. Emraan Hashmi. Just these three names are good enough to anticipate a soundtrack which could well down as one of the best this year. The trio
took a break with Murder 2 and the music of Crook didn't catch up either. However, with this team being led by Kunal Deshmukh who had ensured some
fantastic chartbusters in Jannat, it is almost certain that the sequel too would go all the way. Two more tracks like 'Zara Si' & 'Haan Tu Hai'
and the game would be pretty much set for Jannat 2, the music of which is already carrying fantastic reports.


Raaz 3 (Mithun, Rashid, Jeet Gannguli)


Talking of Bhatts then well, they have another biggie lined up for release in the second half of the year. They are playing the balancing act well by
sourcing music from different composers for Raaz 3, a brand that carries good weight by itself. For Raaz 2, they had roped in multiple
composers and the results were fantastic. Now with talented composers like Mithun, Jeet Ganguly and Rashid contributing with a song or two apiece, one
expects a soundtrack that may have sufi and rock forming an important ingredient. Moreover, the man at the helm of affairs is Vikram Bhatt and he too knows a
thing or two about music.


Race 2 (Pritam)


Even Abbas-Mustan are trail blazers when it comes to music of their films and though Players hasn't exactly set the charts on fire (despite boasting of some
good tunes), the director duo is definitely expected to go all out for Race 2. Their association with Pritam continues in this sequel as well and if
the mood and setting of Race was a good enough platform for the composer to come up with some of his best tunes, there is no reason why he won't be
motivated enough to repeat the feat with Race 2 as well. This one definitely sets in the top run when it comes to the most anticipated albums of the
year.


Student Of The Year (Vishal - Shekhar)


For My Name Is Khan, Karan Johar had kept the commercial elements aside and focused on situational soundtrack despite Shah Rukh Khan and Kajol in the
lead. Oh yes, there was a song or two that did become popular ('Sajda') but Karan was in no mood to bring on the kind of sound as heard in his films
like Kuch Kuch Hota Hai, Kabhi Khushi Kabhie Gham or Kabhi Alvida Naa Kehna. Well, he would certainly be pining to get a chartbuster soundtrack
to his name for his young film Student Of The Year and has hired just the right men for the job - Vishal & Shekhar. Bring it on!


Talaash (Ram Sampath)


Aamir Khan went song-less for Dhobi Ghat while Farhan Akhtar did something almost similar for Don 2. However, with the two coming together (who
are the co-producers along with Ritesh Sidhwani) for Talaash, the scenario is all set to change. One still wonders though what kind of soundtrack
would be heard in this movie since it is a dramatic affair. Moreover, director Reema Kagti has a quickie soundtrack in Honeymoon Travels Pvt. Ltd.
With composer Ram Sampath arriving fresh from the super-success of the score he created in Delhi Belly, it is going to be an unusual score for the
sure.


Teri Meri Kahaani (Sajid -Wajid) [Tentative title]


What isn't really expected to be unusual though is the soundtrack of Teri Meri Kahaani. In fact the music here may well turn out to be as filmy as it
gets, courtesy the fact that it has Shahid Kapoor and Priyanka Chopra in the lead with Kunal Kohli at the helm of affairs. Okay, so one doesn't remember the
music of Thoda Pyaar Thoda Magic except for 'Lazy Lamhe' but frankly, the director is capable of a lot more, as witnessed in the music of
Fanaa, Hum Tum and to an extent even in Mujhse Dosti Karoge. His production Break Ke Baad too boasts of a few good songs.


Yash Chopra's next with Shah Rukh (A.R. Rahman)


This one should turn out to be the mega soundtrack of the year. One can go on and on around expectations from the music of this yet untitled film but
frankly, it would be all futile since this is one combination that just can't go wrong. With the 'baadshah of romance' pairing up with A.R. Rahman who may
just bring in his own spin to the tale (as he had done for Subhash Ghai in Taal), this is going to be one soundtrack that may well turn out to be the
most memorable of them all. Shah Rukh Khan would happy as well since he too has been left wanting for some great melodies ever since 'Haule Haule'
[Rab Ne Bana Di Jodi]