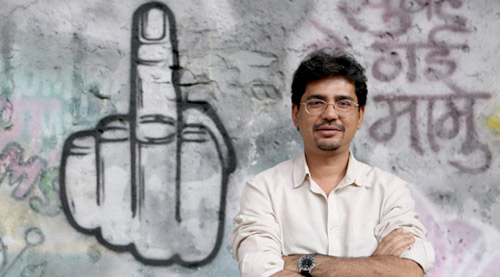 With a good concept and the popularity of Sanjay Dutt and Emraan Hashmi, Ungli is riding high on expectations. Rensil D'Silva is thrilled with the way the film has turned out to be. As he gets ready to welcome the Friday with open arms, the filmmaker reveals about what was the intention behind the promotions, his bond with Sanjay Dutt, his encounter with Censor Board and a lot more in this conversation with Bollywood Hungama.

Often films resort to PR gimmicks, Ungli is way toned down in that aspect and completely upto the theme. Why?
I don't think we are a privileged film but it is a fun film. If the film is a take on the system I don't think we can have promotions that are only fun and games. Yet we like to entertain but we must keep in context with the theme. From the trailer and the promos, whatever we have talked about the film, we have got a fantastic response. I think people (automatically) connect to the theme because it's a very simple film since it is based on all our reality. Every Indian can relate to the film. It's not about multiplex or single screen. You can make fun of it but not take it lightly. If you are making a credible film, your promotion should not revolve only around masti-mazak. It should not be frivolous.

Sanjay Dutt is not a part of the promotions… Wouldn't it have been good to have him around?
It would surely have been nice to have Sanju (Sanjay Dutt) around for films' promotions, he would have added so much to it. But more than that, I would have liked to show him the film. He has done such a fabulous job. He hasn't seen the film because of circumstances. He was such a great person on the sets.

USP of Ungli?
It's the story about every Indian hardship and how you can overcome the system. It's on audience day to day life. I don't think there has ever been a film which showed a person on how to get an autorickshaw. So basic but so difficult for a human being to do it in India. Those small things that really destroy our day, not the big scams but small problems, I wanted to present those in my films. I thought if I can connect with people at such a basic level it will be a great victory for me personally.

If not Ungli, what would you rename your film as and why?
Honestly, I can't think of another name. Ungli is bang on! It's very tough to title films like this because a film very rarely has a script like this. You have to give a title that doesn't make people think as if it's another one of those preachy films. This title is fun and light, yet it makes a point.

How has the experience been with the censorship by far?
Fabulous! They were very positive towards the film and I got a U/A certificate. No problems at all. They told me that they liked the film a lot.

Are you expecting any kind of moral policing?
No, in fact it will find widespread acceptance. If you say that 'Auto (rickshaws) shouldn't refuse passengers', who will object? Because it is their job, they should accept the passengers. I am talking about things that should be done. If you think the potholes in the city should be filled, they should be filled na? All of it has been said hundred times but I am trying to give you a solution.


BO success or critics?
For me, it's important to connect with the audience. I don't know if that is box office. Of late, there have been a lot of films entering the 100-200 crore club but I am not sure about if they actually connect. They are loud and funny but I think people even forget it. I think the true test is for people to remember a film even after six-seven years. Like in case of Rang De Basanti, people still remember it and for me that is success. I think all filmmakers want both. They had to be lying if they say they don't want box office success. It's all about films which survive in time. Ten years from now, if people still remember a film and like it, then that's success. It's something that lasts. When Rang De Basanti came out, it helped in the Jessica Lal case where people went out with candles, asking for justice and put Manu Sharma behind bars. Though the film was not about Jessica Lal, yet it helped people in courageously going for marches, express their agitation. Justice was served and that is the greater success than getting a four star or 100 crores. That's how I measure success.

Your films always have had the rebellious streak! Were you a rebel by nature or is it a part of your writing forte?
See I am a writer first! As a writer, it is our duty to show a mirror to the society about the injustice that is happening around. It is the fundamental goal of any writer. So for me that is always there. In India, you have to voice out about corruption. And I am not talking about corruption only in case of black money but even the smallest incident like the system failing to provide even an auto to the senior citizen. This happens in this country and as a writer, you have to raise your voice and rebel against this at some point of time.

If you were to be heading the Censor Board what is the first thing or amendment that we will get to see?
Ummm…. I would possibly not want the smoking disclaimer. I understand why the Censor Board is strong on that because my dad died of cancer and he was a smoker all his life. I know the reason behind the disclaimer but I just feel that you shouldn't sell cigarettes in the first place. The Government should ban cigarettes. Because you can't be selling them and putting disclaimers because then it's double standard. It's like saying if I make films only on religious people and saints, society will become good. Lekin aisa nahi hota hai na! If I just put a disclaimer, the first time it might make an impression but the tenth time it becomes a blindspot. You also feel like, 'I am an adult and how many times are you gonna tell the same thing to me'. If this is the case, then don't sell cigarettes if you believe it is harmful to society but you want the money that is tax from tobacco. My point is give up the money in interest of public welfare, then I'll celebrate and agree with you.

Your future films?
I have '24'. It's a project that is really close to my heart because we had changed television in some small ways and I have been writing 'Season 2' with the team of writers, Bhavani Iyer and others. I plan to direct it with Abhinay Deo just like season 1. But of course, then, Abhinay directed more episodes than I did last time. Now, I want to be a part of it once again. Anil Sir (Anil Kapoor) will also be back along with many other characters since it's a continuation of the same story. However, there will be fresh characters too. It is shot in parts of Mumbai but I can't say anything beyond this since I am bound by the contract. Apart from that, I have a couple of scripts right now but I'll wait to see what happens with Ungli and then pick one of them and go ahead with it.

Lastly, tell us 3 reasons to watch Ungli
Firstly, I think every Indian can relate to it. Secondly, it's fun and light-hearted, visually and verbally. Thirdly, it's a film about a gang of friends; it's about friendship, their love for one another and what happens when they turn into vigilante.
BOLLYWOOD NEWS
Catch us for latest Bollywood News, New Bollywood Movies update, Box office collection, New Movies Release , Bollywood News Hindi, Entertainment News, Bollywood News Today & upcoming movies 2020 and stay updated with latest hindi movies only on Bollywood Hungama.