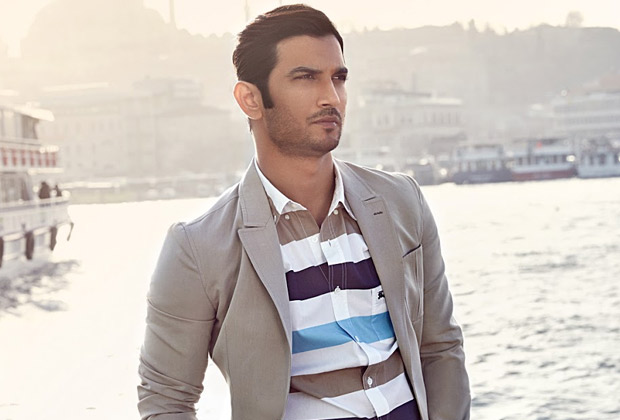 Sushant Singh Rajput has entered the big league by scoring a handsome century with M S Dhoni The Untold Story. It is the second highest grossing film of 2016 so far. In a no holds barred exclusive with Content Head Broadband Faridoon Shahryar, Sushant busts the rumours about him raising the price post the success of Dhoni and the tantrum stories that are doing the rounds in tabloids these days. Singh also talks about his forthcoming films.
Since the time M. S Dhoni - The Untold Story has released and is doing extremely well, it's been a positive experience for you but once you make it big and Rs. 100 crores, all the judgements start coming in. It's funny that if an actor has a successful film and if he doesn't raise the price it is said that maybe he lacks business skills, he needs to acquire better manager and if he does raise the price it's said that he's becoming pricey. How are you dealing with such things?
Two things, one, if you're successful please raise the price because you don't know the next failure, you'll not be responsible for it but you'll fail and nobody will hire you again. So make money till the time you can. Having said that, fortunately or unfortunately, I had signed 5 films before Dhoni got released so I wasn't renegotiating my money. Three, suddenly all these negative articles are around me talking about my tantrums and all these things which are very funny because they don't affect me, number one and two is I know that everybody has woken up because till now I wasn't even discussed and now they're targeting me. I've that quote, Mahatma Gandhi's quote, and I actually added two lines which I also tweeted recently. It's like "How do you know what's the litmus test of knowing that you're going right, so first people they ignore you completely, then they'll laugh at you, then they'll fight with you and then you win." Till now it was Mahatma Gandhi and now I added two lines and the funny thing is you're never bothered. Not because you're dismissive of people's opinion but you're doing something completely different. I don't want money, I don't work for money. You give it to me, I'll keep it but if you don't give it to me I'm still happy so I don't work for that. You think by doing negative stories people will thing badly about me? I don't care!!! That's their headache; they need to deal with it. As far I and my equation with my work are concerned it's undiluted. So please don't waste your time (Laughs!)
Apparently, you've been changing scenes in your movies …
Yeah suddenly! Maybe I had this premonition that my film will do 100 crores, because Raabta I was shooting 2 months back. So maybe I had this premonition that my film will do 100 crores, so I can do it right now, I was throwing tantrums. This is absurd! Because one thing I am craving for in each of film, play or TV show is that my director to come up to me and say you know what it's not working let's try something else and then you're alive again. Why would I try to change the scene? This is completely absurd. So, also I just have a request for all those people who are doing this, at least be slightly innovative. Negative? Fine! But, slightly innovative jaise aapko paddne mein mazaa aaye. Wahi tantrums, paise bada diya, isme mazaa kya? Kuch alag karo.
Okay! And Raabta, I think that you've seen the promo and it'll be launched pretty soon as well. What's the latest on Raabta?
Everything is done, it's just one song left which we will do in the first week of next month. We saw the teaser and we are very very excited about it.
Release date?
I think, first quarter of the next year. Most probably in February.
14th, the Valentine's Day?
There are other technicalities that they're figuring it out.
Okay! And Takadum, you guys have started the readings right now. What's Takadum all about? Because Homi Adjania, he's a very amusing guy, very very interesting guy in his own right. He was involved in Raabta I believe?
He's one of the producers of the film.
 So what's Takadum all about? Very amusing name as well.
Takadum is a world of music. And these are very interesting characters that are completely off because of the kind of pattern we know. And just because they're completely off, they get each other. And the one thing that's the similarity is the understanding of the language of music.  They know this for sure that they both get it but they're figuring out things about each other throughout the film which is very interesting. It's based on a book, although, I've been told not to mention it (Laughs!) It'll take away the masala of the film if you already know about it.
Something about your forthcoming films, the other 3 films. Have you been offered something interesting off-late? 
As I said, I had 4-5 films before Dhoni released. There's another film that is in the pipeline that we're discussing, it's a space film, and I'm playing astronaut in that.
Yeah, you spoke about that in our last interview.
Yeah, Sanjay Singh Chauhan directs it. And then there's a film with Dharma which is another very quintessential love story and there's a biopic on Murlikant Petkar which I'm going to co-produce. This is the first guy who got us Gold Medal in Paralympics Commonwealth. And it's got amazing story, brilliant story. If I tell you that this something I've written, you'll tell it's too good to be true; it's that good and that compelling. So I'll do that. The pattern is all the worlds are very different from each other and all the characters are completely different from each other. My intent is not to show, see my variety; it'll just keep me going because I don't know how to do it.
BOLLYWOOD NEWS
Catch us for latest Bollywood News, New Bollywood Movies update, Box office collection, New Movies Release , Bollywood News Hindi, Entertainment News, Bollywood News Today & upcoming movies 2020 and stay updated with latest hindi movies only on Bollywood Hungama.